DisneyBound
outfits for your upcoming magical vacation. Now it's time to pack up adorable Disney clothes for the kids! How can you find the best Disney outfits for kids? You'll need outfits that are practical, comfortable as well as cute. After all you'll be taking lots of pictures on vacation so clothes should be a well-thought out part of the planning process.
Mom Rewritten uses affiliate links which means I may earn a small commission if you purchase through the links in these posts. As an Amazon Associate I earn from qualifying purchases. For more information, see the Privacy Policy and Disclosures tab. This post originally published Apr 11, 2016 and has been updated.
Disney Outfits for Kids – The Basics to Consider
These Disney outfits for kids are all clothes that I've dressed my little ones in during our Disney vacations. I'll share Disney World outfits for toddlers and Disneyland clothes for preschools. I even have Disney clothing ideas for big kids as well. And because it's Disney, these ideas easily translate into cute Disney outfit ideas for adults too!
These are the things to consider when choosing Disney outfits for kids:
What's the weather going to be like? Will the kids be comfortable mostly in shorts? Will you need a jacket for layering?
How many days of clothing will you need?
Do you want the kids to dress in costume?
Are you aiming for head to toe looks or just a dash of Disney?
When you're ready to pack up, be sure to check out this free printable packing list for kids traveling to Disney!
Where the Wild Things Are from Polka Dot Pixie Shop on Etsy
1. Cotton Disney T-Shirts
When traveling to Disney during warm weather, a cotton tee is perfect to wear. Cotton is breathable, dries quickly if you get wet on a ride and can be layered if the weather cools down. If you're looking for just a dash of Disney in your vacation look, the best place to start is with a themed tee.
The RAGS – Disney Collection is made in super soft cotton that's breathable and comfortable. The unique designs are something you aren't going to find anywhere else.
Pair a themed tee with denim or patterned shorts. Your local stores like Target usually have a good variety of tees at decent prices. ShopDisney often has specials on their graphic tee designs. You can usually grab a tee shirt for each kid from around $7-10 each.
2. Family Outfits for Disney
Disney T-shirts
Etsy is my go-to for creative and unique t-shirts. You won't likely run into another person wearing the exact same shirt if you buy your Disney outfit from Etsy! These Disney family shirts come in designs that work for everyone.
Mom, Dad, brother and sister can all wear this fun design for the "Happiest Place on Earth"! There are two colorways to choose from.
I just purchased these adorable Minnie and Minnie-Me shirts for my daughter and I to wear on our next girl's only Disneyland trip! We received SO many compliments on our matching t-shirts. And of course the photos came out so precious!
Sibling Sets
I'm one of "those moms" that likes when my kids coordinate. I think it makes family photos in the parks look really cohesive and put together. And even if you're at Disney, you don't need to have Mickey emblazoned on everything!
One easy way that my kids can coordinate (and even match exactly if I wanted) is with clothes from Primary. Comfy cotton that's perfect for warm Disney days! Use code AFF20PCT for 20% off your first order at Primary.com
The RAGS – Disney Collection is another place to grab coordinating or matching sets for siblings. Shirt styles and designs are unisex and there are adult sizes as well! They also have the cutest rompers and dresses too.
3. Souvenir Clothes from the Parks
For a special souvenir, consider purchasing a tee at the Parks on the first day of your trip to have the kids wear during the vacation. Some tees inside the Disney parks have the year date on the shirt so it's also memento of your trip.
4. DIY Disney Tees You Can Make Yourself
If you're feeling creative or you like to get crafty, designing your own tee is a unique way to show your Disney side. Here are a few ideas you can do to make your own Disney t-shirt designs. Depending upon your skill level, I've included things for very basic to more advanced.
Disney Cricut Designs
If you have a Cricut machine, making a custom Disney shirt for kids is a cinch. I've shared the project instructions to make these Disney California Cricut Shirt Designs.
Rubber Stamp and Fabric Paint
A simple rubber stamp and fabric paint gives a colorful look that is quick to achieve. Kids can definitely do this themselves!
Hand Painted
Try this technique for hand painting a Disney design onto a tee for a unique look you won't see on anyone else! For more details on how to do this yourself, check out my Dory Handpainted Tee Tutorial.
Quick Sew
Try one of these simple sewn tees that are fun for beginners. They give you the look of applique but is basic so anyone with sewing machine skills can do these! Try the I Love Mickey applique tutorial.
Or simply take a single square of a favorite fabric and sew it on (using the techniques in one of the above tutorials).
Appliqued T-Shirt
More advanced seamstresses can try applique for a durable and unique style nobody else's kid will be wearing. Can't sew? A search on Etsy for appliqued or silk-screened Disney-themed tees will find you something fun for the kids.

5. A Disney Look, Head to Toe
Do you like to see your kids styled Disney from head to toe? One of my favorite places to find a head to toe look is on Etsy. You'll be able to find something very unique – and help support small business as well. You'll often be able to find Disney boutique clothing resale if you're looking for outfits on a budget.
Sew It Up Yourself
I love to go to Disney parks with my kids wearing unique and creative outfits! That's why I often design and sew them up myself. If you can follow a basic pattern, try finding a fun Disney-themed fabric print and make matching outfits for your group. A dress or skirt for the girls and shorts for the boys and they'll be the envy of everyone in the parks!
One of my favorite places to buy licensed Disney fabrics is on Etsy. They often have awesome import fabrics you won't be able to find in the stores. Click the image to order fabrics.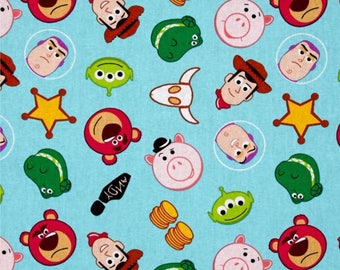 Decorate a Ready-Made Outfit
Primary is a GREAT place to purchase basic cotton pieces that you can decorate Disney-style as you wish! My daughter wore this green dress to Raglan Road in Disney Springs that I decorated with Ariel-type seashell appliques for a Little Mermaid look. They have outfits that perfectly match so siblings can coordinate!
Not Your Typical Princess Dresses
This two dresses in the images below were sewn from the same pattern. I just tweaked it by changing the length, adding some sweet details (like ribbon on the bodice) and fun applique. One dress is Snow White inspired and the other features Rapunzel! Ask your little lady which is her favorite princess and create something so her to wear that's inspired and totally unique.
Click image to order fabric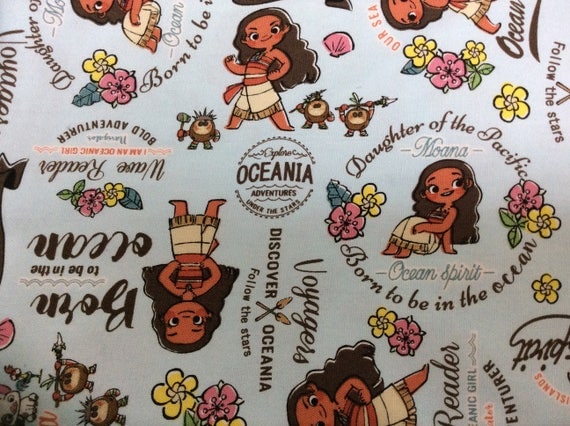 T-Shirt Dress
You can also take a t-shirt that's a bit too small and re-purpose it with knit fabrics into a totally unique dress like this one! See how we coordinated the dress with some Minnie-inspired knit accessories?
Click on image to order fabric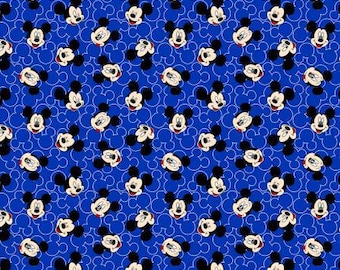 Unique Prints
My daughter adores the "milk silk" dresses from Great Lakes Kids Apparel. Just about every favorite character is represented in sweet and soft popover styles (hundreds of patterns to choose from!). There are coordinating raglan tees as well. We layer the flutter-sleeved dresses over long tees or leggings in cool weather.
6. Disney Outfits for Babies
If you're taking a baby to Disney, there's one thing to remember: COMFORT. The first trip I took my daughter to Disney World, I brought several adorable outfits for her to wear. But once we got a hint of humidity, I ditched the tutus and dressed her in simple cotton tees and onesies! When traveling with a baby, it's comfort over all else.
Fortunately there are still LOTS of ways that baby can be cute and comfortable at the same time. Here are a few ideas for dressing baby for Disney.
Simple Cotton Tie-Shoulder Dresses
I found this simple pattern for a dress that ties at the shoulders and it was perfectly lightweight for a spring trip to Disney World. This Mickey Mouse print dress reverses to white and red polka dots! I paired it with knit shorts and an over-sized bow. My daughter is tasting her first Dole Whip at the Polynesian Resort. I was so glad I had her dressed so adorably for the occasion!
Here's another tie-shoulder dress style that I made for my daughter. I pieced this together myself based on a dress that my daughter already owned but it went together in a snap (I even used inexpensive bias tape for the ties). This Marvel fabric is so unexpected on a baby, and totally unique!
Click image to order fabrics


Cotton Tee and Onesie with a Twist
These precious simple cotton tees for babies are made even more perfect with unique personalization. Pair a tee with ruffled cotton bloomers or cotton shorts for ultimate comfort. Cinderella Carriage Tee from AmyLou Baby on Etsy.
These decorated onesies from ShopDisney are adorable costumes in styles like Pinocchio, Mickey, Timothy Mouse and Pooh. Perfect for a little boy's first Disney vacation!
And don't leave the littles out for having some adorable Mouse Ears accessories! These First Visit Mouse Ears from IBBBoutique on Etsy are precious!
7. Quick Sew Shorts
Not to leave the boys out, I have made my gentlemen dozens of shorts to wear at Disney during our vacations over the years! I always use the same simple 2-piece pattern for elastic waist shorts. Sometimes I vary the length or add pockets on the legs. So comfy and easy to pair with a plain tee.
Click image to order fabrics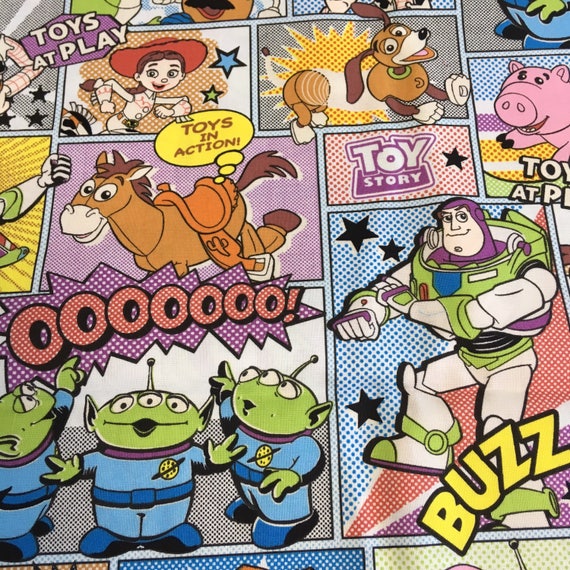 8. Perfect Shoes for Disney
For the love of all things, please have your kids wear real, practical shoes and not those plastic dress-up shoes with heels! Oh, I've seen little girls shuffling through the parks in those plastic shoes. I can only imagine the melt-down that would ensue when said shoes cause sore feet and blisters (because they totally will).
I adore pediped for my kids in their everyday wear and there are some adorable designs that are appropriate for wearing at the Parks. Some styles are waterproof for splash pad play or even have sparkles (to match princess dresses!) So much better than plastic dress-up shoes!
READ MORE- For more shoe ideas, see my post about the Best Shoes to Wear at Disney.
Save Money at DISNEY!
Purchase discount Disneyland tickets and vacation packages from my affiliate Get Away Today.
Use the Promo Code REWRITTEN and receive an extra $10 off any 2-night or longer Southern California package. (Hotel and 2 ticket minimum purchase to qualify for the discount).
---
9. Disney Perfect Costumes
Kids 12 and under can wear costumes in the Parks. What you'll need to consider is the practicality of wearing a glitter-encrusted gown while boarding roller coasters and if it's a good idea for your family or child.
Minnie Mouse dress at ShopDisney
A few things to think about before dressing the kids in costume:
Will this costume be weather-appropriate?
Is the fabric breathable?
How'd the fabric feel? Is the costume itchy?
Will your child wear the costume all day or will they want to change out of it?
Take a good look at the length and sizing (I've seen so many little princesses with their gowns dragging on the ground or falling off their shoulders because the dress is too big).
I recommend buying the costume early and letting your child try it on to make sure it's a good fit for them as well as comfortable. You'd hate for your child to be complaining because the elastic in the sleeves is too tight or they're overly hot.
Little Adventures has adorable and reasonably priced costumes that are great for the parks (or every day your princess wants to dress up!). Do your own personal DIY Bibbidi Bobbidi Boutique at the hotel room and save yourself a hundred dollars.
10. Non-Costume Dress Up
If a full-out costume isn't your kid's thing, consider these non-costume dress up ideas. Most of these Disney outfits for kids are breathable cotton and there's no glitter in sight! I made this simple top in Minnie dot fabric for my cousin's daughter. It gives the impression of Minnie Mouse but not in a costume.
Russell's UP! Wilderness Explorer Outfit from Bleu Bird Designs
Toy Story Woody Shirt and Shorts Set from DelilahEm Handmade on Etsy
My daughter owns several of these precious cotton stretch dresses and coordinating Mouse Ears from Presley Couture. There are lots of princesses and other Disney characters represented all with matching headbands, as well as hoodie jackets. Excellent prices means you can get one for each day of your trip!
11. Holidays at Disney Outfits for Kids
There are year-round holiday events happening at the Disney parks. So why not get into the seasonal spirit and dress the kids up too! In particular Halloween and Christmas are both great times to dress up in holiday Disney outfits for kids that fit the themes of the parks.
Jack Skellington Outfit from Strawberrie Rose on Etsy
READ MORE: Mickey pumpkin tee tutorial
Mickey Christmas Outfit from Momi Boutique on Etsy
READ MORE: Peppermint Mickey T-shirt Tutorial
12. Mouse Ears
One of the BEST kid's accessories you can pre-buy before going to the Parks is a Mouse Ears headband. There are so many adorable styles sold in the Parks but most are adult-sized and many are very heavy and/or uncomfortable to wear. A cute pair of Mouse Ears certainly completes the look when shopping for Disney clothes for kids.
Consider purchasing ahead of time or making your own Ears. We found these perfect Elsa-inspired Ears for my niece on Etsy!
Minnie Mouse Ears set for Mommy and Baby from Adorable Mouse on Etsy
This accessory blends a practical baseball hat with Mouse ears! Captain America Mouse Ears hat from Boutique JulesOh on Etsy.
These Mouse Ears from Presley Couture are perfectly sized for smaller heads. Truth be told, I prefer them for my own head too, they are much more comfortable than the adult-sized headbands! They are sold in designs to coordinate with their outfits. I purchased my daughter's Christmas colored Mouse Ears to match an outfit that I sewed for her myself.
13. More Disney-Inspired Accessories
Accessories are a nice way to add just a little touch of Disney to your child's ensemble. Dress-up accessories are fun to buy inside the Disney parks but so much cheaper to purchase them ahead of your trip!
These Are the Accessories I'd skip: Wigs, wings, masks, swords and wands. Pretty much anything that your child will want to remove in the park, that makes it hard to get on and off the rides or items that you don't want to be stuck holding when your child doesn't want to hold it anymore!
Disney Hats
Hats are always a great idea at the Disney parks, especially when the sun is blazing.
Sunglasses
Sunglasses are great for blocking out the sun (and wearing them during the day helps keep my kids less cranky too, when they aren't squinting in the bright sun).
Footwear
Socks and shoes are a fun (and practical!) way to show your Disney love! We found these Stitch socks inside Magic Kingdom for about $10 a pair.
Hair Accessories
Cute accessories can dress up even a plain t-shirt! This puffy Minnie Mouse Bow from A Fancy Finish on Etsy is an adorable pony-tail topper.
---
For more Disney clothes posts, check out the other great posts!
Wondering what to wear to Disneyland? Or how to dress for Disney World? Maybe you've already planned your own