Kids need toys and games that encourage creativity and independence. While electronic and battery-operated toys have their time and place, for everyday play you'll want to have these unplugged items on hand. These are the top games and toys that don't need batteries!
Mom Rewritten uses affiliate links which means I may earn a small commission if you purchase through the links in these posts. As an Amazon Associate I earn from qualifying purchases. For more information, see the Privacy Policy and Disclosures tab.
This post originally published on November 21, 2017 and has been updated and republished with a new date. I have received some complimentary products in exchange for inclusion in this article.
Toys That Don't Need Batteries
Several years ago I was at the toy store, perusing the aisles and looking for something my toddler daughter would enjoy. I walked out of the store empty-handed.
First off, I didn't want to buy her anything that made noise, was electronic, had remote controls or needed batteries.
Second, so many of the toys were waaaaay too pricey for what they were! Cheaply made and wouldn't last very long, despite the high cost.
Third, I didn't want to purchase anything that she'd outgrow in a month or two. I was looking for toys she'd be able to play with for several years. My daughter needed games to play with for a long time. I didn't want trendy toys that were "one-and-done".
I went home and looked at the toys that I've purchased for my kids over the years, the favorites and the classics. Those unplugged items that have proven their worth in gold.
These are the toys and games that get frequently pulled out, played with and that foster imagination. Some items I bought when my now-teenagers were babies. My littlest one still plays with them today!
Why Choose Battery-Free Toys?
Battery toys and game consoles have their place. But if you only offer children interactive toys or electronic toys, you're restricting playtime within boundaries. Electronics are a passive toy with limitations. Battery operated toys tell kids how to play with the push of a button.
The perfect toy is open ended and supports physical and imaginative play. These unplugged toys that don't need batteries are also a great way to limit screen time while also encouraging pretend play, fine motor skills and social skills.
Resist the Urge to Follow the Rules
Good toys with long lasting play power don't need specific instructions. Kids know instinctively what to do with building blocks. There's no reason to sit down with older children and walk them through how to build with LEGO. Even a baby knows what to do with a ball.
There's a time for structured games and rules, of course. But when you want to encourage a child's imagination, just having the right toys available for kids is enough.
Don't worry if you think your young children aren't "playing with them right". There's no right or wrong way to play! When kids start using their imagination you'll find that they'll use their toys in a variety of ways.
Positive parenting is allowing your children freedom in ways that will allow them to be inventive and stimulated by their surroundings. Having toys that don't need batteries at home helps to encourage that creative side.
Great Gifts That Support Child's Development
Whether you're shopping for the perfect gift for Christmas morning, birthday presents or restocking the toy box, this gift guide has something for every age group.
Follow the shopping links to find appropriate battery-free toys for any child's age, from babies to older kids. You're bound to find a great gift idea in this round-up of toys that don't need batteries!
Fostering Imagination
Toys that encourage imagination transport a child into a world of creativity and wonder. Open ended toys that don't need batteries never tell your kids what to do – kids are able to manipulate and use the parts to their own advantage.
Playmobil toys – With seemingly unlimited themes, Playmobil offers high quality play sets that include a jungle safari, fairy garden, Scooby-Doo, pet hospital and police station (my son is playing with that set in the photo).
Play Silks – Versatile and colorful silky play scarves can be used in a variety of ways in creative play. Tie around shoulders for a cape, make a canopy, wrap up baby dolls, or free dance with music using these lovely silks.
Hearth & Hand™ with Magnolia Wooden Dollhouse with Furniture – My dad made me a dollhouse for Christmas the year I turned 8. We would make furniture together with tiny picture frames from magazine pages and food from clay. Those are special memories! This dollhouse is beautiful and simple, the perfect heirloom, and pretty enough to keep in the living room.
More Imaginative Toy Ideas
Kid's Play Tent – This teepee from A Mustard Seed is a beautifully made retreat for children. Made of durable, washable fabric, the tent offers a private area for kids to relax. My daughter stores her plush toys in the inner storage pockets and has made this tent her personal reading nook. Plus it's a chic addition to her bedroom decor!
Dress-Up Clothes – The colorful dress up items from WildThingsDresses include super hero capes, animal face masks and dragon wings, all in gender-neutral styles.
Stacking Toys – Stacking toys serve a wide purpose for creative kids. Bowls and boxes can be stacked to create towers, filled with items for sorting games or used for pretend play. Image of stacking boxes shown earlier in this section.
This Fisher-Price Stack & Roll Tower was my kid's favorite, as the bowls can stacked or snapped together to make balls.
Outdoor Toys
Let's start with the outdoor toys that don't need batteries. Many outside games are "kid-powered". If your kids resist playing outside without friends, consider joining them in an outdoor activity. Use of large muscle groups is important when it comes to exercise, balance and flexibility (skills they won't gain while laying on the sofa!)
Pop-Up Soccer Goal – Can't go wrong with balls for outdoor play. A football, baseball, basketball and soccer ball are perfect for kids of all ages. The great thing about a soccer ball and these pop-up goals is that very little outdoor space is needed. Also kids can play alone, using the goal to trap the ball.
Ultimate Frisbee by Wham-O – My big kids are SO into playing Frisbee with friends lately! They even play Ultimate Frisbee during P.E. at school. If the Frisbee craze hasn't started in your area, take one to the park and see how many kids ask to join in!
Little Tykes Playhouse – Fresh air, sunshine and a heavy dose of imagination. An outdoor playhouse is ideal when shared with neighborhood friends who can join in the pretend fun.
Giant Bubble Wands – Who said that bubble-blowing is a calming activity? Kids have to use their whole body to get into making these giant bubbles!
Things That Go
Train tracks, cars, trucks and vehicles – the things that go are some of the best toys that don't need batteries. Rather than remote controlled cars (that always seem to drain batteries within minutes!), look for vehicles your kids can maneuver by hand.
Brio Classic Deluxe Train Set – I bought a Brio wooden train track for my eldest 20+ years ago and it's still in perfect condition and played with weekly! This classic wooden train set is an investment. But quite possibly, your grandchildren will play with them someday too.
Fisher Price Little People Helpful Neighbors Garage – I had this iconic toy as a child and love that it's still made with the same battery-free features. A metal bell that "dings", a hand-cranked elevator and the spiral ramp. So perfect for toddler and preschool vehicle lovers!
Wooden Vehicles – These carved wooden vehicles just feel good to roll. No batteries required, these cars are sized for smaller hands and sturdy for hours of playtime.
Tonka Truck – The classic, large steel dump truck is built for rough outdoor play. Hours of sandbox entertainment, as kids move and dump dirt.
Family Games
There's nothing quite like family game night! It's a bonding experience for sure. But playing board games and card games is also a chance to teach kids about healthy competition, brain building exercises, and good sportsmanship. Game play is one exception to following the rules of play. Make sure everyone who plays is refreshed on the guidelines of the games.
Apples to Apples Disney Version – Already own and love the original Apples to Apples Game? Try one of the other varieties, including Junior, Disney, Bible or Big Picture. This is a family favorite of ours!
Memory Match – The preschool classic game, memory matching tiles can be used in variety of ways to make the game easier or more challenging.
Beat the Parents – An eye-opening question and answer game where everyone can learn along. Entertaining and educating, it's a winning combo!
Bold Made – Played like the classic game of Old Maid and Go Fish but featuring the portraits of inspirational women from history for a modern twist!
Dominoes – Traditional game that's appropriate for a wide range of ages. And when you don't want to play by the rules, use the dominoes to stack and knock over!
Games to Play with Older Siblings
For games that only need two to play, these are ideal for two kids playing together.
Shut the Box – Play alone or with up to four people, this simple dice game offers basic math skills and healthy competition.
Taco vs. Burrito – Takes only a few minutes to learn, this quick round card game can be played in multiple ways.
Magic Set – When I was 8 years old, I was fairly certain I was going to be a magician! I had a magic set and my dad and I would practice tricks together for the stage shows I'd put on for my family. Learning slight of hand skills can improve coordination and confidence.
Crafts and Creativity
Crafts and activity kits expand your kid's creativity. Art can speak to kids in a positive way, where there's no right or wrong method and healthy messes are encouraged! Creative crafts are a tactile toy that no two kids play with the same way.
Kiwi Crate – High quality crafts and learning boxes, with something for all ages! Another thing I love about this monthly subscription is the easy ability to switch between the lines. I've been able to change between the Kiwi Crate for my youngest, Atlas Crate for my travel-obsessed kid and Doodle Crate for the crafty teen.
Rock Painting Kit – Our community loves to paint and hide rocks for others to find. Kids would love this kit that gives them all the tools they need to paint their own designs.
DIY Fairy Garden Kit – Nature loving kids will adore this whimsical Fairy Garden Kit from CreateArtParty on Etsy. Invite fairies into the yard with this craft kit especially for children
More Crafts and Creative Toys for Kids
Shrinky Dinks – This classic craft is just plain sheets that allow kids to color, cut then heat shrink down to a diminutive size. Perfect for making unique ornaments and suncatchers.
Travel Art Pouch – This high-quality on-the-go art kit satisfies a child's need to create and draw. I've found it particularly great for my child when we have to wait in the car. This version from SOhandmade is beautifully designed and quality crafted for years of use!
Play Foam – Mess-free and great for kids who love to play with textile items. The tiny foam pieces stick together allowing kids to model it as they wish. Looking for more things to entertain young kids? Try these things to do with preschoolers at home.
Creative kids aren't always the best at cleaning up after themselves! Check out these top kid's toy organization ideas.
Toys for Builders
You'll know if your kid is a builder when you find them stacking up anything they can around the house! Encourage the technical side of their brain with classic building toys. High quality made items will grow with your child, making these construction toys an excellent investment.
Many kits come with instruction manuals with guidance to build specific structures. However most kids will use their own creative instincts to come up with their own amazing ideas!
Stacking Rocks – An awesome alternative to square blocks, these odd shaped and varying weighted balancing stones offer more challenge.
GEOMAG – This high quality Swiss-made STEM toy includes magnetic spheres, rods and panels for unlimited construction possibilities.
Bristle Blocks – Classic preschool building with soft bristly-edged blocks that easily slide into each other.
K'NEX – These rod and connector building toys snap together easily, allowing builders to make moving creations that have no limit. Younger kids will love the easier-to-manipulate classic Tinkertoys.
Magformers Magnets – Think outside the LEGO box for other creative toys that your builder will love! These magnet sets combine building with movement for maximum creativity.
Lincoln Logs – Use these traditional wooden notched logs to build more than just log cabins. The feel of real wood (versus plastic) is a wonderful tactile experience.
Playmags – Sturdy magnetic pieces can be manipulated to build colorful structures.
Magnetic Cube Blocks – For younger children or those who struggle with balancing regular wooden blocks, these magnetic blocks are a great toy for construction.
Water Play
Just add water and see what you get! These are some of the best toys that don't need batteries. Many kids love to splash, dumping the water on their head. Other kids find the water relaxing and just love to watch it slowly pouring out of cups. In any case, all kids need to bathe – so a few bath toys are always welcome!
Skip Hop Stack and Pour Buckets – These simple and small buckets have different holes and slots in the bottom, releasing the water in a variety of ways.
B. Toys Fish & Splish – End the day on a wet note by encouraging water play in the tub. This set is particularly fun because it's also functional – the toys are also a comb and nail brush.
Boon Building Bath Pipes – The pipes suction to the wall, so that kids can pour water through. Arrange the pipes so that water flows through each without spilling.
Water Table – Ideal for the kid who wants to play with water all day long! A water table encourages play and curiosity as kids float and pour to their heart's content.
Toys that Encourage Problem-Solving Skills
Learning life skills through play is a childhood tradition. No batteries required for these learning toys. Parents will love watching their kids get engrossed with these entertaining and educational toys!
Wooden Activity Center – These baby-friendly busy toys encourage hand-eye coordination. Look for features that teach basic skills including sliding, pushing and pulling for small motor skill development. Make sure the base is sturdy like this version so the toy doesn't tip over if baby pulls up to stand.
Marble Run – Perfect for creative older kids who can't get enough of building and moving. More than just a basic marble run, this versatile set is also a car track and construction set.
Roll & Bounce Tower – Similar to the marble run for older children, a rolling ball tower is simple in design. The funnel and bounce aspects add a new dynamic to this cause and effect toy.
Finger Puppets – While these dolls are a creative way for children to play, there's an added benefit to using finger puppets at home. I've used them successfully with my children to help them talk through feelings or even to ease them into waking up (Bonus: finger puppets take up a lot less space than plush toys!)
More Brain-Building Toys That Don't Need Batteries
Busy Board – Teach life skills in a fun way with this take 'n go toy from AxelAdventures on Etsy. This clever getting dressed board features clips, shoelace ties, buttons, zippers and more.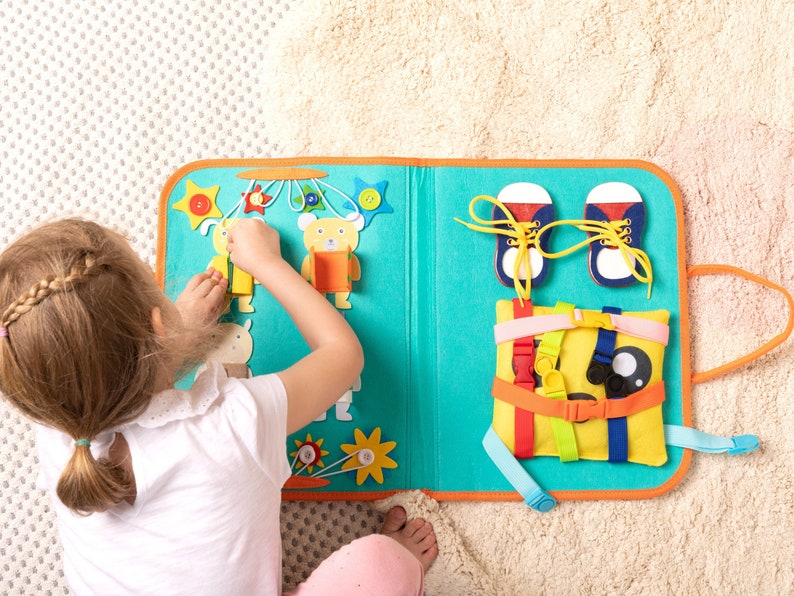 Learning Resources Gears – Some kids are just fascinated by moving gears, and this toy satisfies on all levels. Build and then turn one pog to see all the gears move.
Haba Soft Doll – Caring for a baby doll fosters tenderness during imaginative play. Dolls are not just a little girl gift. Every child should have a doll in their toy repertoire. These adorable soft dolls from Haba come in a variety of skin colors and hair textures. They're also machine washable!
Looking for More Gift Ideas?
Experience Gifts – These experience gifts offer family bonding and memory making, without the issue of having more stuff.
Books – One size fits all – Books are an amazing gift! Check out this gift guide with the 100 Best Books for Kids of All Ages.