From Cinderella and Jasmine to Tiana and Snow White, dressing up as a Disney princess can add a certain magic to any child's vacation! With so many options available, it can be a challenge to find out what are the best places to shop and where to get the top deals. This guide will help you buy Disney princess dresses with confidence, offering a full review of popular online stores. Read the tips on how to find the most comfortable designs at reasonable prices and details on the best places to buy Disney princess dresses!
Mom Rewritten uses affiliate links which means I may earn a small commission if you purchase through the links in these posts. As an Amazon Associate I earn from qualifying purchases. For more information, see the Privacy Policy and Disclosures tab.
For the sake of review, I purchased these Disney princess dresses myself without any compensation and this post is not sponsored by any of the companies mentioned. All opinions are my own.
Best Places to Buy Disney Princess Dresses
In prices to fit all budgets, these are the best places to buy Disney princess dresses across the internet. I've offered suggestions on what to look for when shopping for your children including product reviews for 16 different websites.
Dress Up Disney Costumes vs. Playwear Outfits
When choosing the best Disney outfits for kids to wear on vacation wearing dress-up in the parks can be a magical addition. Any child 13 and under is permitted to wear full costumes when at either Disneyland or Walt Disney World. Of course, don't forget about Disney Cruise Line, when dressing up for themed nights adds to the adventure!
What is the difference between a costume and playwear? The vary can be great when comparing fabrics, style and cost.
Costumes are generally considered more "dress up" and are usually more costly. Play wear is an everyday outfit and something that could be worn to school. This article will cover both costume dress-up outfits as well as playwear to pack for a Disney vacation.
Choosing the Best Disney Characters to Represent
Parents planning to buy Disney princess dresses should look beyond the traditional. Many popular Disney characters extend past the usual princess storylines!
Consider Minnie Mouse, Bo Peep from Disney/Pixar Toy Story, and Leia or Rey from Star Wars when planning a Disney vacation wardrobe.
For siblings look for movie characters that offer multiple dress up opportunities, like Wendy and Tinker Bell with Peter Pan or Jack Skellington and Sally from The Nightmare Before Christmas. What about Mirabel, Isabella or Luisa from Encanto or the Mad Hatter, Cheshire Cat and White Rabbit with Alice in Wonderland!
There are endless possibilities – just refer to your favorite Disney movies and go from there when choosing character outfits.
Disney Outfits for Every Child
Gender – If you're looking for Disney outfits for boys and girls, I'm covering it all here. Dress-up clothing is for EVERYONE and not limited to the child's gender.
In this article, I may refer to character costumes that are traditionally for "boys". This might be based upon the individual website and in which section they have these outfits. Naturally, boys can wear Disney princess dresses and girls can wear pants and suit jackets.
Babies – When shopping to buy Disney princess dresses for babies and toddlers, don't forget the logistics of diaper changes. Oversized skirts may make it difficult to buckle into car seats and strollers.
Special Needs – Kids with special needs can find adaptive clothing and costumes on shopDisney.
Choosing Disney Princess Dresses for Comfort
If the outfit isn't comfortable, it's very likely that your child isn't going to wear it. And why spend good money on something they refuse to put on! Make sure to thoroughly read the descriptions for each piece of clothing to ensure it will be appropriate for a day in the theme park. Here's what to watch for:
Itchy and scratchy fabrics near the neckline and at the sleeves. Decorative fabrics like tulle can be annoying and thick seams can irritate skin. Consider having your child wear a coordinating t-shirt underneath dresses that might feel unpleasant against their skin.
Don't forget about the weather! If the weather is going to be hot, look for lightweight materials. When the temperature is cool, add layers like a long sleeved tee or leggings under dresses for warmth.
Look at the fabric types to check for breathability. Polyester and nylon can trap heat more than cotton.
Belts and ribbons can quickly loosen or untie throughout the day. Look to buy Disney princess dresses that have built-in waistbands.
Bring extra clothing to change into when your child tires of wearing their costume.
Recommended Washing Instructions
Some sites, like Little Adventures proudly tout that costumes are machine washable. However most of the Disney princess dresses mentioned in this article should be hand washed or machine washed on delicate.
Use a gentle detergent like Woolite when washing costumes. Take care when rubbing fabrics if the costume has glitter or decorative features.
Don't put any of these dresses into the dryer! Simply lay flat or hang to dry. I use this collapsible folding drying rack for my daughter's dress-up clothes.
To protect your baby or toddler's dress up outfits, bring along disposable bibs in the Disney diaper bag.
What to Look for – Buying Disney Princess Dresses
Choosing what to wear can be a big concern for vacationing parents, especially when cost is a consideration. On a budget? Pick easy to wash pieces that can be worn again once at home. My daughter frequently wears her cotton Disney princess dresses to school. The fancier costumes however are relegated to the dress up bin or worn for Halloween.
These are a few important questions to ask before purchasing and what to watch for when buying Disney princess dresses online:
How does the child get in and out of the costume? Is there a zipper? Zippers inserted too close to fluffy edges may catch in the teeth when zipped. Are there rows of teeny-tiny buttons?
How will the child use the restroom? Will they need assistance in the bathroom when wearing one of the poufy or long dress styles?
Look for finished edges and high quality trims. Ensure that trimmed edges aren't too close to the neckline or sleeve edge, which could cause discomfort against the skin.
How is the dress finished off? Watch images for raw edges that may catch and fray after one wearing/washing.
Is the fabric easily cleaned? Many dresses are not machine washable so check the fine print on how dirt or messes can be cleaned off. (PS: White dresses are probably not the most practical for theme park travel!)
Don't Rely on Typical Clothing Sizes
Measure your child. Costumes can often run larger or smaller than normal everyday clothing. Some fabrics like velvets, spandex and knit may be stretchier than others.
Pay attention to the fine print on each website as they will often note when an item should be sized up or sized down.
How to Measure a Child for a Disney Princess Costume
The numeric size of the costume often matches up with a child's age. However your 5 year old may not be sized in the same way as my 5 year old.
Use a soft tape measure then compare to the guidelines on each individual website. Measure child in a relaxed position and ensure they are not holding their breath or lifting their shoulders or arms.
Some of the websites mentioned in this article only offer exchanges, with no returns accepted. Be sure to read the return policy in advance of ordering to know the stipulations and return window for each site.
Making Your Costume Look Like the Website
Take the pieces out of the bag to hang as soon as possible. Deep wrinkles are prone to set in. Silky fabrics and tulle tend to get crushed. Allow the wrinkles to release naturally by hanging each piece in a closet with space around them.
Use small sewing scissors to trim excess threads that may be dangling off the costume.
Many of the photos from the websites in this article show dresses with full skirts. This is accomplished by use of an fullness skirt or pettiskirt. Wearing an underskirt with a princess dress will add fullness to the skirt.
Measure the length of the dress from the child's waist to determine the length of pettiskirt needed for each particular dress.
To note, my daughter did not wear an underskirt with any of the dresses shown for our personal photographs. We do own the black XinChangShangMao tutu skirt but found that the dresses we purchased were full enough on their own.
Bibbidi Bobbidi Boutique
The popular make-over salon inside the Disney theme parks has returned! Bibbidi Bobbidi Boutique reopened on August 25th, 2022 as a salon experience. The shop is also operating as a store-front for sale of dresses and accessories.
Guests may choose to save on the cost of the Bibbidi Bobbidi Boutique makeovers by supplying their own costume. Certain packages include the make up, hair styling and nail manicure without the charge for a costume. This means guests may choose to wear their own outfits without the costume upcharge.
Another way to save on the cost of Bibbidi Bobbidi Boutique is to create your own in-room makeovers. These DIY Bibbidi Bobbidi Boutique ideas include glamorous make up tips and kid-friendly hair styles to do either at home in the hotel room.
Complete the Look Head to Toe
Outside of shopping at Bibbidi Bobbidi Boutique there are many ways to complete the Disney princess look. I highly recommend purchasing these accessories before your vacation, especially when on a budget.
Shoes – One of the top ways to make a costume look work is with a perfect shoe (just ask Cinderella!).
Under no circumstance should your child wear plastic costume shoes or heels! Ensure that footwear is broken-in and of high quality to wear while walking in the Disney parks all day.
I brought a wide variety of comfortable, theme-park worthy footwear options for my daughter to wear during our trip. I'll share each top shoe choice in the sections below when I feature Disney princess dress photos.
Wigs – Wearing a wig or headpiece can be uncomfortable and awkward for many kids. I highly recommend skipping wigs and other elaborate hairstyles.
Hair Bows – Bargain Hair Bows is my very favorite place to find hair bows at excellent prices in a rainbow of colors to match Disney princess dresses. These enormous bows with alligator clips don't even budge on roller coasters!
Accessories – The right accessories including a hat, crown, necklace or cape can take costumes to the next level. However only pack in what you don't mind carrying later, when your child tires of it (I'm looking at you, royal scepter!)
Tights – When the weather is chilly wear tights or colored leggings to coordinate. I love the quality and variety from Primary to wear under dresses.
Trish Scully Princess-Inspired Dresses
Trish Scully offers upscale Disney princess inspired gowns, mostly full length in sizes that range from 6-12 months up to 14 years old.
From the website, "These are soft and never scratchy, we understand tactile sensitivity and always design using the softest materials, then we fully line the dresses with soft cotton. NO GLITTER is ever used on ANY of our products".
The gorgeous dresses would be perfect for formal night on a cruise. Quality accessories including wands, crowns, and wigs. Trish Scully carries other special occasion outfits including wedding attire, first communion, pageant-style gowns, shoes and a woman's fashion line.
There is also a section of masculine dress up outfits, including Bert from Mary Poppins, White Rabbit costume and The Beast.
Shop Trish Scully on their website or at Zulily.
Trish Scully Review
We purchased the Ice Queen dress from Trish Scully, their version of Elsa from Frozen. The dress is quite long but I'd measured my daughter to ensure of a good fit before purchasing. This soft blue dress is truly beautiful, with a full bodice of shiny sequins.
The lace trim around the waistline had the tendency to want to turn up but it didn't detract from the overall look.
I signed up for the Trish Scully newsletter list as there was a teaser for a discount. However when I went to use the cost, I was told the discount code received for my first order couldn't be applied to any product from the dress up section.
Best for:
Special occasion dress up events, like for Oogie Boogie Bash costumes. Ideal for kids who seek attention and won't mind everyone noticing their over-the-top outfit!
Not great for:
The ethereal photography used on the website is both inspiring and slightly misleading. Don't let the gorgeous images taken in forest and castle settings draw you away from reality. Use caution when ordering to pay attention to the details of each piece.
In all likelihood, your child will be wearing these dresses in an amusement park. That means, those long hemlines and capes may drag across the concrete and could be stepped on (and torn!).
Those overly fluffy skirts may be a challenge to get in and out of rides as well. These costumes are not great for kids who are very rough on their clothing.
Taylor Joelle Character Collection
Taylor Joelle's website offers collections that include princess, super hero, Star Wars inspired and other characters. Look for dresses with attached tutus, baby rompers that coordinate and a line of adult t-shirts made to match kid's outfits.
Diverse range of children shown in the models. Photos show great movement along with videos of kids dancing and twirling in the dresses.
Outfit highlights include playwear made with cotton for ultimate comfort against the skin around the neckline and arm bands.
Shop Taylor Joelle on their website or on Zulily.
Taylor Joelle Review
My daughter chose the Red Polka Dot Vacation Dress, inspired by Minnie Mouse. It was worn during the Minnie & Friends – Breakfast in the Park at Disneyland. The top is a stretchy t-shirt style with an attached full tulle skirt that's soft and flowing.
When it came time for me to change my daughter, she said she didn't want to because this costume was so comfortable! A true testament to the comfort level of these adorable Taylor Joelle designs.
Shoes – These red patent-leather Mary Jane Keds offer up the perfect whimsy to coordinate with this outfit, without sacrificing comfort!
Headband – This adorable red bow headband is the sweetest topper to any Minnie Mouse ensemble. Check out the other color selections to pair with other Disney princess costumes.
Best for:
Kids who seek comfort above all things. The outfits from Taylor Joelle are kid-appropriate in all senses, including soft fabrics and playwear designs.
Not great for:
If you're planning a last minute vacation, you might have trouble finding what you need in time from this website. When I bought, there were several dresses I was considering purchasing for my daughter. The Snow White princess inspired look (called "Fairest Princess" on the website) was at the top of my list. The Mermaid Princess Ariel dress was also considered.
Unfortunately many sizes were sold out and I had to choose something else. My suggestion here would be to order early and get on the notification list if you have your heart set on a particular style.
Little Adventures Dress Up
Little Adventures dress up clothing is one of the top brands that our members mention in the Disneyland With Kids Facebook group.
Costumes from Little Adventures are machine washable so they're ideal for everyday dress-up playtime or theme park touring. Their Lifetime Guarantee ensures that you're happy with your purchase. Free shipping is offered on all US orders.
Large selection of outfits for "Prince Charming" and other Disney princes along with accessories like play shields and swords. Items include dragon capes, pirate outfits and character representations like Aladdin, Peter Pan and Star Wars. Great for siblings who want to coordinate their looks! Little Adventures offers a small section of adult princess dresses as well.
Photos are taken on real children, with good diversity in representation. Multiple product views from a variety of angles give you an idea on the actual product you'll receive. Due to the stretchy necklines and waistbands, Little Adventures dresses offer a broader size range than some other websites.
Fabrics are soft and stretchy and made without itchy seams or underskirts. Some of the Little Adventures princess dresses do have glitter, though it's touted as being "no-shed".
Shop Little Adventures dress up on their website or on Amazon.
Little Adventures Review
Lots of super cute princess dresses in both long and short styles. I think the Princess and the Frog Tiana Disney princess dress is one of the prettiest versions I've seen! But my daughter wanted something less fancy.
We chose the Toy Story inspired Jessie the Cowgirl Dress. Little Adventures also offers the Cowgirl Hat but we decided to keep it simple with a bandana-print hair bow instead.
Free shipping on any order is a plus. I also received a discount code after signing up for their newsletter list.
My daughter loved the comfort level of this dress. And of course, she appreciated the extra attention she received from Bo Peep when taking photos near Toy Story Midway Mania!
Shoes: Red leather Mary Jane Keds for the win! Super flexible and comfortable sneakers with adjustable straps. My daughter never complained about sore feet in these adorable shoes.
Best for:
Little Adventures are ideal for kids who love to dress up at home. Since the outfits are free of zippers and buttons, Little Adventures are made for children to be able to put on and off by themselves. These are the costumes that are perfect to relegate to the dress-up bin after a trip.
Not great for:
Those who are looking for unique styles and a more elegant look. Little Adventures are more on par with off-the-shelf costumes found during Halloween, albeit a much higher quality.
Only Little Once Princess Dresses
The shop Only Little Once offers a large variety in a mix of playwear styles and over-the-top elegant costumes. Pieces are made with soft brushed stretch cotton, and many dresses are lined with a 100% cotton slip.
Start with the portrait collection, an upscale version featuring custom embroidery, sewn in sequins and crystals for extra sparkle. Buy Disney princess dresses in a range of styles and lengths, from twirl dresses to maxi length.
Includes high quality costumed character looks that are harder to find elsewhere including Vanellope from Wreck It Ralph, Doc McStuffins, Russell from UP! and Mal from Descendants.
Other items offered are princess-inspired swimsuits, dance and gymnastics leotards, and sweet special occasion clothing and loungewear.
Photography on Only Little Once is precious, often shot within the Disney World theme park using a diverse range of models. There's a touch of reality, especially for families hoping to capture the same images with their child. Multiple images and close up photos allow you to see the quality and fabric of each item.
Purchase Only Little Once outfits on their website or find them at OLODesigns on Etsy.
Only Little Once Review
I had a challenging time deciding on which Disney princess dress to purchase for my child. There were a few twirl dresses we were interested in but they were sold out in her size.
My daughter and I decided upon the Only Little Once Cinderella Ballgown, which was a fancier look than we would usually choose. I wanted to pick at least one over-the-top dress for the purpose of this review to see how they actually hold up in the theme parks.
This ballgown is what Only Little Once refers to as a "platinum edition" gown. The stretch velvet is soft and comfy, intended to stretch with the child. The interior of the dress includes a tulle petticoat for fullness and a cotton lining to eliminate itchy spots.
The Only Little Once Disney princess dress was by far the most expensive purchase we made but it was also the most elegant. This ballgown was my 6-year old's absolute favorite costume she wore during the trip.
She loved the attention she received from cast members, the Disney princesses and other guests, who frequently commented on the beauty of her dress. My daughter subsequently wore this dress for her Halloween costume as well.
Shoes – This dress looked lovely with simple Rose Gold Saltwater Sandals, a perfect choice for warm weather.
Best for:
Anyone wanting a high-quality heirloom style dress look no further. Only Little Once delivers on all the marks and still offers comfort that kids appreciate. Perfect for anyone who will be taking keepsake photos in the theme parks.
Not great for:
Those on a tighter budget. Only Little Once costumes are heirloom-worthy, with a price tag to match. The gowns are a splurge for sure. The princess twirl dresses and peplum tops are more affordable (though still investment pieces).
Presley Couture Play Wear Styles
Presley Couture offers up inexpensive cotton princess dresses but at a higher quality than some others we've purchased. Coordinating Mouse Ears in styles to match popular characters are kid-sized for comfort.
Other items on the website include comfortable cotton baby clothing, princess doll dresses and jumpsuits. Disney themed hoodies are a great choice during cooler weather.
Photos are taken on children in a studio, with diversity in representation. Multiple product views from a variety of angles give you an idea on the actual product you'll receive.
Shop Presley Couture on their website.
Presley Couture Review
My daughter owns several of the princess dresses from Presley Couture, along with some other clothing items. The Arabian Nights dress inspired by Jasmine from Aladdin is my favorite!
Shoes – We paired this adorable dress with classic black and white Converse Chuck Taylor All-Star sneakers, a comfortable footwear choice.
We also have a Buzz Lightyear dress and my daughter's favorite, the Way Finder Dress that looks like Moana. The Twirl Dresses including the Celebration and Red Polka Dot have been favorites of my daughter to wear at Disneyland.
Best for:
Sweet play clothes that are ideal for everyday wear. Matching Mouse Ears are comfortable and cute to coordinate with outfits. Very reasonably priced at just over $20 per dress to easily outfit a child for their entire vacation!
Not great for:
Anyone wanting more of a dressed up look. While some of the dresses feature special detailing (like the Jasmine), these are cotton play clothes through and through.
Great Lakes Kids Apparel
I've been a longtime customer of Great Lakes Kids apparel, especially their super soft "milk silk" flutter sleeve dresses. These comfortable playwear items often feature favorite characters or cartoon themes. We own an embarrassing amount of these dresses, including this Haunted Mansion Inspired print.
Some prints come in both dresses and raglan t-shirts for coordinating siblings. A newer addition to the Great Lakes Kids line is their princess inspired tank dresses and bathing suits. Soft and comfy loungewear is another fun choice!
Website photos are mostly flat lay with a few images taken on children (would like to see more diversity here). It can be a challenge to view a close up design of some prints, so use the zoom feature when possible.
Shop Great Lakes Kids on Etsy.
Great Lakes Kids Apparel Review
As previously noted, we own a good number of the dresses, tops, swimsuits and loungewear from Great Lakes Kids Apparel. This Shine Bright Twirl Dress was perfect for watching the Main Street Electrical Parade on our last Disneyland vacation!
For this review, we purchased the Dinglehopper dress inspired by Ariel from The Little Mermaid, our first of the Disney princess inspired designs from Great Lakes.
Sizing can be an issue on the princess originals. There have been some designs we've purchased that required safety pinning at the straps to ensure a better fit. But you get what you pay for and these outfits are bargain priced.
Best for:
Inexpensive, ultra-comfortable styles in bright colors and coveted designs that kids will love.
Not great for:
I've purchased several of the inexpensive princess swimwear items from Great Lakes. While they are adorable, I've found the quality to be lacking when compared to their usual dresses. My daughter's suits were ill-fitting and one of the elastic waistbands twisted after first wearing.
The swimsuits are very inexpensive so take it for what it is – a cute poolside look to wear a few times on vacation without spending a lot of money.
Wonder Princess
The apron dresses with attached tutu skirts are the highlight of this online site. The charming Wonder Princess pop-over dresses are styled like Disney princesses and other characters. This Tinker Bell inspired apron dress is so cute!
Sized for both kids and adults, wear the apron over a tank top, shorts or a simple dress. The apron ties at the neck and waist for a customized fit.
Dressed are photographed on a simple white background with close up detailed images so you can see the quality and fabric.
The Wonder Princess site offers up some of the same/similar cotton tank dresses seen on some other websites. But what's unique here is the teen and adult sizing on dresses. Grown ups can coordinate with the kids!
Free shipping and returns for any order over $40. Shop Wonder Princess on their website.
shopDisney
If you're looking for authentic items, go straight to the source and purchase licensed Disney princess dresses from shopDisney. These are the same dresses you'll find in the theme parks or at Bibbidi Bobbidi Boutique.
Don't expect to find "itch-free" clothing from shopDisney. But you'll often find a more high quality design, fit and construction than usual costume shop outfits. shopDisney is one of the best places to buy Disney princess dresses, especially before Halloween when stock and selection increases.
The designs on the Disney princess dresses change frequently, often each year. So if you spot a particular look you love, best to make the purchase right away.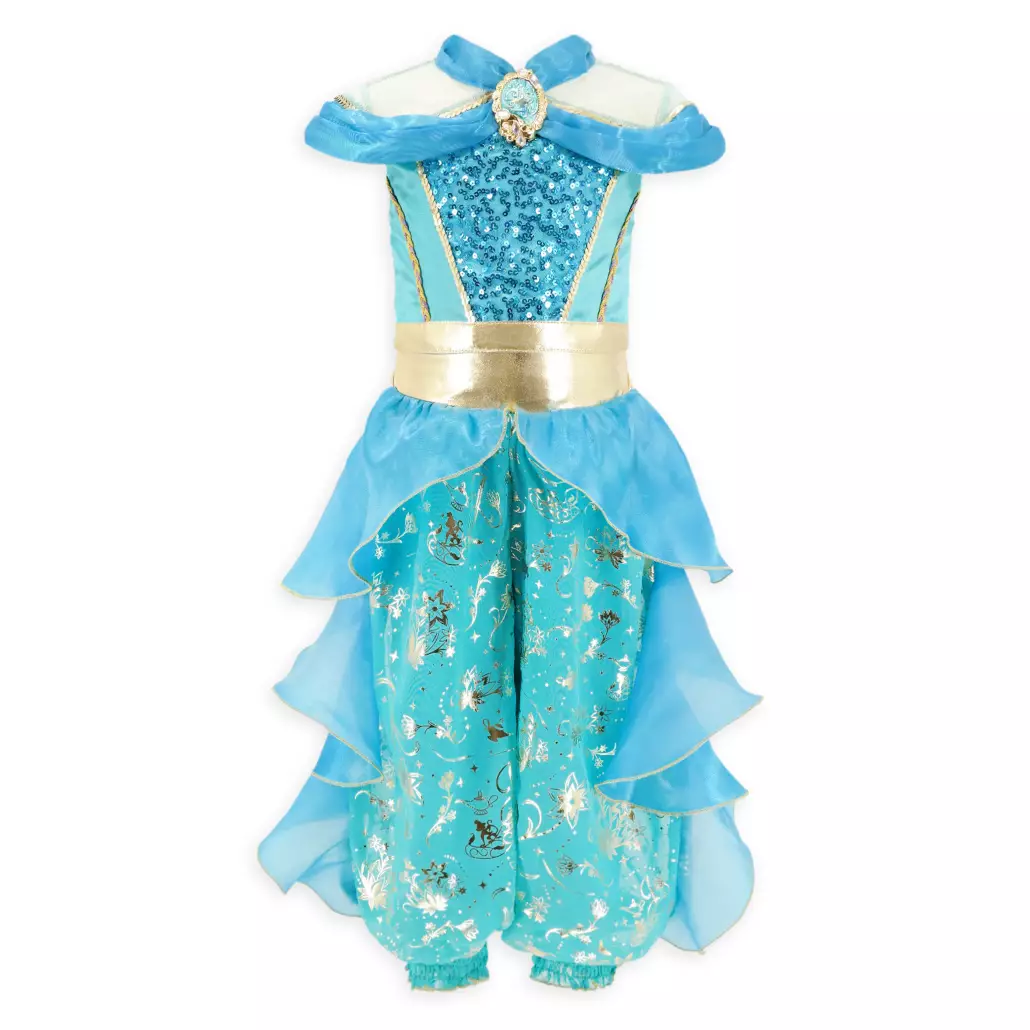 Disney princess dresses at shopDisney are more on the costume side than casual playwear. The site does offer vacation clothing, including cotton t-shirts and sweatshirts in sizes for babies up to adults. ShopDisney is also a great place to find adaptive costumes and swimsuits.
Best for:
Anyone who wants to shop for authentic Disney merchandise before their trip. The benefits of shopping ahead of time online are many, starting with the cost difference. Prices at shopDisney are comparable to the theme parks but there are multiple ways to save.
Sign up for the shopDisney emails to receive notice of sales.
Disney Visa members receive a 10% merchandise discount.
For additional savings, register for Rakuten and receive a percentage off your order (which is accumulated into a refund check).
Amazon
Is Amazon one of the best places to buy Disney princess dresses? There are so many companies offering Disney princess dresses for sale on Amazon. But which ones can you trust for good quality at a reasonable price?
Disguise Costumes on Amazon
Disguise is a well-know producer of licensed Disney costumes. There are choices for babies up to adults including adaptive costumes for special needs. Their online shop is a great place to find coordinating accessories including wigs and wands.
Dressy Daisy on Amazon
Dressy Daisy was one company I kept running across while scrolling through Disney princess dresses on Amazon. With sizes from 12 months to 6, they offer ballet tutu dresses, baby onesies with attached skirts and costume dresses in a range of styles.
The easiest way to navigate and find what you need for vacation dress-up is to drop down the "princess costumes" tab. From there, characters are listed and multiple styles of dresses are featured for each character when clicked through. Dressy Daisy does not have Amazon Prime shipping but the dresses are low priced.
Dressy Daisy Review
My daughter and I chose to review the Snow White inspired Disney princess dress, called the Tulle Style Dressy Daisy Princess Costume. They offer Rapunzel, Little Mermaid and Cinderella, as well.
The dress includes an attached tulle and organza skirt overlay with puff sleeves, bodice detailing and a pullover style. A self-tying ribbon ties the dress in back to customize the fit.
While inexpensive, the dress is made nicely enough and fit my daughter well. The underskirt fabric is a very thin cotton so consider wearing undershorts for modesty.
The Dressy Daisy tulle costume is priced right, especially if you're aiming to purchase several princess dresses for a trip.
Best for:
At just under $20 each, the Dressy Daisy Pullover Dress is a nice option that is comfortable but still slightly more costume than basic cotton styles.
Not great for:
The larger and longer tutu dresses might be a bit much for the theme parks (challenging to get in and out of rides with the stiff tulle skirts).
Not as well made as some of the other dresses featured in this article that are around the same cost.
Etsy
If you can't make it yourself but you want a homespun feel to your Disney princess dress, Etsy is the best place to start. There are many small business owners here, ready to sew up custom designs for your little princesses to wear at Disney!
Keep in mind that the boutique designs on Etsy are sometimes made to order. This can result in longer lead times for the customized styles. If you're in a hurry, look for "ready to ship" listings.
These are a few of the best places to buy Disney princess dresses on Etsy, as recommended by the members of the Disneyland With Kids Facebook group.
Hunny Bees Kids – Affordable soft cotton dresses ranging in price from $16.99-29.99, sized 12 month to 14. This Ariel costume dress looks comfortable enough for a full day of play in the theme parks.
Lover Dovers Clothing – Designs range from "practical princess" cotton/poly dresses to fancier party dresses with tulle skirts hemmed with satin ribbon.
Lover Dovers encourages guests to sign up for their marketing VIP Club to receive 20% off their order. This Sleeping Beauty Dress is a true vision of Princess Aurora.
EmmasMagicalDream – So many lovely details on these custom princess dresses! The soft satin fabric on this Tangled dress inspired by Rapunzel is gorgeously shiny and luxe but won't be scratchy against tender skin.
Zulily
A quick search of "Disney princesses dresses" on the popular outlet-type website and you'll find fun and inexpensive options! There are also lots of ideal vacation t-shirts, accessories and Disney souvenirs to buy ahead of a trip.
Best for:
Anyone shopping for reasonably priced Halloween-type costumes including these from Disguise.
Not great for:
Families that are planning their kid's vacation wardrobes at the last minute. Best to shop far in advance. Stock and sizing on Zulily is hit or miss. You really need to follow specific brands to get the email alerts when certain products go live on the site.
Also, be sure to read the details about fabrics for each costume. The Disguise Minnie Mouse Tutu Dress-Up Set is full polyester and might not be the best choice for kids with sensitive skin.
My daughter owned this exact dress as a toddler. She didn't complain about the fabric but expect it to be a stiffer material that might be scratchy in certain areas.
Walmart & Target
When you just need something and you're already shopping from one of the big box stores. Both Walmart and Target offer up items in store and on their websites in the way of Disney princess dresses.
Walmart has a pretty extensive online collection in low prices you've come to expect.
Selections from Target include printed cotton play dresses as well as dressier costume styles.
READ MORE:
Choosing the best Disney outfits for kids including shoes and coordinating sibling styles.
Free printable Disney packing list for kids with tips on choosing the top travel essentials.