Show Mom you care with these thoughtful and personal gifts just for her. Everything in this Mother's Day gift guide is priced at $30 or under. Nothing "cheap" here, these are budget Mother's Day gifts that still feel like a splurge. And what are we kidding? At just around the 30 dollar price range, you can afford to buy a few for yourself too!
Mom Rewritten uses affiliate links which means I may earn a small commission if you purchase through the links in these posts. As an Amazon Associate I earn from qualifying purchases. For more information, see the Privacy Policy and Disclosures tab.
I have received complimentary product for some items mentioned in this article. This article originally published on April 22nd, 2020 and has been updated and republished with a new date.
Budget Mother's Day Gifts
I love to give the perfect gift! And naturally, I love to receive them too. But all the extra cost adds up.
It seems like there is always another "holiday" coming up with more expensive gifts to buy. All the gift giving can really take a hit when you're on a tight budget. You need affordable gifts to make mom (and your wallet!) happy!
Shopping for mom, mother-in-law, and a mother figure? You want to show your love and appreciation for them with a thoughtful gift for Mother's Day, but you can't really get too extravagant with it. Find out the best Mother's Day gifts, including home decor, beauty products, and practical gifts.
If you're looking for budget Mother's Day gifts under $30 you've come to the best part: Most of the cheap gifts in this round-up are under $20! Check out this budget-friendly guide with affordable Mother's Day gifts.
Personalized Gifts to Celebrate Memories
Key Ring – As far as she roams, this trendy Personalized Name Keychain from JillMakes on Etsy will keep keys safe until she returns home.
Credit Card Holder – This beautiful sustainable Leather Credit Card Holder holds multiple credit cards, with a pinch-open coin and cash pocket. Choose from a variety of colors and opt in for engraved personalization.
Photo Gifts from Shutterfly
I know what my mom likes to receive for Mother's Day – new photos of the grand kids! Take your most precious photos and transform them into a cute gift as a sweet reminder of memories past.
From prints that she can put in a frame, the Latte Mug, a photo memory book, jigsaw puzzle, or magnets for the fridge, Mom will love to show off the photos.
I shop Shutterfly for printing all my photo memories. Sign up to receive notifications of sales from Shutterfly and you can often receive 50% off or even free products!
Pampering Gifts on a Budget
A day at the spa is special but for pampering on a budget, there's nothing like DIY at home. These pampering gifts are great for mom and she'll love how they make her feel.
Read more: 13+ Self Care Ideas for Moms to Do Everyday
Ipsy Subscription – The Ipsy Glam Bag is just $13 per month and includes 5 generous samples inside of a make-up bag. Gift mom a single month of Ipsy or go for all-out glam with a year-long subscription service.
At Home Manicure – Send Mom her favorite make-up splurge. This OPI Infinite Shine Nail Polish will have her manicure looking fabulous.
Vaporizing Steam Shower – For a spa-like shower, try these Essential Oil Shower Steamers that release scent and steam upon release in hot water.
Pedicure Must-Have – No pumice stone needed with these intensely moisturizing Hydrating Socks
, sure to remove tough skin and calluses.
Warm Toes – Encourage mom to kick up her feet with these plush slipper socks. Rub in foot cream then slip on cozy Slipper Socks to soften rough feet.
A Great Mother's Day Gift to Mail
Lovepop Cards
Cards are a great gift idea to send to Mom in the mail. A handmade card is nice, of course. But these Lovepop Mother's Day cards are showstopping!
Lovepop cards, like this pop-up beautiful bouquet, can be used time and again. Lovepop cards are like a piece of art, with 3D features that easily open, then flatten for storage. They're the perfect Mother's Day gift when you can't be together!
Budget Gifts for the Foodie Mom
Does your mom enjoy cooking? Or maybe she just appreciates yummy things! These foodie gifts under $30 are just right.
Chocolate Sampler – Give Mom a treat with no expectation of sharing! This Godiva Truffles Flight are decadent and all for her to indulge.
Kitchen Essentials – Having the right kitchen tools at hand can elevate the cooking experience to a new level. Gift mom a few of these clever tools from Stonewall Kitchen to make her life easier.
Create a gift basket with the Microplane Zester, Kitchen Shears, Brown Sugar Saver and Zip Strip Herb Stripper (perfect when preparing my Rosemary Garlic Potato Soup!)
Bring on the Outdoor Cocktails – Hot or cold, the Yeti Rambler Lowball with lid will keep her drink just the right temperature (with 12 colors to choose from!)
Satisfy Mom's Sweet Tooth – A few of these decadent Caramel Sauces will plus-up her ice cream sundaes and apple pie. Or eat it straight off the spoon!
Recipe Keeper – Keep all of Mom's favorite recipes in one place, like this Wooden Farmhouse Recipe Box With Cards.
Flavored Oils – If Mom is a gourmet in the kitchen she'll love something fancy, like White Truffle Oil.
Even drizzled on popcorn, this stuff is amazing!
Favorite Meal Ingredients – Give Mom the subtle hint that you love her pasta dish by gifting her all the ingredients in a Pasta Pot with Easy Strain Locking Lid.
Gifts for the Mom on the Go
If mom is always on the road, these travel themed gifts are both practical and inspirational.
Travel Art – In remembrance of her latest adventure, this colorful Travel Inspired Wall Art from Etsy will transport Mom to Hawaii, Europe, US destinations and beyond. I own several of these and they are bright and boldly beautiful!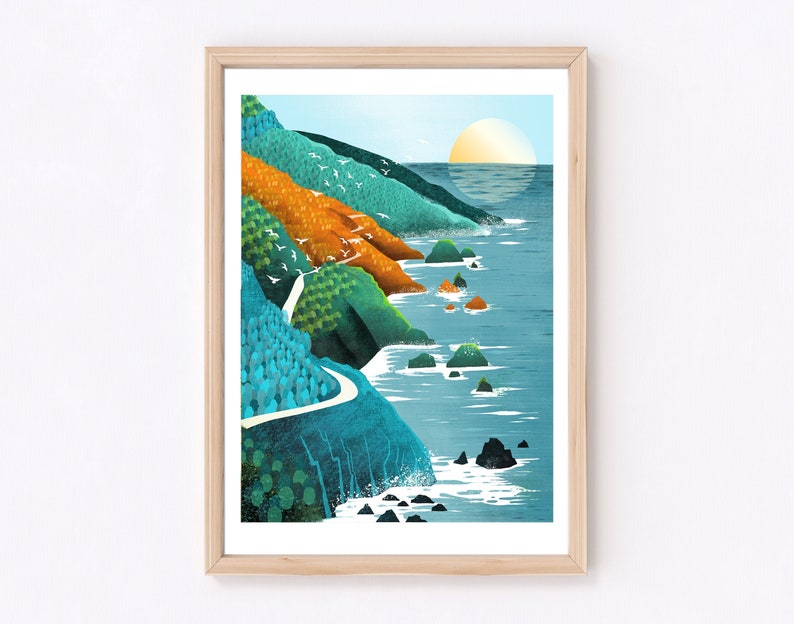 Vacation Bag – A Canvas Messenger Crossbody Bag is a great size for travel. Small enough to stay out of the way but roomy enough for essentials.
Write it Down – A Travel Life Journal
will give Mom a special place to jot down her travel memories and keep them all in one place.
Travel Pouches – I personally have several of these pretty floral Zippered Pouches at home, to use for pencils, make-up brushes and travel essentials.
Cord Keeper – Keep all cords untangled and in one
place with this travel-friendly Electronics Cord Roll. When not on the road, I used this to keep cords organized in my desk drawer.
Fashion Scarf – This stylish Women's Scarf with Zipper Pocket
will keep her cozy and also has a clever zipper pouch to store cash or keys while she's out exploring. Choose one (or two) in her favorite colors.
Let the Good Times Roll with the Gift of Games
If your mom is a game player, consider sending the gift that keeps giving, a game she can enjoy over and over with friends. Board games, card games or jigsaw puzzles, these budget Mother's Day gifts are pure fun!
One of my mom's favorite things to do is to play a game with her grandchildren. From board games to cards, a fun family game night with family (or for a girl's night out!) will be something Mom will cherish.
Game of Cards – For the mom who loves to play cards but can't hold them herself, this beautiful personalized Wooden Card Holder keeps her in the game!
Mother's Day Gifts for Garden-Lovers
If Mom loves gardening or just stopping to smell the roses, these garden-inspired gifts are just lovely.
Frameable Artwork – Songbirds make my heart sing and I love to see them in my garden. This collection of Songbird Art from Etsy brings a rustic whimsy to the walls.
Favorite Mug – If fresh fruits and veggies are mom's fav, she'll love this Etsy Farmer's Market Mug.
Windowsill Gardening – Even with limited space, Mom can grow her own herbs indoors with these pretty Mason Jar Herb Garden from UncommonGoods.
Spiritual Art – The beautiful floral design on this Psalm 28:7 Printable from Etsy will brighten up the walls. Simply download and print at home, then frame yourself as one of the best inexpensive options for gift giving.
Gardening Hat – Keep the sun off her face when she's gardening with this stylish Wide Brim Braided Straw Sun Hat
.
Garden Hand Tools – Nobody will confuse Mom's Personalized Gardening Tools when they have her name on them! Engrave these hand tools as you wish, with your own personalization.
Musical Mementos for Moms
The Sound of Music – For under $11 a month, you can give Mom the gift of song with an Amazon Music Unlimited subscription. There's even an Amazon Music Unlimited 30-Day Free Trial
to check it out first.
"Your Song" Jewelry – Share mom's favorite song on this Scannable Music Code Necklace from Etsy. Customize this piece of jewelry with a Spotify URL.
AirPods Case – This gorgeous Rifle Paper Co. AirPods Case holds those pricey electronics in a safe place.
Warm Weather Gifts Ahead!
Think ahead to summer and gift Mom some of these warm weather items that are both practical and fun.
Beach Sandals – The lightweight and stylish Crocs Crocband Flip are summer-ready for beaches, boardwalks and beyond.
Fishing Net Beach Bag – Mom will be able to shake all the sand out of this open-weave Woven Rope Bag
.
Poolside Shades – Get some rays but block out the glare with these lovely Round Sunglasses.
Mother's Day Brunch on the Lawn – Be picnic-ready with this Insulated Picnic Basket Cooler
that will keep all the food cold on the beach. This space-saver is collapsible for easy storage.
Beach Towel – Lay out on this beautiful Turkish Beach Towel and soak up the sunshine! Many different colors to choose from, so you can pick mom's favorite. Resists sand, dries quickly and comes with a carrying bag.
Sweetly Scented Gifts on a Budget
Scented products can be a great Mother's Day present, from bath soaps to scents that fill the home. Choose a relaxing scent to transport mom any time she's feeling stressed.
Bar Soap – Transport mom to shower heaven with a bar of organic Homemade Bar Soap from Etsy. Scents like sea salt rose, lemon honey cake, French lavender and orange clove are handmade in small batches with essential oils.
Travel Fragrance – Instead of splurging on the largest bottle of Mom's favorite perfume, choose a travel size version instead. She'll love to receive her signature scent and appreciate the purse-sized bottle that she can tote with her. This Designer Fragrance Collection is a perfect choice!
Scent Collection for Home – Moms adore scented soaps and hand lotions. I'd bet the Lavender Mint Home Collection from Stonewall Kitchen smells glorious.
Scented Candle – For the Disney loving mom that is "Practically Perfect in Every Way". Disney-inspired candles and wax melts like this hand-poured soy Mary Poppins Candle are scented to remind you of theme park memories.
Mother's Day Gifts with heART
Need last-minute gift ideas for the creative mom? Whether it's doing crafts or staying inspired, these art-themed presents will spark creativity while sticking to your budget.
Paint Cup – If mom's an artist, warn everyone to avoid drinking out of this cup! This adorable handmade pottery Paint Water Cup is a perfect place for swishing paintbrushes.
Coloring Books – If Mom is crafty, consider a box of Crayola art supplies and a grown-up coloring book like the Wildflowers Coloring Book. Nothing like a fresh new box of Crayola crayons!
Well Read – If Mom always has her nose in a book, gift her this beautiful Personalized Feather Bookmark from Etsy to keep her place.
Teach Mom Something New – Give your crafty mom the gift of learning with a lesson or pattern to educate on something new from Craftsy, including quilting, embroidery and knitting.
Craft Kit – This chic Craft Crush Felt Succulents Kit
will give Mom something very pretty to show off when she's done creating.
Mother's Day Gifts for Sports Fans
If you can't afford tickets to the next game, these sports minded presents are a great alternative.
Sports Mom T-Shirt – If mom's favorite sport is whatever her kids are playing, this Bleachers Shirt is a must-have.
Baseball Hat – Showcasing one of the best sports film quotes, this No Crying Hat is awesome for the ballfield and beyond.
Stadium Bag – For the times when she goes to the park, the clear Stadium Tote Bag is the best gift for ease when passing through security.
Mother's Day Gifts to Drink Up
For the mama who is never without her hot cup of coffee or tea in hand, these essentials will be much welcomed. Sip on a glass of wine or enjoy a cocktail this Mother's Day. Read more about hosting a special Sunday luncheon with these Best Spring Brunch Recipes, Drinks and Ideas.
Make It a Good Morning – Pair this Mother's Day Coffee Gift Set from Etsy with a travel mug and her morning will be set!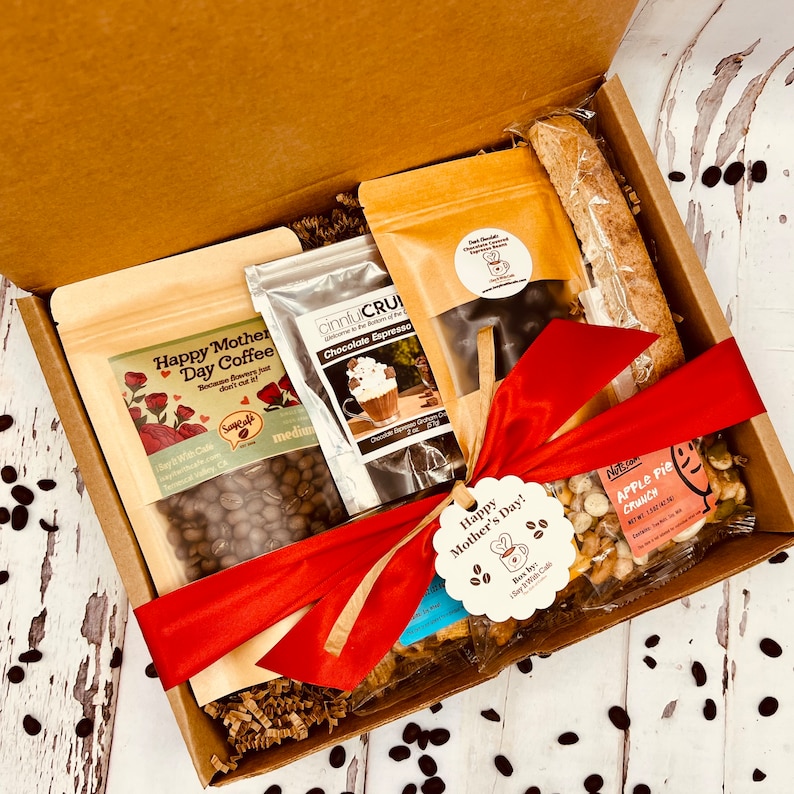 Enjoy the Moment – This special Tea Gift Box from Etsy includes a petite box of goodies for creating relaxing moments with a cup of tea.
Sugar Free Cocktails – These clever alcohol infusion kits from InBooze on Etsy are super sippers. I've personally tried several and they are delicious. This Very Berry Sangria is my favorite!
Home Décor Gifts for Mom
Still looking for the perfect present? These special gifts are sure to make mom smile.
Jewelry Dish – A little spot for rings and things, this Love You Mom Dish is ideal for any mother.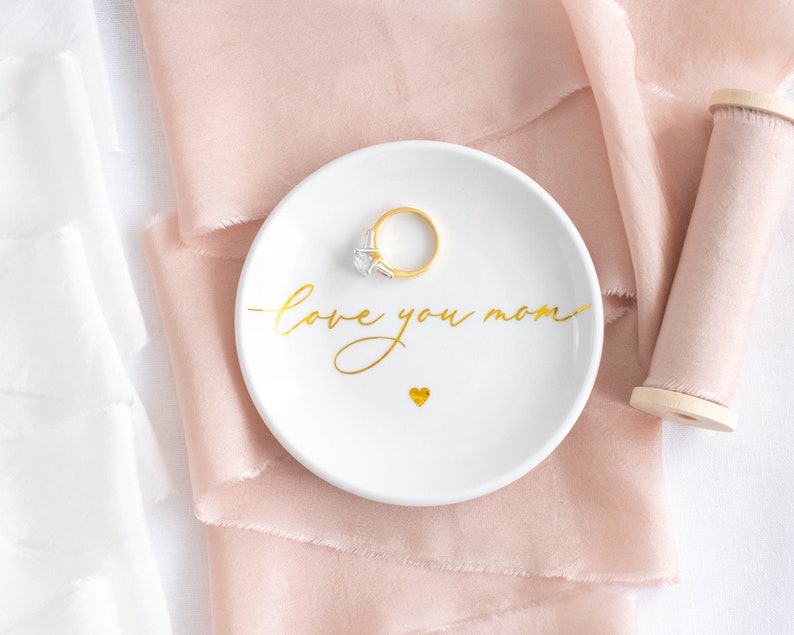 A Place for Drinks – Fill up the pitcher of iced tea and serve a glass to mom along with this bright and cheery Dovecote Coaster Set from Rifle Paper Co.
Cozy Up Under a Blanket – For the mom who just wants to curl up in a blanket and chill, this Plush Fleece Blanket is perfect for weekend naps on the sofa.
Watch It Grow – When you want to send flowers but want something more long lasting. This Honey Bubble Succulent Plant comes pre-planted in a ceramic pot.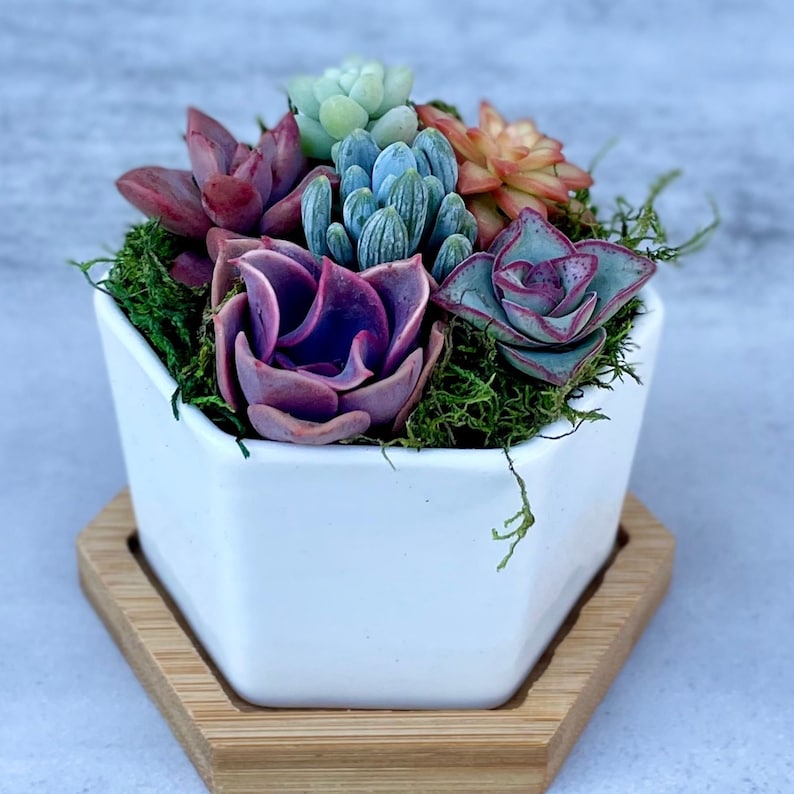 ---