With a few simple pantry items, anyone can make a yummy dessert! From cookie truffle balls to cake pops on a stick, these oven-free recipes are a no bake treat. Get the tips on how to assemble them quickly with decorating ideas for making these amazing cake pop and cookie truffle recipes at home.
Mom Rewritten uses affiliate links which means I may earn a small commission if you purchase through the links in these posts. As an Amazon Associate I earn from qualifying purchases. For more information, see the Privacy Policy and Disclosures tab.
These recipes offer up sweets with a limited number of ingredients, using crumbled cake or broken cookies as a base. Extra ingredients might include frosting or cream cheese, then special flavors to make each truffle recipe unique. Best part? This is a no bake dessert, so you don't need an oven!
Are Cake Pops and Truffles Hard to Make?
After trying to make cake pops for the first time at home, I realized why those deluxe cake pops at Starbucks cost so much! There might a learning curve to get these no bake cookie balls to look perfect. But with practice, you'll be serving up these delicious mini-desserts in no time!
My first mistake was making the balls too big. Second, I dipped my truffles in chocolate that wasn't thin enough, adding to the heaviness of my cake pops. Third, I hadn't done my proper research in advance on how to make the cake pops. This resulted in sad looking cake balls that fell off the stick before my party even began!
Subsequent attempts at cake pops and truffle balls has gone much better with more know-how. And I can attest that even when your cake balls don't look perfect, they're still going to be delicious!
Ideas for Cake Pops and Cookie Truffles
Whether you're making a dessert for a party or just to have for a bite-sized goody, cookie truffles and cake pops are a great option. They are ideal finger food that doesn't require a plate. Consider batch preparation then freeze them to have at the ready when you need a sweet treat!
I first read about cake pops and truffles from Bakerella way back when. She's the creator of the cake pop and her designs are incredible.
This round-up of recipes come from fellow bloggers who offer up their tested tips on how to make the best oven-free cookie or cake truffles. Follow the expert guidance before you whip up the ingredients to ensure your desserts will be Instagram worthy!
Items to Help with Truffle Making
These are a few things that will help make the cake pop and truffle making process a little smoother! Do you need to have all of these things to make the cake pop or cookie truffle recipes? No, but a few of these tools will help speed up the steps and make your desserts look more professional.
Food processor – to get those cookie crumbs finely chopped, a high quality processor or blender is an excellent all-around kitchen appliance. My Vitamix gets the job done swiftly and efficiently.
Cookie Scoop – A one-tablespoon spring-loaded cookie dough scoop is a great help when creating a uniform truffle size. The soft grip ergonomic handle allows you to scoop mixtures without discomfort.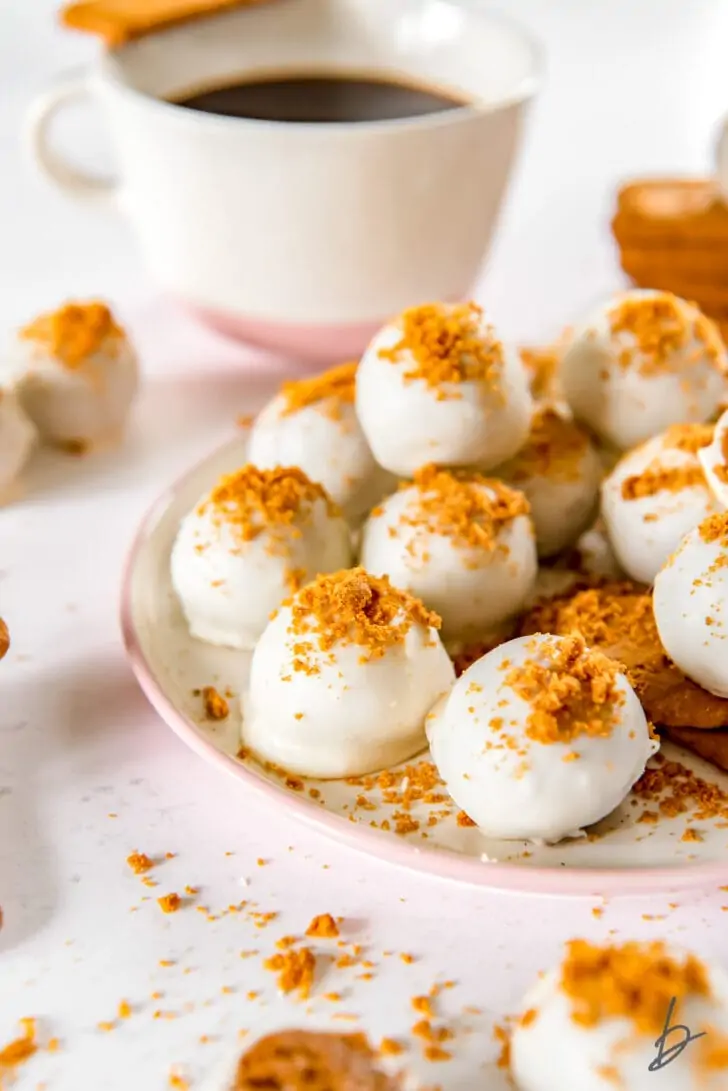 Wilton Candy Melt Dipping Pot and Tools – Many bakers sing the praises of this candy-dipping station and how it eases the process when making these cookie truffle recipes.
Melting Chocolate – Wilton Candy Melts are the standard when making cake pops but for an elevated flavor, try Ghirardelli dark, white or milk chocolate wafers.
Edible Decorations – Take your cake pop and cookie truffle recipes over-the-top with drizzled icing and celebratory sprinkles, like this Wilton Rainbow Sprinkles Mix.
Wire Rack – Regular parchment paper is fine after dipping though excess chocolate may pool at the base of your truffle balls. This baking sheet with wire rack insert takes the mess out of candy making by allowing extra coating to drip off.
Cake Pop Display – A block of Styrofoam works well as a cake pop holder. However this tiered wooden cake pop stand offers a more stylish presentation for parties.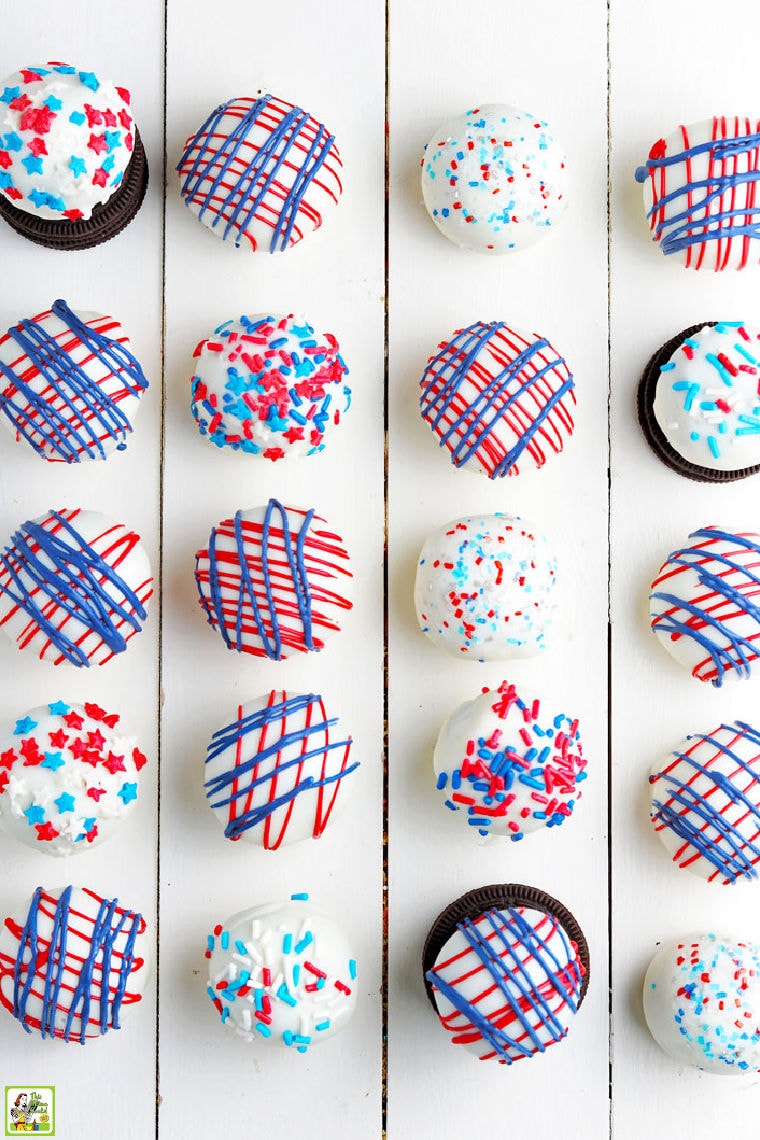 How-to Tips for Making Cookie Balls and Cake Pops
Cake pops and truffles are safe to eat because they're made without raw egg or raw flour. Ingredients usually consist of crumbled cookies or cake crumbs. Use homemade, store-bought or a boxed mix!
Add in store-bought or homemade icing or cream cheese to create the creamy center of each cake pop or truffle. You'll want to use a high quality product, like full fat Philadelphia Cream Cheese for the best results. Once you have the mixture, these are the must-know tips for using melting chocolate to coat and decorate.
Need a tutorial on using almond bark and candy melts for a flawless coating? Check out these ideas from This Mama Cooks Oreo Balls Recipe.
Keep Calm and Eat Ice Cream serves up this recipe for Cakesicles, with troubleshooting tips on using melting chocolate wafers. Plus, aren't these unique treats adorable?!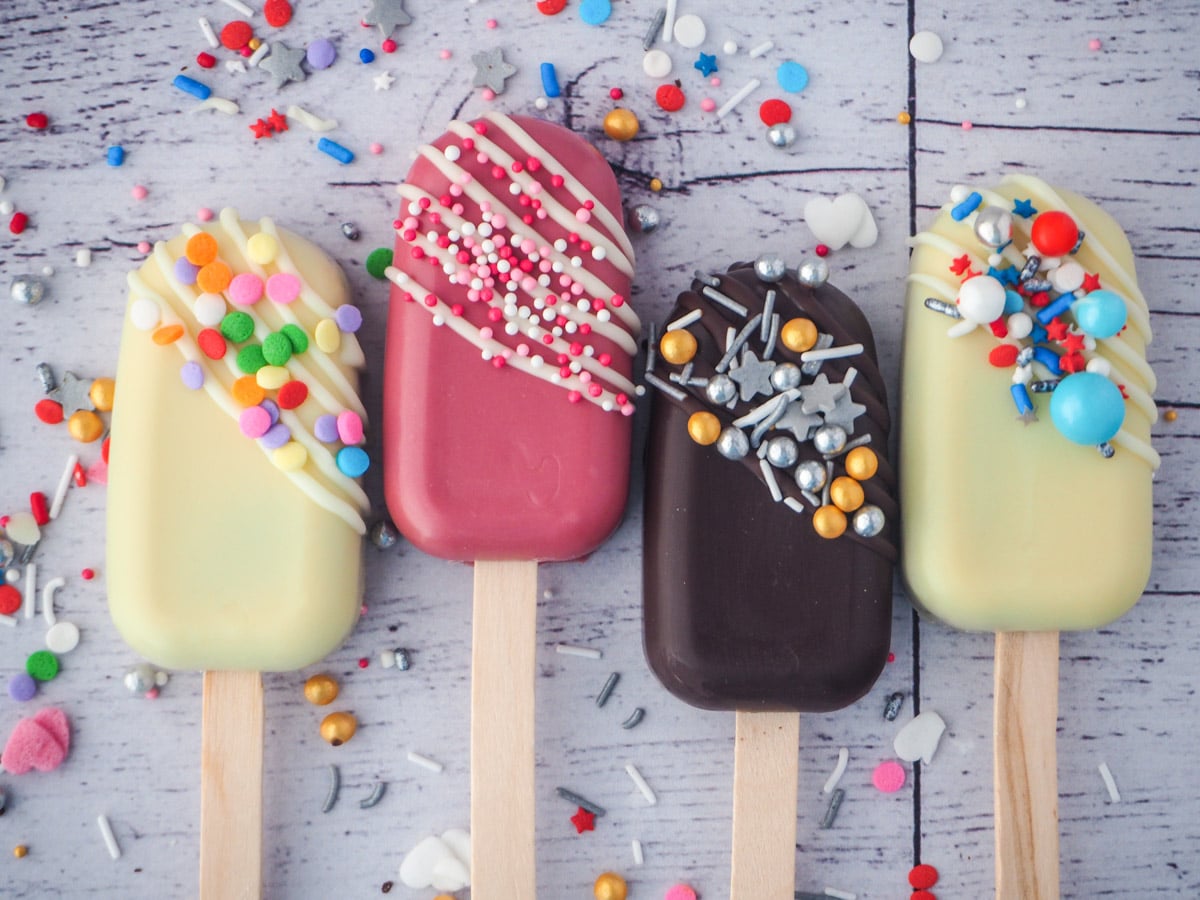 Classic Oreo Cookie Truffle Balls
Seems like there's a new Oreo flavor being released every time you check the grocery aisle! This is the original chocolate sandwich cookie recipe – with a twist. Get creative with the basic cookie truffle recipe and try one of the newest Oreo flavors!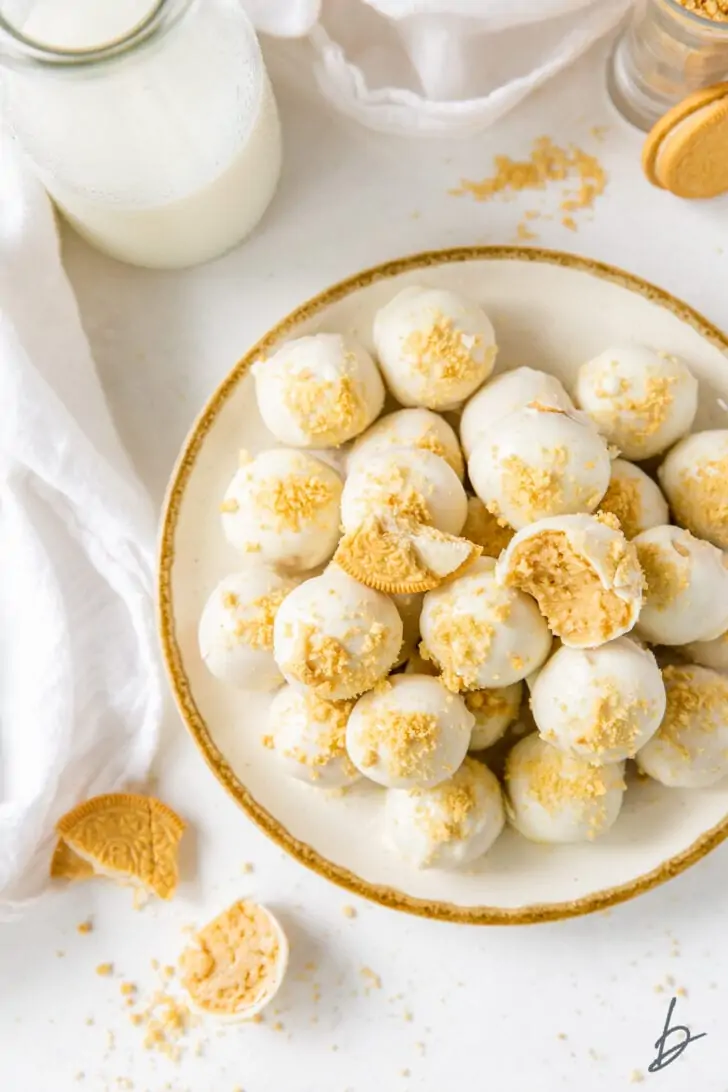 Fruit Flavored Desserts
Looking for a light and lovely mouthwatering morsel? These fruity cake pops and truffles serve up real fruit flavors in a single bite.
Cake Pops and Truffles That Kids will LOVE
These desserts are tailor-made for kids, who will appreciate the fun flavors and colorful decorations! Serve them up for a party or as a sweet after-school surprise.
Use birthday cake Oreo cookies to make these festive Birthday Cake Oreo Balls from Princess Pinky Girl.
Make your next party a success while keeping funds low! These cake pops and cookie truffle recipes are a bargain to make and perfect for a birthday party on a budget.
Creative Cookie Truffles
Go beyond the basic Oreo and try making truffles out of one of these store-bought cookies.
Making homemade cookies? Try one of these 100 holiday cookie exchange recipes!
Holiday Truffles and Treats
No matter the season, these holiday themed desserts will add joy to your celebration. From a Halloween movie night snack board, Christmas gathering, St. Patrick's Day event or Valentine's Day party, these fun sweets are a delicious addition.
Coordinate the sprinkles used on these Sugar Cookie Truffles white chocolate balls from If You Give a Blonde a Kitchen to match holiday colors.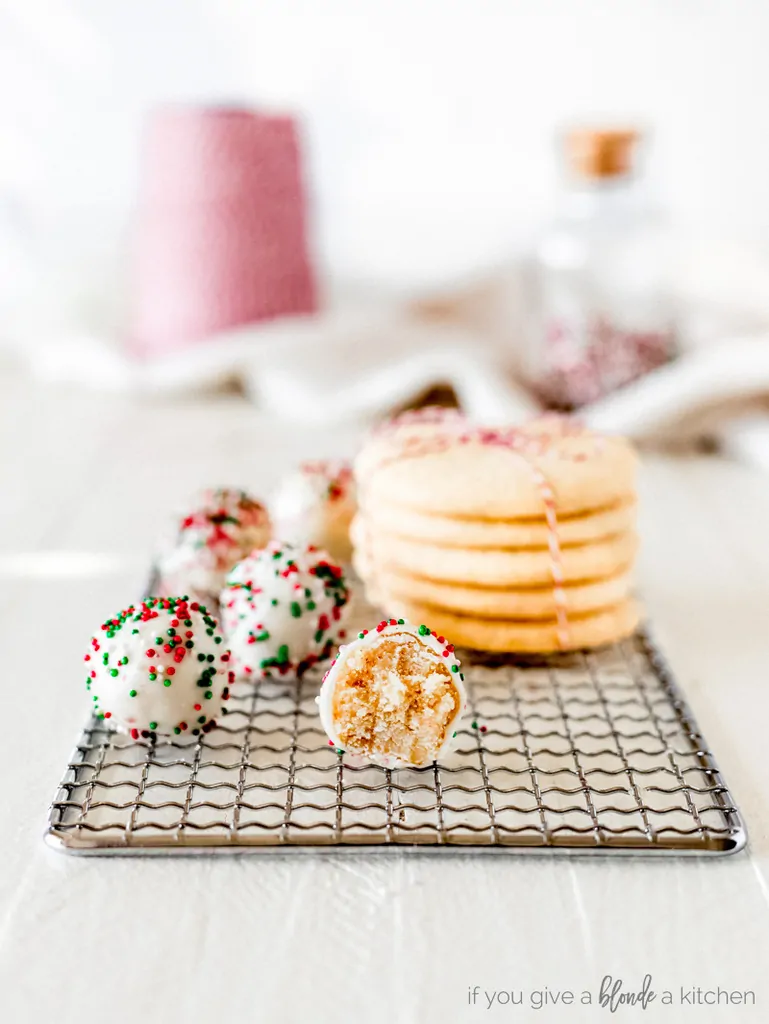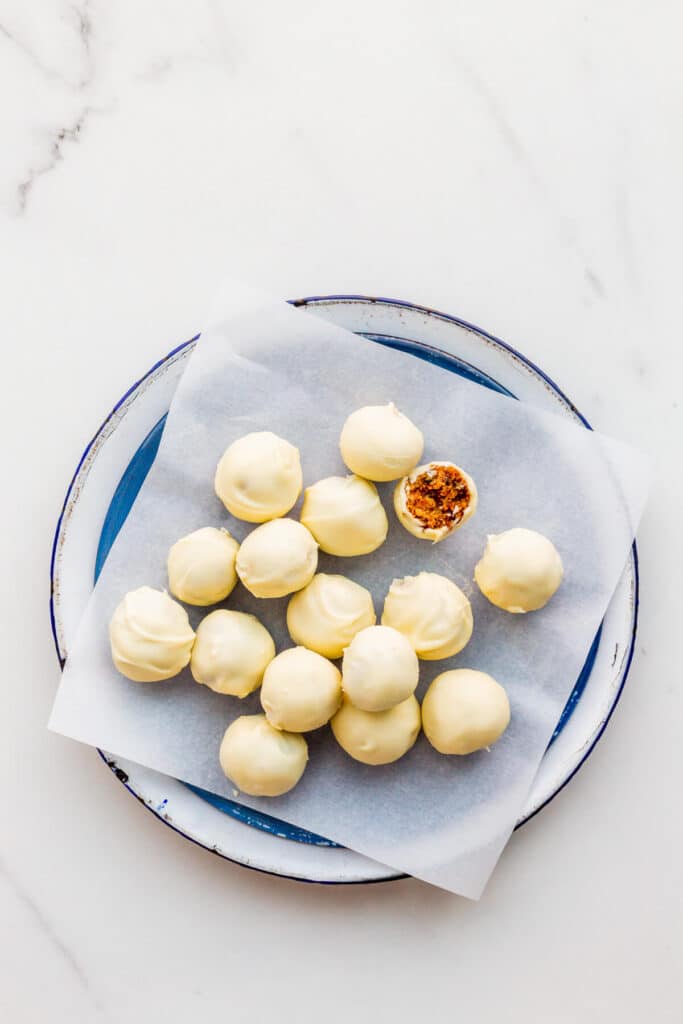 Desserts on a Stick
Truffles and cake balls can easily be made into a finger-free treat just by simple insertion of a colorful cake pop stick.
Best Treats for a Party
Who needs cupcakes when you can have these bite sized party truffles and mess-free cake pops on a stick! For birthdays, celebrations or any party, check out these recipes for the best grab 'n go party sweets.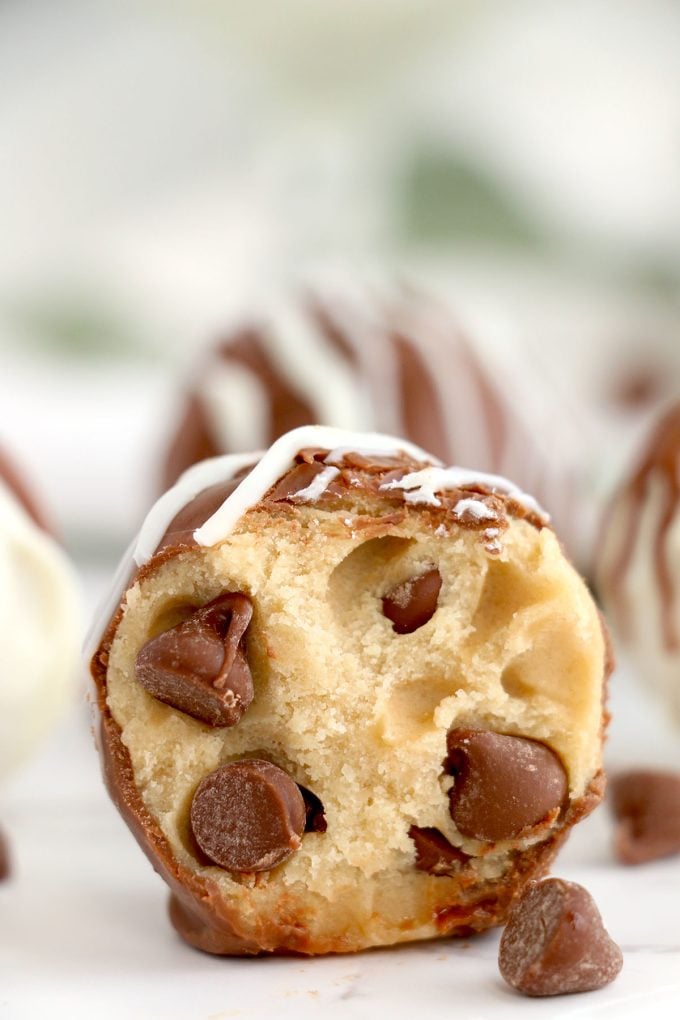 Sophisticated Sweets
Hosting a girl's night gathering or a couples evening? Pull out the stops with these romantic nibbles that feature refined flavors that go beyond basic.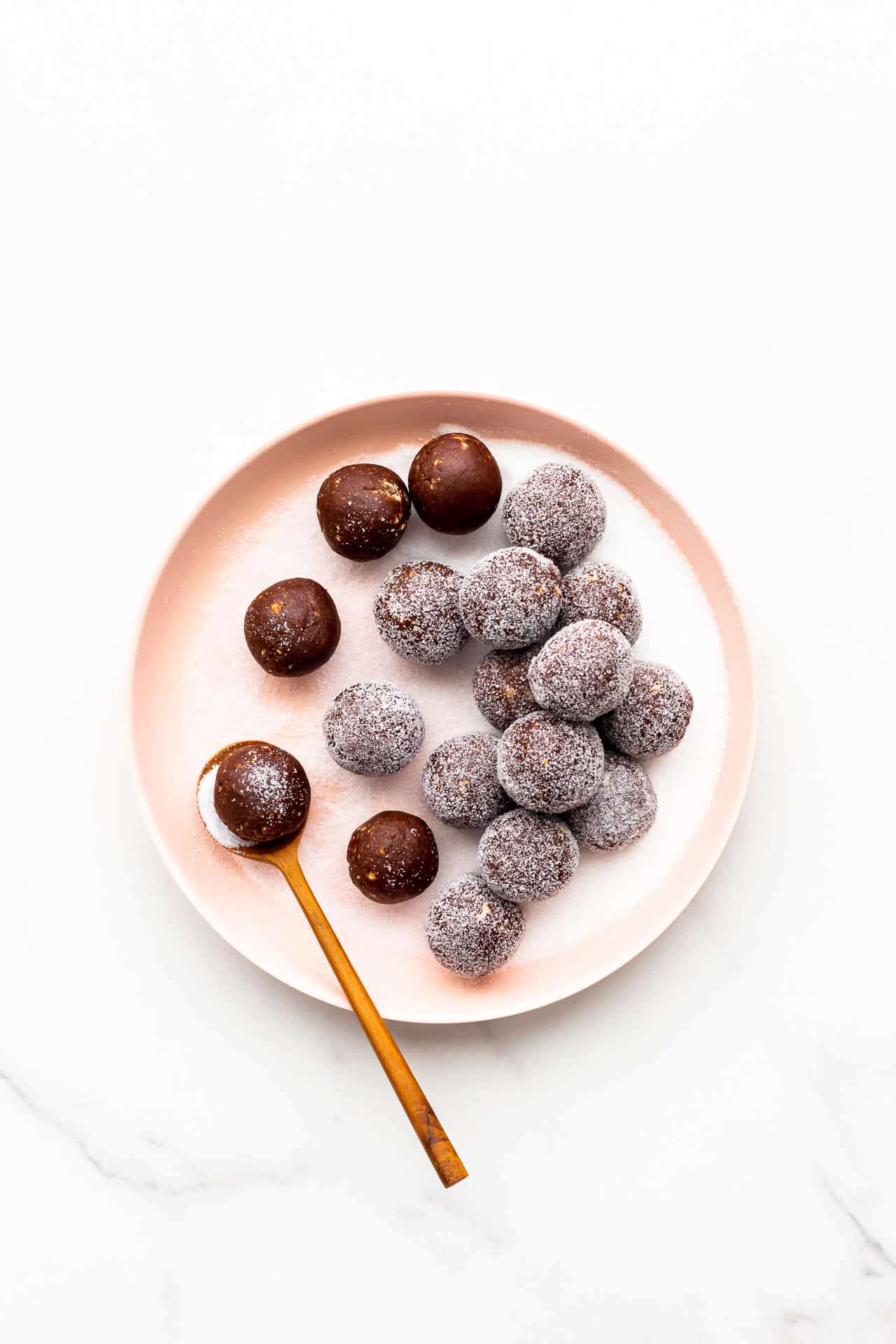 Serve up these tasty cake pops or cookie truffle recipes at a spring brunch using these additional ideas to round out your party menu.
Special Diet Recipes
Just because you have dietary requirements, doesn't mean you can't indulge in one of these cake pop or cookie truffle recipes.
Chocolate Covered in Chocolate
Chocolate lovers will gather 'round the treat tray with these chocolatey confections. Starting with Chocolate Mocha Truffles, coffee fans will appreciate this recipe from Mommy Evolution.