Fun family Christmas traditions are what make the season most bright! Combine family time with Christmas activities this year to get everyone into the holiday spirit. Find a new Christmas tradition with one of these great ideas.
Mom Rewritten uses affiliate links which means I may earn a small commission if you purchase through the links in these posts. As an Amazon Associate I earn from qualifying purchases. For more information, see the Privacy Policy and Disclosures tab.
I received a complimentary gingerbread house kit from Bee International and compensation in exchange for this post. All thoughts and opinions are my own.
Top Christmas Traditions to Do With Kids
By the time December rolls around, many of us already feel burned out and stressed. Christmas decorations have been appearing in stores for over a month already. The seasonal focus is on Christmas presents. There's constant pressure in advertising to buy more stuff.
I aim to keep things simple and sweet for my kids, without the big commercial push. As a family, we try to maintain the season for making memories with a spotlight on Christmas traditions.
I had a pretty sweet childhood and my parents did quite a few of the Christmas traditions on this list. We were fortunate in that all of my family lived close to me and we were able to get together frequently during the season.
But even if your childhood was less than idyllic or you don't have nearby relatives, you can still start these Christmas traditions with your own children this year. Nothing on this list is overwhelming. Who needs more stuff to do during the holidays, right? But these Christmas traditions to do with kids will add joy to your entire season.
Quality Holiday Time
This article is all about quality time, not about how many special things you can cram into the month! These aren't things you HAVE to do. This list includes things you GET to do by choice with your children. Pick and choose carefully, depending upon your schedule and budget.
Favorite holiday traditions should be enjoyable for the whole family and not just one more thing to check off your seasonal to-do list. Add these items to your holiday bucket list then decide which ones work best for your family as favorite Christmas traditions.
Keep reading for the best ways to introduce new traditions this Christmas holiday. The ideas shared here might be familiar traditions you already do. Other tips may be unique Christmas traditions for your family that you'd like to begin incorporating this year.
Christmas Countdown
This article is all about ways to celebrate the most wonderful time of the year. But it's also nice to have a visual reminder leading up to the big day!
There are several simple ways to countdown the days until Christmas morning. Here are a few inexpensive and DIY ideas for a Christmas countdown.
Paper Chain – Make the paper Christmas chain by cutting strips of construction paper. With one strip representing each day leading up to the holiday, loop the strips into a chain, then staple.
Having a Christmas countdown chain is a simple way to appreciate each day leading up to Christmas Day. Change it up by helping children write a note of gratitude inside each of the rings when assembling the chain.
Advent Calendar – There are advent calendars to fit all budgets, from simple paper versions to more elaborate home décor. Other advent calendars include a small daily gift or a physical item to move each day. These are a few ideas:
Advent Calendar Activities – fill your own pocket or drawer calendar with these wooden advent activities.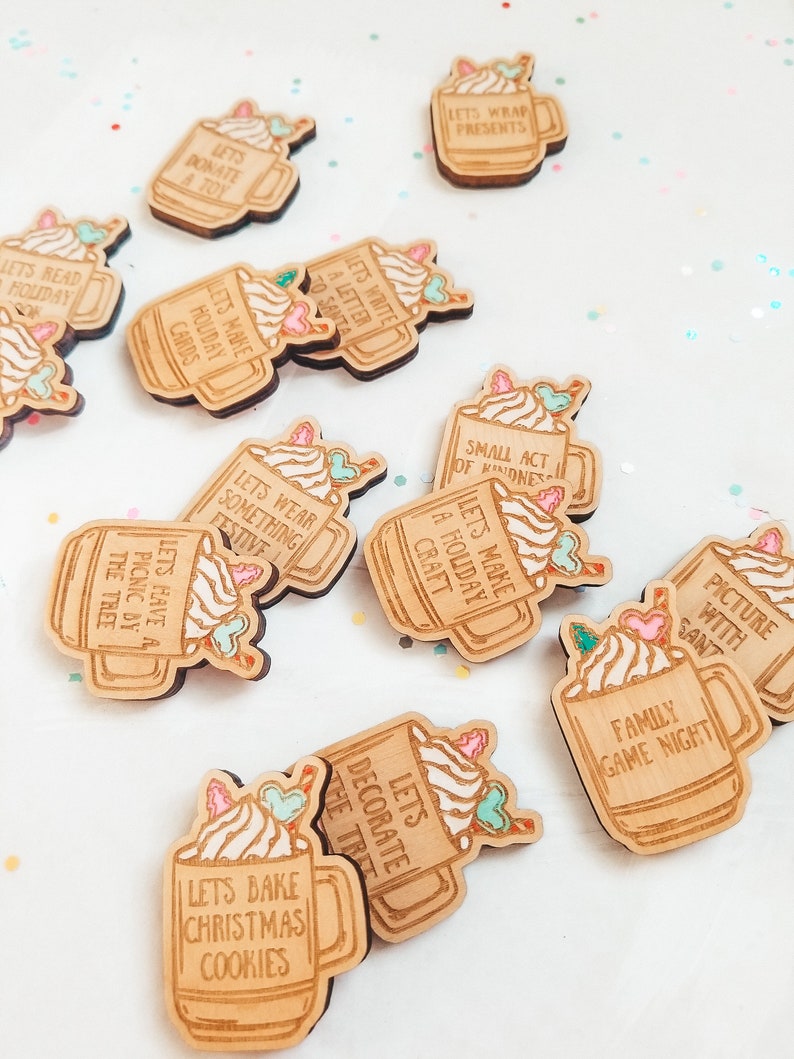 Nativity Advent Calendar – This papercraft advent calendar includes 32 easy to open paper pop-up sculptures. Figures fold down to reuse for the following year!
Felt Advent Calendar – oversized wall décor with precious felt ornaments to hang on the "tree" is great for younger children.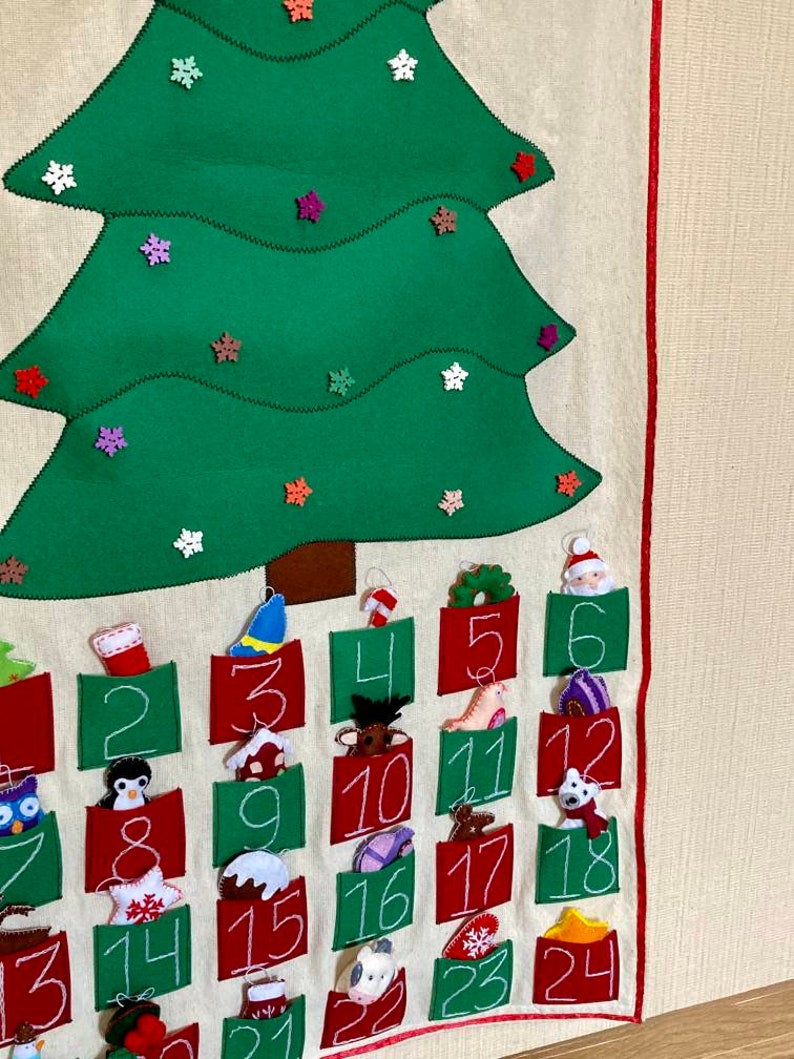 Christmas Tree Night
The night we go out to choose our Christmas tree is a looked-forward-to yearly tradition. We put dinner to cook in the slow cooker, bundle up and head out to choose the perfect Christmas tree. Sometimes we go to the fancy Christmas tree farm, other times it's the Costco parking lot!
After a warm dinner we play Christmas music, trim the tree with lights, then pull out our treasured decorations and special ornaments. Christmas tree night sets up the feeling for the entire season!
Yearly Christmas Ornaments
When my kids were young, I started purchasing them an heirloom quality Christmas ornament each year. Add in a few more kids and that started to be a pricey expense to do yearly!
There are some special ways to create family traditions that don't cost too much. Here are some tips:
New Ornament – If you do decide to purchase a new ornament for your child each holiday, make it meaningful to that particular year. For instance, if your kid started playing soccer, find a sports-themed ornament.
Hang the ornament on Christmas Eve with the stocking as part of the Christmas gift from Santa Claus.
Ornament DIY – Crafting your own ornaments as a family is another option. Maybe you have a classic Christmas classic ornament that you make each year, like salt dough hand prints or clothespin reindeer.
If you're looking for something fresh to make this year, search Pinterest for all the new and trendy holiday crafts for kids.
Wear Christmas Pajamas
Don't save the new jammies just for Christmas Eve! Choose a Christmas print or a classic style that kids can wear year-round starting at the beginning of the month.
My favorite places for Christmas pajamas are Carters and Primary. Get 20% off your first order at Primary with code AFF20PCT.
Give a Gift
Naturally gift giving is a big deal on Christmas. But children can easily get wrapped up in the presents. Especially great for little kids, it's an excellent idea to move the focus off the "getting and receiving" and more on giving to others. These are a few suggestions for gift giving during the season:
Angel Tree – Many local communities and churches sponsor an "Angel Tree" in which people can choose to buy a gift for a child in need.
Toys for Tots – Take your children to the store and let them choose a gift to give. Donate the unwrapped gift in the Toys for Tots bin, usually located at the front of the store.
Donate Toys – Normalize gently used items versus always having to get new things. Go through the kids toys together and decide what they're willing to part with. Donate toys that still have lots of play left in them. Your local Facebook free or trade page is a great place to start.
Sibling Exchange – Don't leave the gift giving just to the grown ups. Have siblings choose a small gift for each other too. Another great idea that I do with my kids is having them choose gifts to donate for local children's charities. My kids are thrilled to choose a special gift for a child who might not receive anything else.
READ MORE: 7 Tips for Teaching Gratitude and Thankfulness During the Holidays
Christmas Season Relaxing Day
In the hustle and bustle during the 12 days of Christmas, it's easy to get burned out. A relaxing day is a great way to unwind and simply enjoy each other's company.
We choose at least one day during the holiday season for a Christmas relaxing day. My family usually takes advantage of a chilly or wet day (those are hard to come by in Southern California!)
Here are a few of the best ideas to take advantage of a relaxing day:
We lounge in our pajamas, the kids drag their pillows and blankets onto the living room floor and we watch our favorite Christmas movies together while snacking on popcorn.
Have family members pick their top holiday movie. A Christmas Story, The Polar Express and It's a Wonderful Life are great for the family.
Opt out of cooking dinner and dine on charcuterie instead.
Play family board games in between films.
Bundle up in the evening and head outside for a walk to view Christmas lights.
Set up a dessert hot chocolate bar with hot cocoa, candy canes and marshmallows.
Read Christmas books like The Grinch Who Stole Christmas or The Night Before Christmas.
See a Live Holiday Show
There's always something entertaining going on during the holiday season! Check out your local listings for holiday events and shows in the area.
Some activities may sell tickets, like Christmas musical concerts or The Nutcracker ballet. Other events may be in your community and may be free, like a parade or church choir.
Christmas Photos
Take a traditional Christmas time photograph in the same place each year. Choose an annual location, whether it's in front of the house, by the Christmas tree or during a Santa Claus meet 'n greet.
Holiday Baking
Whether you're baking Christmas cookies from scratch or decorating a gingerbread house, kids have so much fun in the kitchen during the holiday season. Baking is a fun tradition that my children ask about year after year.
Bake Cookies – Gifting a collection of our favorite cookie recipes to friends and family is a fun Christmas tradition. I recruit my kids to join me with measuring ingredients, running the mixer, and rolling out the dough. Does it take longer to bake with kids? Yes, for sure. But the memories made are worth the delay!
Have older kids tackle preparing their own chosen recipe. If your family doesn't have a traditional recipe yet, find a new recipe and make it your own. Try this round-up of over 100 Holiday Cookie Recipes.
Cookie Decorating – Decorating sugar cookies and gingerbread men is our own family tradition. I make the cookies and royal icing ahead of time, then set up the decorating tables outdoors to minimize mess in the house. Supply kids with icing in squeeze bottles along with lots of sprinkles and candy decorations.
Milk & Cookies for Santa – For many families, setting out cookies and milk for Santa Claus is a cute tradition. Some go so far as to leave treats like oats or carrots for the reindeer too!
Gingerbread House
The iconic gingerbread house is a whimsical symbol of the holiday season with icing frosted rooftops and colorful candies. Kids not only love building and decorating a gingerbread house but then of course, eating it!
Bee International has made a Gingerbread Cottage Kit that has streamlined this tradition with pre-baked gingerbread pieces and a Link & Lock system. Seriously, it couldn't be easier!
I was happy to find something the kids were all loving to do together this holiday season. And there wasn't one argument between them the entire time, a Christmas miracle!
Do Good Things
These good deeds don't just have to happen during Christmas time. Whether it's donating physical items or volunteering your time, there are places that need your help.
Check in with the local food bank, community church, and school to get more details on getting kids involved.
READ MORE – Find out additional things to do with kids during winter break.
Nativity Scene
One of my fondest memories of Christmas in my youth was playing with the family nativity scene. If you have an heirloom or "hands-off" version, consider purchasing a separate set that kids can touch and move the figures.
Choose a kid-friendly nativity scene that will withstand play, like this Nativity Peg Doll Scene. Wooden peg dolls are sturdy and appropriately sized for young children.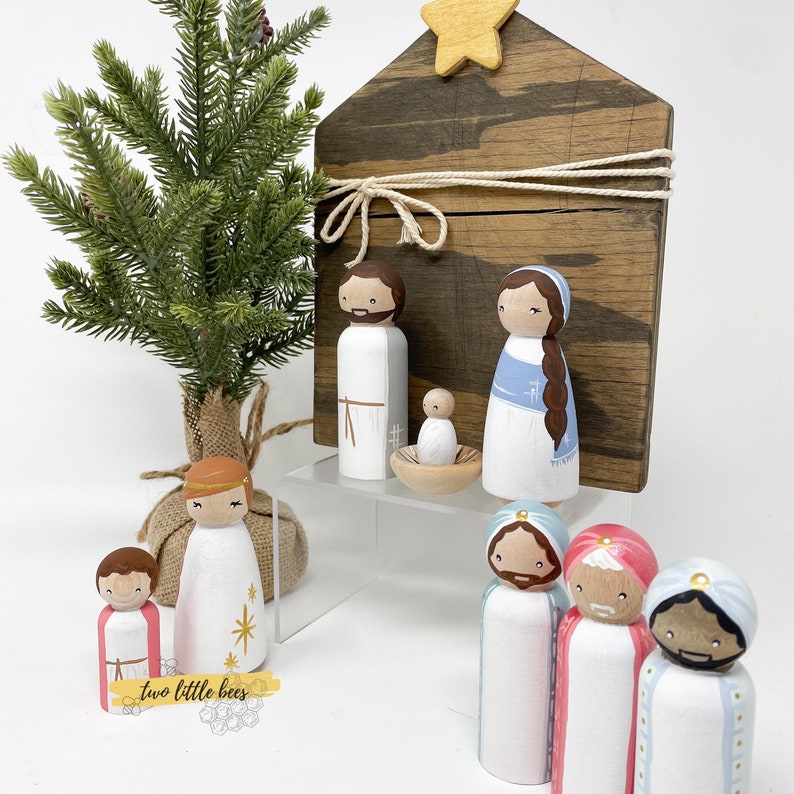 Outdoor Activities
Ice Skating
Snow Much Fun – Sledding, snowman building or a classic snowball fight.
Bike Ride
Viewing Christmas Lights – While we usually go out walking through the neighborhood at least once during the holiday season, we always drive through after Christmas festivities for another peek. It's a fun way for kids to wind down after a busy day before heading to bed.
Elf on the Shelf
I know, I know. Before I hear the big groans, hear me out. The Elf on the Shelf can be a cute addition to the holidays. But if you're overwhelmed with the over-the-top shenanigans you've seen on Pinterest, heed this. You do not have to do this! Do what you want and what works for your family.
My daughter is perfectly content getting up each morning and looking for the elf to see where she's moved. We don't do anything crazy or even overtly creative. The elf is just in a new spot each day.
The Elf on the Shelf is one of the newest Christmas traditions to do with kids and can be something that kids look forward to.
I gift my children their Christmas season pajamas during our annual Elf on the Shelf breakfast.
Annual Day Trip
In my family, it wouldn't be the holidays without one drive to the local mountains to see the snow. Annually we also enjoy a day at one of the SoCal area theme parks, including Christmas at the Disneyland Resort, SeaWorld San Diego or LEGOLAND.
Plan a yearly day trip during the holiday season. It doesn't have to be anything fancy. Check local attractions for their seasonal calendar. Some areas host free holiday events including concerts, tree lighting ceremonies or crafts and activities for children.
Consider a short drive to a favorite restaurant for lunch or a bike ride through town. The important part is that it be done annually to make it a true tradition.
Create a Christmas Eve Box
Gather all your Christmas Eve traditions into one dedicated place. Store special handmade mementos in the box, to only be viewed once a year on Christmas eve. Consider including a small gift inside the box for each child to open on Christmas Eve.
One Gift at a Time
In my family we've always opened Christmas gifts one person at a time. If I've spent the time carefully choosing a gift for someone I want to see that person opening it!
If you've always opened all the presents in a Christmas morning frenzy, consider slowing things down and having family open gifts one person at a time.
READ MORE: Choosing the Best Practical Holiday Gifts for Kids
Christmas Meals
We take a break in the Christmas festivities to enjoy a nice Christmas morning breakfast. Prepare something the night before like a French toast bake or egg casserole that can be headed and warmed in the morning. One of our top Christmas traditions to do with kids: We always have bacon!
Don't feel like you have to prepare the traditional Christmas dinner unless you want to. We enjoy eating tamales. Some families adopt the storyline from The Christmas Story and serve Chinese food for their special dinner!
Looking for More?
Check out this article for additional tips on cultivating and creating special family holiday traditions including fall, winter and New Years activities.