Now more than ever, many look towards creating family holiday traditions that are both meaningful and simple. There's nothing extensive or expensive needed to make the holiday season bright! And you don't even have to leave the neighborhood for most of these. Just a few easy ideas to create family memories that will last year after year!
Mom Rewritten uses affiliate links which means I may earn a small commission if you purchase through the links in these posts. As an Amazon Associate I earn from qualifying purchases. For more information, see the Privacy Policy and Disclosures tab.
This article originally published on Nov. 3rd 2017 and has been updated and republished.
Creating Family Holiday Traditions
You know how some families have these great traditions that happen each year during special events? I love hearing about how they've created family holiday traditions that work so perfectly with the season. And there's nothing stopping you from taking on those special traditions as your own.
Traditions could be as simple as always serving the Thanksgiving turkey on a special platter. Or as elaborate as an "Elf Breakfast" celebrating the first day of December. Every sense can be covered when creating family holiday traditions.
Think about setting the stage with wonderful music, scents of the season, delicious meals that are prepared, and significant décor in your home.
Feeling Overwhelmed Instead of Spirited?
Along with the joyous spirit of the holidays this time of year can also come with guilt and stress. Too often we feel ashamed of our own simple holiday gift giving or decorations after seeing elaborate photos on social media. The stress of the season can bear weight on what should be a happy time spent with family.
I personally have felt this in my own life. My family celebrates a wedding anniversary, two birthdays, plus Thanksgiving, Christmas and New Years crammed into a 4 week period. Is it lack of creativity (or sheer exhaustion) that I just don't have it in me to to celebrate as deeply as I want to?
Perhaps it's lack of budget that with so many big events squished into a month, there's no way we can do something grand for each special day?
But creating holiday family traditions don't have to be grand. Or cost anything. Or even require a lot of planning. It can be a challenge to push that aside and maintain what should be a blessed season.
I've included a bunch of ideas, but don't attempt to do them all. Choose a few simple traditions that speak most deeply to you before adopting them into your family.
The joy of tradition is that you want to do them year after year, not feel forced to participate. These simple ways of creating holiday family traditions will help put the focus back where it should be this year!
Why Have Family Holiday Traditions?
Why bother with traditions at all? Is it just a guilt thing, thinking my kids are missing out? Not at all. I know that participating in traditions is very important towards creating family bonds and childhood memories. Traditions create an identity and reinforce your family values.
Having a tradition also means that people know what to expect. Expectation isn't a bad thing. It's something to look forward to, something to get excited about. Traditions are also special because it gives people something to teach and to pass down to others.
Curating Family Traditions
So, how can you go about creating holiday family traditions? Several years ago I set out to be more committed to coming up with memory-worthy family traditions that will bring my whole family closer together. Creating and cultivating traditions doesn't have to cost anything or be overly extravagant.
As I created this list, I realized that my family already had more traditions than I knew! I'm sharing some thoughtful tradition ideas for fall, Thanksgiving, winter, Christmas, and New Years.
Creating Family Fall Traditions
Fall Nature Table – Before the snow and frost set in, get outside for a nature walk. Along the way collect a bounty of beautiful autumnal mementos.
Nature is in full force during fall with pine cones, pomegranates, gorgeous leaves, bird feathers, pumpkins, gourds, apples and acorns. Having a nature table in the home is a wonderful way to get in touch with the outdoors in a tactile and sensory way.
Football – Whether watching the big games on TV or pulling out the football
to play in the yard, do it together as a family.
Pumpkin Carving – This Halloween time tradition can be a creative way to celebrate fall. Personalized carvings are unique to each family member! Use a sharpie or a stencil to map out the design. Choose safety knives that are high quality, like these Pumpkin Carving Tools
for less frustration.
We set up a table outside and help the kids with gutting the pumpkins. Soak the guts with seeds in a large bowl of water then skim the top to remove the seeds. We seasoned and roasted them in the oven for a fun fall snack!
Thanksgiving
Sharing Thoughts of Thankfulness – It's one of the best ways to embrace the feeling of Thanksgiving. Encourage everyone in the family to share their thankful thoughts in a unique way.
Use these Die-Cut Autumn Leaf Note Papers to write a feeling of thankfulness. Store the notes in a clear glass jar, hang them on a string line with clothespins or tape to the wall.
Another idea is to set up the Christmas tree early as a "Thankful Tree". Use an ornament hook to hang each leaf note from the tree's branches.
Inviting Friends, Virtually – What better way to show the spirit of Thanksgiving than by inviting others to your Thanksgiving table? Take advantage of a virtual invite. Choose a time to gather on a Zoom call so that everyone can chat over pumpkin pie!
If you have local friends, consider a Thanksgiving meal exchange. Request that friends exchange a dish early in the day that is inclusive of their tradition or culture.
Dinner Prayer – In our family, we always start each meal with a prayer. At Thanksgiving, we all stand around the table and hold hands. Each person says one quick thing they are thankful for to share with the group.
Seasonal Table Decor – From the tablecloth you spread on the dining room table to the glass candlesticks you place in the center, choose thoughtful Thanksgiving table décor that you want to use year after year as a tradition.
For practicality purposes, seek autumnal tones you can use from September through November (ie: not just "Turkey themed" items). Come Thanksgiving Day, add special touches like the turkey serving platter and pilgrim/turkey decor if you wish.
Creating Thanksgiving Food Traditions
Traditional Foods – While turkey, gravy with mashed potatoes and pumpkin pie are pretty much every American's traditional Thanksgiving dinner fare, what are the traditional foods in your family?
I've heard of tamales, mac and cheese, ambrosia salad and creamed corn appearing at the table. Dig up one of grandma's favorite old recipes and make it a tradition to prepare that dish each year.
Eating the Leftovers – You'd better hope there are leftovers! We actually try to make a LOT of extra food, planning that there will be plenty of leftovers. Leftover apple pie for breakfast, turkey sandwiches for lunch and full Thanksgiving dinner again at night!
My friend's family makes tacos the next day by stuffing corn tortillas with mashed potatoes, a beaten egg, chopped leftover ham, cheddar cheese and green onions (close the tortilla and fry it in oil). It's a Thanksgiving leftovers tradition we've been happy to adopt as our own!
Enjoy the Great Outdoors – Work off all that food by making exercising together one of the new fun holiday traditions. Whether it's a bike ride, ice skating, afternoon at the park or a walk through the neighborhood, exercise after family dinner is one of our own traditions.
Creating Family Holiday Traditions in the Month of December
Elf on the Shelf – Yes, this newer holiday tradition is either much loved or maligned. But you can make the The Elf on the Shelf
as easy or as complex as you wish. It's simply a fun addition to the season and you don't have to make it overly time-consuming.
My friends at Get Away Today have these awesome Disney-themed Elf on the Shelf ideas.
December Breakfast – Ring in the month with a charming breakfast where you serve a family favorite. It's a great way to introduce your Elf on the Shelf into the new year, by hosting a North Pole breakfast in their honor! Serve tiny foods with a snowy, wintery theme like little powdered doughnuts, peppermint cookies, green smoothies and mini-cinnamon rolls.
Winter Collection – As part of your holiday decorating, choose to collect something meaningful. Anything you have more than 3 of can be a collection and this is a way to create family holiday traditions for your children through the years.
Look for winter themed items, like snowmen, penguins, trees, snow globes or snowflakes. More ideas are nutcrackers, stars, gingerbread, or angels. Your collection could also represent any season, like seashells that have been given a wintertime twist!
My personal collection is birds. I spread my collection of winter bird-themed items around the house to bring me joy during the season!
Advent Calendar – As a child, we had the cutest Advent calendar made of felt. My mom would pull it out each December and the anticipation of moving that felt mouse to the next pocket each day was exciting! It was similar to this adorable Gingerbread Advent Calendar from Iloveflipflop on Etsy.
There are some really cool calendars out there now, counting down the days to Christmas. An Advent calendar certainly helps to build anticipation for the holidays, especially for little kids. It's also a helpful visual reminder so they can see how many days there are until Christmas Day.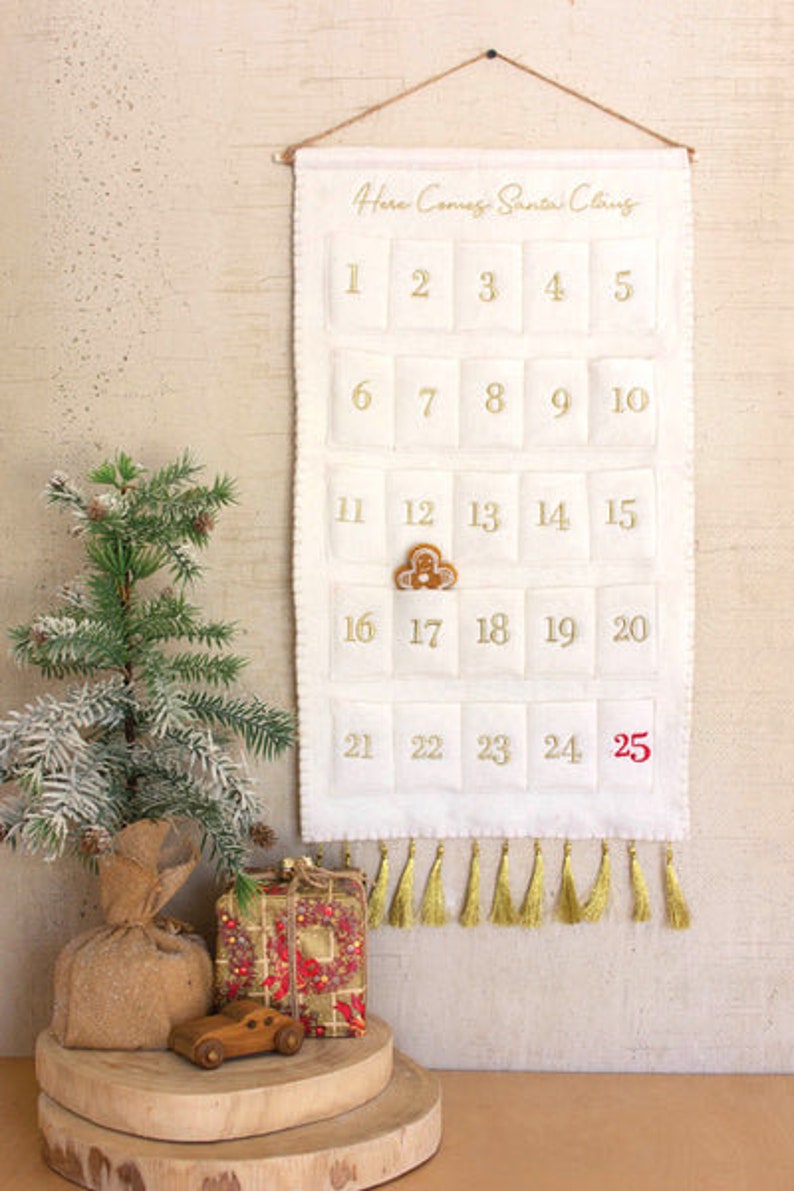 More Winter Traditions for Families
Write a Letter to Santa – Help younger kids with this family tradition, writing a letter of wish list gift items to Santa Claus. These can be keepsakes you have as mementos of your children and also a snapshot of the toys during that time period. Use one of my free templates as a Letter to Santa printable.
Santa Writes a Letter Back! – The magic continues when Santa writes back, as proven by these beautiful Customized Letter from Santa (in the Etsy shop, From Saint Nick).
Hands-on Activities – String popcorn and cranberries on thread to use as a seasonal garland. Or make a Christmas countdown green and red paper chain (remove one of the loops each day, leading up to Christmas).
Those who are handy with scissors can cut fun paper holiday snowflakes, like these Baby Yoda Snowflakes from my friend Karen at Desert Chica.
Donating Gifts – Our church collects gifts each year, as does our kid's school and the dentist office. We try to donate something to each one. It's a perfect tradition to share with the kids that shows it's better to give than to receive. This year we've already purchased a bunch of goodies to create boxes for Samaritan's Purse Operation Christmas Child.
Holiday Movie Day – Choose one day (maybe a snowy or rainy one) where everyone gathers together and watches traditional Christmas film favorites. Here's a great list of Favorite Family Christmas Movies from Flashpacking Family.
Get Into the Holiday Spirit
Hot Cocoa & Egg Nog – Give these two seasonal drinks a grand entrance and make it a special occasion. Offer the beverages after a neighborhood walk to see holiday lights or while snuggled in front of the fireplace.
Create the ultimate hot chocolate bar! Make a charcuterie board of mix-ins like peppermint candy canes, cinnamon sticks, and marshmallows. Life Love and Sugar has a kid-friendly recipe for Homemade Eggnog (with tips for making an adult cocktail).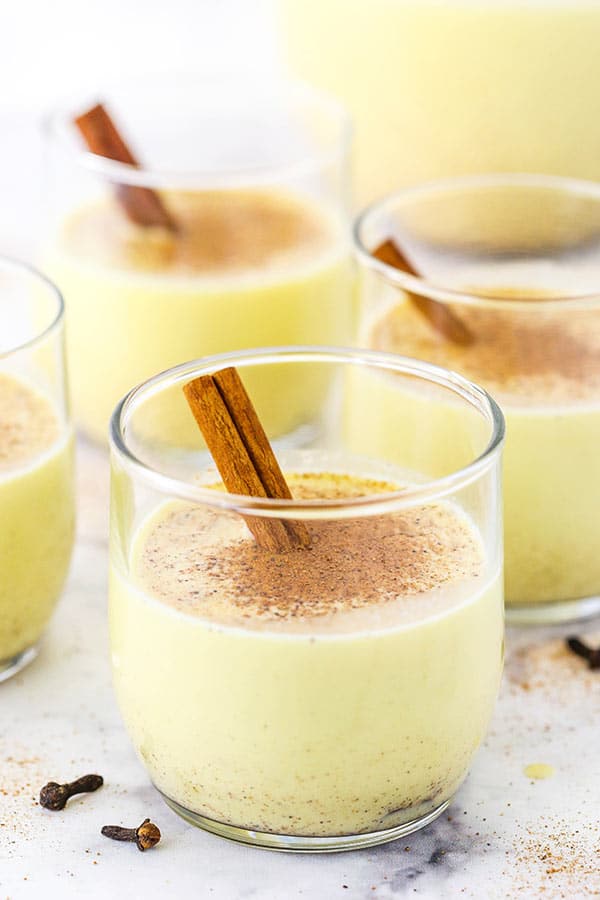 Hang Mistletoe – String up a mistletoe branch in a doorway and when someone pauses underneath, give them a kiss! If you can't get your hands on the real thing, a faux mistletoe spring will work just fine. This Felted Mistletoe from LilYellowHomeDesigns on Etsy can be hung anywhere you wish, year after year.
Volunteering – Despite this strange year, many places will still be looking for those who can safely volunteer. Whether it's at the local food bank or with your church, volunteering your personal time really expresses your family values.
Christmas Books – While we have our seasonal favorites we read over and over, I add several new holiday titles to our Christmas book library each year. I've been finding great discounted books and games at Kid's Books at fantastic prices. Pick up extra books for gift giving!
Holiday Traditions that Kids Love
Christmas Lights – Take a drive in the car or a walk through the neighborhood to admire the holiday light displays. Bring a traditional snack like popcorn or cocoa to make it extra special.
Bake & Decorate Holiday Treats – For many the tradition to bake cookies can be a chore! Take back the joy in holiday baking by only making your most favorite cookies. Include the kids and let them decorate (don't worry about perfection – the kids just want to have fun and eat their creations!)
Host a Cookie Exchange – A cookie exchange is an awesome way to try lots of different flavors or experience another family's seasonal favorite. Each friend bakes a different cookie and trades them with each other. This is just another great way to bring families together in a socially distanced way!
Organize a list, then drop off a bag of cookies to each participant, who in turn, will do the same! Check out these tips for hosting a cookie exchange, with 100+ holiday and cookie recipes to try.
Traditions for the Christmas Season
Christmas Cards – Sending annual holiday cards can be a way for families and friends to connect outside of social media. Taking a yearly family photograph might be part of that Christmas card tradition. We love to string the Christmas cards we receive across the wall to display through the entire season.
My family's tradition is to recycle the Christmas card image by using it the following season as the "To/From" label on gifts! Just cut out the front of the card and tape to the box, writing the "to" and "from" information on the card.
Christmas Decorations – Some families like my friend Amiyrah at Four Hats and Frugal, set up and decorate for the Christmas season the day after Halloween. Other families wait until closer to Christmas. Choosing meaningful Christmas decor can be a tradition if you start a collection.
I love birds so my seasonal decorations have lots of bird influence including this Paper Collage Handcrafted Cardinal from LanArt and Design on Etsy.
Christmas Tree – Whether your pre-lit tree comes out of a box or you chop down a fir yourself, setting up the Christmas tree is a major tradition. I have a confession: I used to decorate the Christmas tree by myself when the kids were in bed! There was always a worry about broken ornaments and strange placement.
And then I got over that. I remembered when my parents would play Christmas music and my brother and I would pull each ornament out of the box, oohing and aahhing with the memories of each one. I want my kids to have that tradition too.
Nativity – If the creche and holy family are a part of your Christmas celebrations, setting up the nativity can be a large tradition. I was always permitted to play with the nativity scene as a child and allow my kids to also interact with ours.
We've had several variations over the years and have settled on this beautiful Unfinished Nativity Set from PioneerPlaysets on Etsy.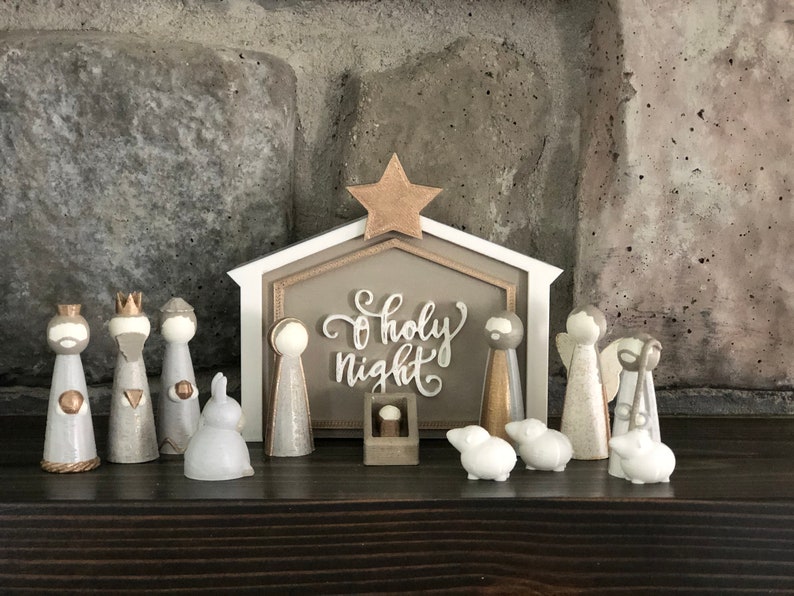 More Christmas Traditions
Wrap Together – Last year I stopped wrapping all the Christmas gifts alone. I started enlisting the help of each child individually to get them more involved in the holiday. I allowed the younger one to wrap gifts (lots of tape was sacrificed!) for his older brother and sister. He loved keeping the secrets of the gift and the anticipation of them opening it on Christmas morning.
Christmas Music Sing-along- Turn on the music and everyone join in, you know the words! Now it's time to teach the lyrics of your favorite Christmas carols to the kids too.
Gingerbread House – Baking and decorating a gingerbread house can be a tactile experience, as the family gathers to add their treats with frosting. If you don't want to bother with the time consuming task of making a gingerbread house that nobody will actual eat, try this permanent version you can display year after year!
Lizz from the Etsy shop Pew Pew Lasercrafts has this awesome Lasercut Wooden Gingerbread House. I bought one and painted it for my daughter and absolutely love how it came out!
Creating Family Holiday Traditions for Christmas
Christmas Eve Gift – Start new traditions and open one small gift the night before Christmas. For my kids, it's always new pajamas that they wear that night!
Christmas Morning Breakfast- While we don't have a traditional meal per se, we do always indulge in a big Christmas morning breakfast before gift opening. Sometimes we have French toast. Other years, it's my Fluffy Pancakes. But there is always bacon! Find our your family's favorite breakfast and make it happen on Christmas morning!
Collecting Special Ornaments – This is a big tradition in my family, our treasure of vintage Christmas ornaments. My grandmother would purchase my brother and I a new ornament each year and those are my most cherished collection. I've been purchasing the Hallmark Beauty of Birds
Series for my own tree display.
I used to buy my eldest son a Hallmark ornament of his own each year that reflected something he'd loved that year. If the cost of purchasing collector's ornaments each year is out of the budget, consider crafting ornaments to put on the tree.
Church – While we attend church each Sunday together as a family, participating in a traditional Christmas church service has it's own feeling. If you don't feel comfortable going to religious services in person, try viewing a streaming service together online.
Opening Gifts – If your family usually opens presents in a frenzy, try something new this year. One of our favorite traditions is to open gifts in order of age, taking turns to watch each person unwrap. This process to open presents is slower but it's quality time spent. Each family member enjoys watching the reveal and hearing the glee when they see what's inside.
New Years
Ring in the new year with family-friendly celebrations that keep you close at home, creating memories together.
Create a Time Capsule – This is definitely going to be another year for the record books! Keep a memory of all the good (and not so great) things that happened this year inside of a documented Family Time Capsule, using this template from Etsy designer Forever June Design.
Special Foods – After the indulgence of Christmas, my family always choses to go a different route for New Year's Eve. Light appetizers like a cheese and cracker platter, fresh cut fruit and nuts served with a glass of wine are a perfectly acceptable dinner!
Dress for the Occasion – Choose the theme for your evening – Is it glamorous? Then dress up to the nines! Or casual and cozy? Then have everyone wear their pajamas and snuggle in blankets.
More New Years Traditions
Stay Up Till Midnight (Or Not!) – I admit, we haven't made it past midnight in several years (having little ones and no party plans does that to you!) No need to stay up till midnight in your neighborhood though. Choose midnight in a different time zone and celebrate your New Year at 8 pm if you'd rather the kids stick to their normal bedtime!
Games All Night – When I was younger, my family would pull out several board games to play together. We'd play cards, Yahtzee, Clue and put together a puzzle until the clock struck midnight.
Plan for the New Year – With the trials of the previous year behind, we can look forward to what the upcoming year may hold for us! We all know that time is fleeting and that we should make the most of what we can control. Plan out some fun activities for the eve of the new year. Make a family bucket list. Schedule vacations and book that Disney trip you've always wanted to take!
Resolutions for a Blessed New Year – Rather than have everyone picking their own individual goals, consider choosing a family resolution. This could be a family focused guiding word of the year (like "Kindness", "Gratitude" or "Faith").
There are additional tips for choosing a family word of the year on Happiness is Homemade.