You're ready for a magical vacation but not sure what clothes to wear at Disney? These tested Disney World and Disneyland tips share how to put together the best outfits for theme park travel. Find out how to stay comfortable but still look cute all day!
Mom Rewritten uses affiliate links which means I may earn a small commission if you purchase through the links in these posts. As an Amazon Associate I earn from qualifying purchases. For more information, see the Privacy Policy and Disclosures tab.
This article originally published December 23rd, 2019 and has been updated and republished with a new date.
What Clothes to Wear at Disney?
Your long-awaited Disney vacation is almost here and it's time to pack your luggage! But what clothes are best to wear at Disney? You want to look cute but you also need practical outfits that work for all-day touring in an amusement park.
Comfort is important. Choose your clothes to wear at Disney carefully, taking these key points in mind. You'll be walking all day under the hot sun, eating churros, getting windblown on thrill rides and greeting with characters. However, there isn't any reason you still can't look adorable from rope drop to nightfall!
Choosing the Best Outfits for Disney Travel
There are Disney PhotoPass photographers at every bend to capture your Disney memories and you want to look good! You'll be sharing your magical memories on social media and saving photos in an album. Put a bit of thought into your ensemble using this tested advice.
I'm a 40+ mom and tend to err on the side of comfort above everything. But you don't need to sacrifice style for coziness. Disney amusement parks are the "Happiest Place on Earth". And if your clothing is restrictive, awkward or uncomfortable, you aren't going to be happy! These are my suggestions for comfy (but still cute) clothes to wear at Disney!
Cute and Comfy Clothes to Wear at Disney
Before you go out and buy every shirt at the store that has Mickey Mouse on it, follow these prompts about the best clothes to wear at Disney. This article discusses what are the best fabrics to look for, choosing costumes or Disney Bound outfits and seasonal ideas for celebrating the holidays.
You're headed to the original Disneyland in sunny California and not sure how to dress for the theme parks? Or you may be wondering what are the best clothes to wear to Walt Disney World in wet and humid Florida? There are definite considerations to be made in either location for weather, shoes and accessories.
What are the Best Disney Clothes for Kids?
I didn't forget the kids! What should children wear on a Disney trip? I've included ideas for the little Mouseketeers too. Are costumes a good idea for kids? Or should children just keep to regular day wear?
If you're putting together your Disney World outfits or narrowing down what to wear to Disneyland, read on for all the Disney vacation packing tips!
Choose Breathable Fabrics to Wear at Disney
The weather can be warm year-round in both California and Florida. With the combination of heat, humidity and water attractions, choose moisture-wicking styles that dry fast. You'll be happier and more comfortable when you choose breathable fabrics, like cotton. That's why the souvenir Disney t-shirt is so popular!
We're all rockin' the cotton Disney tee in this shot (except for my husband, who wears almost nothing but white t-shirts, ever!) Cotton dries quickly after a dunking on one of the water rides, too.
Cotton Disney T-Shirts
At the top of everyone's packing list for clothes to wear at Disney is the cotton tee. With good reason because they are comfortable, versatile and cute. T-shirts pair well with everything from jeans to shorts, skirts and sneakers.
I found these adorable coordinating Minnie and Minnie Me t-shirts for my daughter and myself on Etsy.
The Disney shops inside the parks stock tees in a wide variety of sizes and styles, including holiday versions for various seasons. Purchase before your vacation at ShopDisney.
Many of the same styles can be found online while other are park-only exclusives.
Disney Cuteness Tip: Choose women's styled shirts, which are a little more fitted and shaped, instead of boxy or shapeless tees. Knot oversized tees at the waist to add more style.
Want the entire family to match? shopDisney consistently offers coordinating Mickey Mouse and Minnie Mouse cotton t-shirts for the whole family. From babies, kids, teens and grown-ups there's a size for everyone in styles that match each other.
Think Outside the T-Shirt
In warm weather, a dress is a great way to stay cool and still look cute. I've chosen to wear the LulaRoe Nicki style dress to the parks many times. They are sold in breathable fabrics, have fun prints and look nice with low-top sneakers.
When shopping for dresses to wear at Disney, choose a dress that isn't too short. You don't want to be challenged getting in and out of rides.
The adorable dresses from the Disney Dress Shop are appropriate for the parks and are oh, so cute! Don't think these fancier styles are just for Dapper Day. You'll see lots of guests wearing these Disney parks inspired designs all over Disneyland and Disney World.
Dresses that are styled with thin straps or short sleeves are ideal dresses for summer time. Consider pairing a dress with a cardigan and coordinated tights in cooler weather.
Disney Cuteness Tip: Wear a pair of lightweight cotton shorts under your dress to prevent chafing. I use Thigh Society anti-chafing undershorts exclusively with all my dresses!
Rompers and jumpers are another great choice when it comes to comfort. But always consider that you'll need to remove the entire piece of clothing for bathroom access. If that's not a deal breaker, I've had great luck finding comfortable cotton jumpsuits at Old Navy.
Consider the Weather When Choosing What to Wear at Disney
Southern California weather is pretty unpredictable. It's generally hot in the summer and cool in the winter…sometimes. And maybe you'll have a beautiful warm and sunny day in May and the following day it's raining!
Also just because it's December doesn't mean you're going to need a winter coat. It could possibly be a surprising 80 degrees! It can be hard to pack clothes to wear at Disney when the weather's fickle. Make sure to check the 10-day forecast before packing if you're heading to California.
What to Wear When It's Hot at Disney
A great option to wear on a warm day is a swim shirt. These are especially great at Disney World in Florida when weather is wet and humid.
The swim shirts (ie: rash guards) from Lands' End are lightweight and dry quickly. This long-sleeved version covered my arms so I didn't have to apply sunscreen.
Cold or Wet Weather at Disney
Yes, it really does get cold at the Disney parks! Always check the weather forecast ahead of your trip to know if sweatshirts and rain boots will be required. Read more about surviving a Disneyland rainy day for packing ideas.
Layering is always a great idea. It might be overcast and chilly in the morning, sunny in the afternoon and cool again when the sun sets. Consider warm layers like this Disney Tangled Sweater from Box Lunch. You'll stay toasty but still look stylish on a cool day.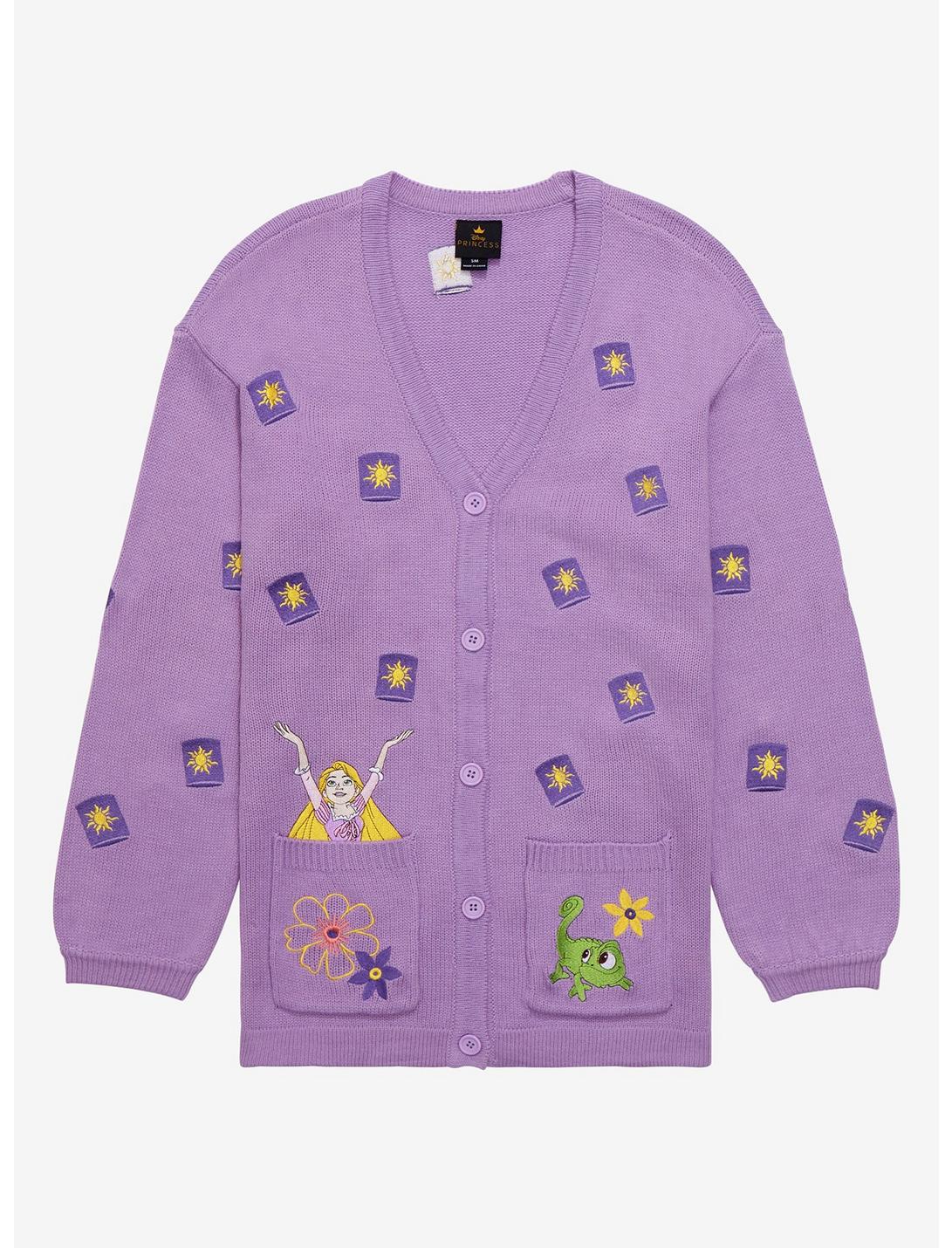 The Disney Spirit Jerseys that are sold on shopDisney are the same at what is sold in the parks. Limited edition styles are sold for a short time and are often offered in versions for both Disneyland and Walt Disney World.
This cozy top is the new classic and fun souvenir to buy before a Disney trip. These over-sized tops pair well with leggings.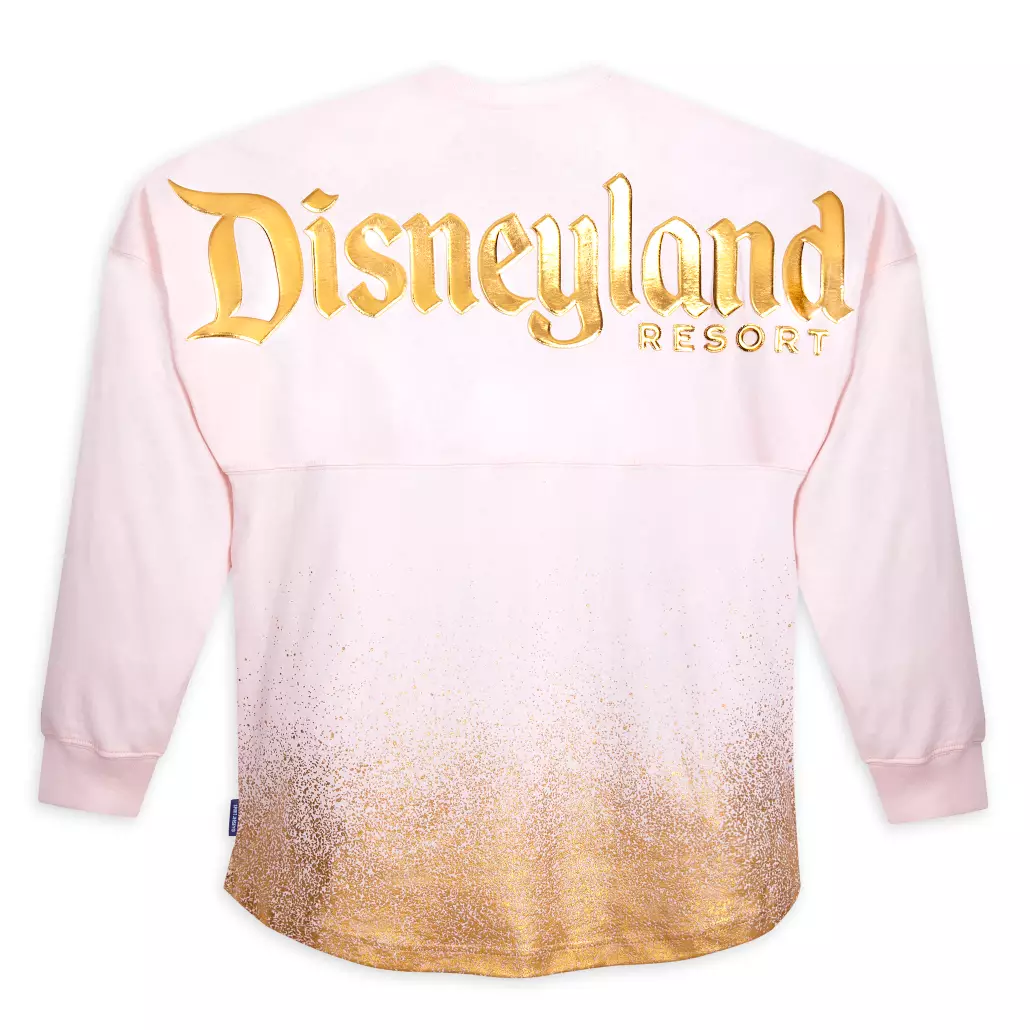 Dress in layers if the mornings are chilly and the days are warm. Rent a locker to store the jackets and extra layers when you don't need them.
Disney Cuteness Tip: Choose fun accessories like the knitted Minnie-inspired beanie by Blonde Autumns on Etsy when the weather is cold.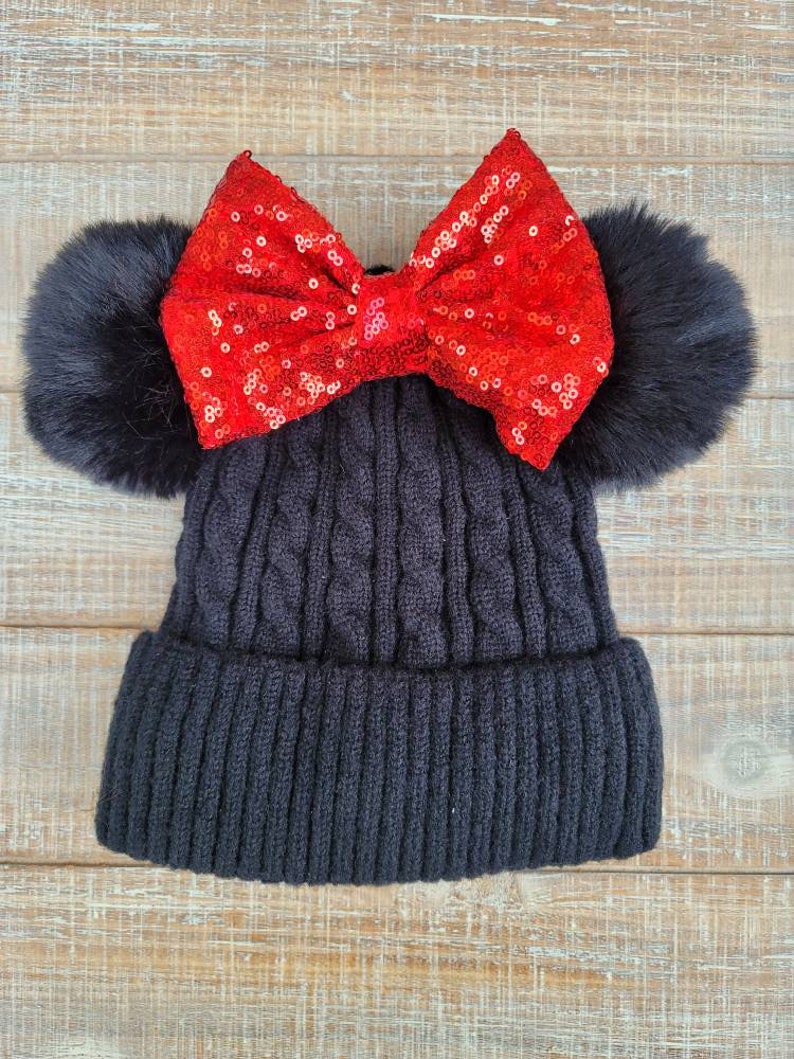 The Bottom Half
With the upper part of your body taken care of, time to consider the bottoms. From pants, leggings, shorts and skirts, what you wear on the bottom half is often a personal choice. Go with the option that will be the most comfortable for you.
If you always wear Bermuda shorts, a Disney trip might not be the best time to switch to a 3″ inseam. Make sure you "test drive" bottoms at home for comfort level. Ensure that the fit is appropriate and you won't be feeling a pinch in the waistband after lunch.
Check seams, buttons, snaps, zippers to ensure all are in good working order and don't cause any discomfort.
What to Wear on the Bottom
Choose fabrics wisely for bottoms as well as tops. Avoid heavy materials like denim on warm days or when you know you'll be getting wet. I tend to live in jeans but in the hot summer and fall months, I opt for shorts or lightweight dresses instead.
Mornings and evenings can be cooler while afternoons are warm. Consider packing a separate pair of bottoms to switch into if you don't return to the hotel mid-day.
My favorite place to shop for vacation clothing is Stitch Fix. I let my stylist know what pieces I'm looking for and they send me comfortable outfits that are travel appropriate. The top and shorts in the photo above are both from Stitch Fix!
Best Underwear for Disney?!
I know, I know. We don't often give much thought about our underpants for a trip. Usually tossing your favorite pairs into your suitcase is acceptable. But choosing the right pair of panties for a Disney vacation can make a big difference in your comfort level. You don't want to have a wedgie all day!
Pick seamless underwear styles that won't have irritating seams.
Opt for moisture-wicking versions, like the leak-proof underpants in this article. These are awesome for warm days to absorb sweat from the body.
Wear underpants at home first to make sure they fit is good (not too tight, not too loose).
Thinx air are my favorite to wear on vacation because the micromesh is so comfy and they keep me cool and dry.
My travel partners at Get Away Today offer both discounted Disneyland tickets and Anaheim-area hotels to fit any budget! Many hotels include exclusive discounts like free parking, complimentary breakfast or even free nights, just for booking through Get Away Today.
Disneyland tickets purchased now are good through December 31st, 2024. Purchase your multi-day tickets through Get Away Today now.
When you're ready to book your Disneyland vacation, my friends at Get Away Today are ready to help! Mention code REWRITTEN to receive an extra discount off your SoCal vacation package (when booking 2+ nights with two or more tickets).
What Type of Jacket is Best to Wear at Disney?
As noted earlier, be sure to check the forecast to know if a jacket will be necessary during your vacation. The type of jacket you bring may be determined by your touring style.
If you're packing light in the parks, choose a jacket that can be packed down into a backpack. An inexpensive packable puffer jacket from Outdoor Ventures can be stuffed into a small travel bag. It also offers a hood and waterproof exterior for rainy days.
A sweatshirt or zippered hoodie is another decent option as a lightweight layer for cool mornings or nights. Wrap and tie the jacket around your waist to stay hands-free.
If you're planning to utilize a locker to store layers, a larger jacket would be acceptable. I love this denim jacket as a moderate outer layer that I can remove when the weather warms in the afternoon.
Head Coverings
If the sun is shining, a hat is a must-have. Look for hats that will be comfortable to wear all day. Purchase a hat with a wide brim to protect your eyes and face from the sun. A hat will also prevent your scalp from burning.
Hats you wear at the beach or at the pool are not always the same style you'd choose for a Disney vacation. For instance, a straw hat may crush if you try to pack it away. Choose "travel versions" that can be folded down like this floppy cotton sun hat.
Ideally the hat will be easy to put on and take off throughout the day and fit into a backpack when not wearing. A baseball hat is my go-to head covering at Disney parks. I loop my ponytail through for the most comfortable fit.
Disney Cuteness Tip: Make sure to try the hat on in the shop. Be sure to check that it's sized correctly and isn't going to be uncomfortable.
Mouse Ears Headbands
What about Mouse Ear headbands? They don't do much in the way of protecting your head from the sun, but they are REALLY cute.
However some of the styles are also extremely uncomfortable. These sequined styles are notoriously challenging to wear, since they are heavy and often press too hard at the temples.
If you can't try them on first, you might want to consider making your own with a comfortable headband you know won't give you a headache! Or try Etsy, as there are so many truly creative and unique Mouse Ear headbands available.
Sized for little girls, but also appropriate for adults, these sweet Mouse Ears headbands from Presley Couture have coordinating dresses. All very reasonably priced too!
Cute But Comfy Shoes
For the love of all things, leave the heels at home! Comfortable shoes are a necessity but you don't have to sacrifice style for comfort. There are lots of adorable and comfortable Disney-styled kicks.
As you'll see in many of the photos here, I'm wearing my Keds Sneaker with low socks. These low-top sneakers look cute with both jeans and shorts, are water resistant and cushioned inside for comfort.
Don't forget the socks! Choose a low cut athletic style of sock like Rockay that offers both moisture-wicking fabric and cushioning to avoid blisters.
Are you more of a flip-flop or sandal wearer for your feet? READ MORE: Best Shoes for the Disney Parks and find out why I love open-toed sandals.
Disney Cuteness Tip: Crocs clogs are a popular choice in the Disney parks and for good reason. They are comfortable and easy to wear in the summer because they dry quickly on water rides. However I think the smaller Crocs clogs are the cuter they are (ie: leave the Crocs clogs to the kids!)
Disney Bound Clothes to Wear at Disney
Use items from your closet arranged in a way to resemble your favorite character. Disney Bounding is a budget-friendly way to dress up Disney in the parks or even at home when you want to channel Disney characters.
Dressing up Disney is a really fun way to dress up in the parks, or at home to represent your favorite Disney character. Find out some fun ideas on my post that outlines some Disney Bound "rules".
Disney Cuteness Tip: Channel your Inner Minnie with something polka dotted. At Disney you can never go wrong with polka dots!
---
A Bag to Carry it ALL
I totally bought a "fanny pack" on my recent trip to Walt Disney World. Yes, I did and I'm not embarrassed about it one bit! I loved having my hands free and my neck was hurting from carrying a purse on my shoulder through the Parks. I'm so glad the 80's waistpack is back in style!
Disney Cuteness Tip: Compare the measurements of the waist pack, purse or backpack to your essentials before you buy. If your cell phone, charger, sunscreen, ticket, etc can't fit inside, look for a larger model that will fit it all.
For hands-free, choose either a waist pack or a cross-body style in a Disney pattern to use specifically for your trip. It's so helpful to have the individual pockets on a purse like the LeSportsac x Disney Crossbody Bag. You can fit a surprising amount inside these bags!
The Loungefly Disney mini backpack is extremely popular and come in collectible versions. The mini versions don't hold as much and work more as a purse for smaller essentials.
If you need more room for snacks or kid stuff, choose a backpack to store it all. The "rope drop" backpacks from Designer Park Company holds plenty inside along with outer storage for Mouse Ears and souvenir pins.
An optional net hammock stores extras underneath the pack. In addition there is an included hydration tube for water. Use code DISNEYKIDS for a discount off your purchase of a Designer Park Co. backpack.
Accessorize in Style
Squinting in the sunshine? Sunglasses are a vacation necessity. I never leave home without my Ray Ban Sunglasses! Choose a stylish and comfortable pair that fit on your face nicely with a hat or Mouse Ears.
Be sure and pack a sunglass case or bag for storage. You'll be putting glasses on and taking them off frequently throughout the day. A silicone sunglasses strap used around the neck can be a convenient alternative.
Is wearing jewelry a must-do? Consider leaving heirloom pieces at home to eliminate the rist of losing them in the theme parks. Jewelry accessories should be dainty to avoid damage or injury during the rides.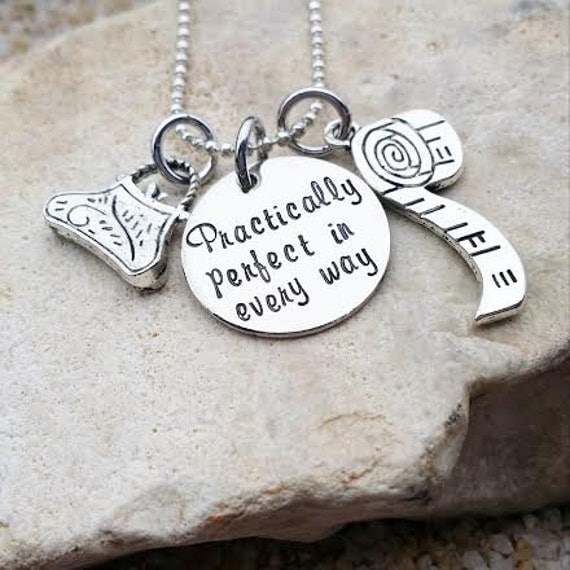 Kid's Disney Boutique Couture
I love making my kids coordinating outfits when we take Disney trips. Yeah, they'll probably hate me for it later, but they do look adorable!
If you're not a seamstress yourself, Etsy is a go-to place for clever and unique Disney wear for your family. You'll find lots of unique outfits for kids to wear at the Parks.
For kids who prefer just a regular tee, check out these unique styles from Polka Dot Pixie Shop, like this "Wild Things" shirt my son is wearing. How great is that for a day at Animal Kingdom park?!
READ MORE: For more ideas on how to dress the kids for Disney, check out the Best Outfits for Kids at Disney.
Dress for the Holidays
If you're planning a Disneyland vacation during a holiday, consider dressing up to match the season. You'll look great in photos with the seasonal decorations throughout the park!
Think about pastels and florals in the spring, patriotic prints in summer, and Halloween-inspired looks in fall months.
My daughter and I enjoy coordinating our holiday looks in red and green during Christmas at Disneyland. The photo ops can be really fun with all of the seasonal decorations throughout the theme parks.
Disney Packing Lists
When planning out your clothes to wear at Disney, print out one or more of these essentials packing lists. Use the list when making your purchases, coordinating outfits between the family and getting your suitcase prepped for the trip.
---