This fun and free printable for a Disney Easter scavenger hunt can be done indoors at home, on vacation or inside of a hotel room. I'll share several ways to maximize this six clue egg hunt including tips for toddlers, best Easter gifts and creating the ultimate Disney-themed basket!
Mom Rewritten uses affiliate links which means I may earn a small commission if you purchase through the links in these posts. As an Amazon Associate I earn from qualifying purchases. For more information, see the Privacy Policy and Disclosures tab.
Indoor Disney Easter Scavenger Hunt
This Easter scavenger hunt is not like the traditional Easter egg hunt, where one looks for prize eggs. This indoor Easter scavenger hunt offers a trail of clues to find hiding places of Easter treats around the house or hotel room!
This game is appropriate for Disney fans and kids of all ages. This article offers up different ways to play, for toddlers to older children. Keep reading to get the free printable Easter scavenger hunt clues to play with your family on Easter morning.
My indoor egg hunt includes two files, one with the scavenger hunt clues. You'll print and cut out the different clues, then hide them indoors.
The other file is an optional "Happy Easter" sign to include with the final prize at the end of the hunt. There are many ways you can customize this indoor scavenger hunt this Easter for your family, using the following Easter egg hunt ideas!
Why Have an Indoor Easter Egg Hunt?
I created this Disney Easter scavenger hunt to be done indoors for several reasons. First off, the weather. Last year, my family had planned to have a big outdoor Easter egg hunt…but we got rained out!
We still hunted for eggs (in the living room) but I'd wished at the time that we'd had an indoor scavenger hunt to go along with it.
The second reason I chose to create this Disney Easter scavenger hunt to be done indoors is that I know many families travel. Therefore you might be staying in a hotel room on Easter Sunday.
This Disney-themed egg hunt is ideal for traveling with kids, especially appropriate if you're on a Disney vacation! Plan ahead to bring these free printable scavenger hunt clue cards and small prizes to have an Easter treasure hunt, even while away from home.
Printing Scavenger Hunt Cards
I do a lot of printing at home and appreciate having a great printer and a full cartridge of ink at all times. Having bright and colorful pages is vital for these Easter printables, so make sure your color ink cartridge is up for the challenge!
Sign up for HP Instant Ink, a mail-order subscription service for printer ink so you'll never run out. Sign up and receive a free month on the program!
The printable comes in two PDF files. The first one is the actual scavenger hunt clues. The other is the final sign you place with the last surprise. Once you have both the pages printed, cut them carefully along the dotted lines. Keep reading for tips on placement.
A Fun Scavenger Hunt for All Ages
I created this Disney Easter scavenger hunt so it doesn't matter in what order you do the Easter egg hunt clues. I'll share an example of how we did the hunt at our house. We have both preschoolers and teenagers at home so it's important that I have activities that appease all age levels.
While your teens might balk at participating in a "kiddie" egg hunt, if you make it worth their while, they might even crack a smile (ie: Give them gifts they really want!)
Making an Easter Scavenger Hunt Fun for Young Kids
Kids who can read on their own will likely be good with figuring out the clues and doing the indoor scavenger hunt by themselves. For toddlers or younger children, you'll need to read the clues and offer suggestions on where to search next.
Some of the cards have images that offer a hint on which location is next. Others are more subtle and may need explanation.
For instance, kids unfamiliar with The Little Mermaid might not know that a "dinglehopper" is a fork/hairbrush found inside the bathroom!
Keep reading for ideas on what to stuff inside your eggs and ways to gather the ultimate Disney Easter basket stuffers! Lots of tips here on how to run a fun scavenger hunt indoors for all ages. Keep reading to get your free Disney Easter scavenger hunt PDF printable.
Setting Up the Disney Easter Scavenger Hunt
Here are the details on how to stage fun prizes in different locations around the house, according to the clue on the card. Once you've printed the cards and cut them out, read through this section for tips on set up for this activity.
1. When placing the scavenger hunt cards, set aside your first clue. You'll be handing over the first clue to the child for them to start the game.
2. Organize the cards in order of how you want the hunt to play out. You don't have to do them in order of how they're printed on the sheet.
3. Along with the Easter gift, you'll also be leaving the next clue in this spot. The second clue card is placed in the location based on the first card you gave to your child. For instance, I gave my daughter the "shoe" card to start, so the second clue was placed near her shoes.
4. From there, place the clues in the various locations that will lead your child to the next indoor location.
5. Choose the final clue based on where you'd like the last gift to be. The "Happy Easter" printable can be placed with that grand prize.
Easter Scavenger Hunt Fun Variations
These are a few options you could choose to do with the clues:
Gather Gifts into a Basket
Start your child off with an empty Easter basket. Leave a gift at each clue location for kids to collect goodies along the way. If you are playing this game with multiple children, be sure to label each of the gifts so they know which item is theirs.
Collect Treat-Filled Eggs
Have filled Easter eggs at each clue stop for kids to collect. There are ideas for what to put inside eggs later in this article.
Gift Ideas Based on the Clues
Make the clue lead to the actual prize. For instance the "shoe clue" could lead to a new pair of Disney flip-flops. The "dinglehopper clue" could gift the child a new hair brush.
Grand Prize Basket
You also have the option not to leave any prizes at clue locations. Have the filled Easter basket with gifts at the final stop. This is a good option for younger kids so they aren't dragging the filled basket throughout the house.
Best Easter Gifts to Give
If you're doing this Disney Easter scavenger hunt at home, you won't be as limited by the size and/or quantity of basket stuffers or gifts. However, when traveling consider keeping items smaller in size and number.
We went on a road trip on Easter Sunday one year and our kids didn't expect the Easter Bunny to leave them baskets at the hotel!
It took some doing (and concealment of presents inside the luggage) but it was well worth it to see the kids' surprised faces when they opened the hotel front door!
As you can see in the images I've shared I chose a few Disney-themed items and a few non-Disney gifts (like candy). Coloring books like this Crayola Disney Princess Coloring Book are on of the most inexpensive and fun ideas for Easter basket gifts.
Gifts for the Scavenger Hunt
These are a few good Easter basket gifts, all in keeping with the Disney theme of course!
Plush Toy – These petite, plush and poseable nuiMOs are simply adorable! Click over and see the new Princess collection, they are too cute.
Lip Balm – Lip Smacker Disney lip balms re-hydrate dry lips. Break up the set to gift to multiple children or to stuff inside large refillable eggs.
Band-Aid Bandages – Kids love Disney themed bandages, like these Encanto Bandages.
Water Bottle – Bring Grogu "The Child" home for Easter in this cute Flip-top Grogu Canteen.
Looking for More Toddler or Preschooler Gifts? For tips with little ones, read Easter Basket Ideas for Toddlers & Preschoolers.
Top Disney Vacation Easter Goodies
If on a Disney vacation during Easter break, remember before shopping how you'll get gifts to & from your destination. Choose items you were going to pack the kids for Disney anyway. Consider some of these park-worthy gifts for kids to hunt:
Swim Suits – You're going to hit the hotel pool later? A bathing suit is an ideal and practical gift for this Disney Easter scavenger hunt.
Book – Choose entertaining Disney books including board books for babies. This Where's Mickey Mouse – A Look & Find Activity book is awesome for kids.
Snacks – Gift the kids some snacks, like Mickey Goldfish Crackers. These can be brought with you into the theme parks!
Mad Libs – Mad Libs are one of our park favorites to use when standing in line! There are so many varieties including Frozen, Star Wars and The Incredibles Mad Libs.
Dress Up – A twirl-worthy (non-glittery) princess dress or costume, like this set for Tiana from The Princess & the Frog.
Card Game – The World of Disney Eye Found It is a perfectly compact card game for travel entertainment!
Head Gear – Appropriate for all ages, Mouse Ears add magic to any Disney trip. Not the headband type? Try a Disney ballcap instead!
Sunglasses – Prevent squinting with these adorable Disney sunglasses and case.
Disney Parks Bag – Older kids would enjoy receiving a purse or backpack to use in the parks, like this practical Disney drawstring bag.
READ MORE – For tons more ideas, including thoughts for toddlers and teenagers, check out the additional tips on Disney Easter Basket Ideas for all budgets.
What to Put Inside Disney Themed Easter Eggs
Candy is great, but too much can be too much of a good thing! We used jelly beans inside our eggs for the Disney Easter scavenger hunt. Toys, jewelry and other small non-edible things are better than all candy.
Find larger sized plastic Easter eggs to fill yourself or choose pre-filled to make the process easier. These are some additional ideas on what to stuff in your plastic eggs:
Stickers – What kid doesn't love stickers for decorating water bottles, notebooks, etc?! This Disney/Pixar Sticker Pack will keep them in good supply – stuff a few inside a few bigger eggs!
Peg Dolls – Preschoolers who love pretend play would enjoy these Wooden Princess Peg Dolls that are hand painted by Etsy designer TheSoltropSix.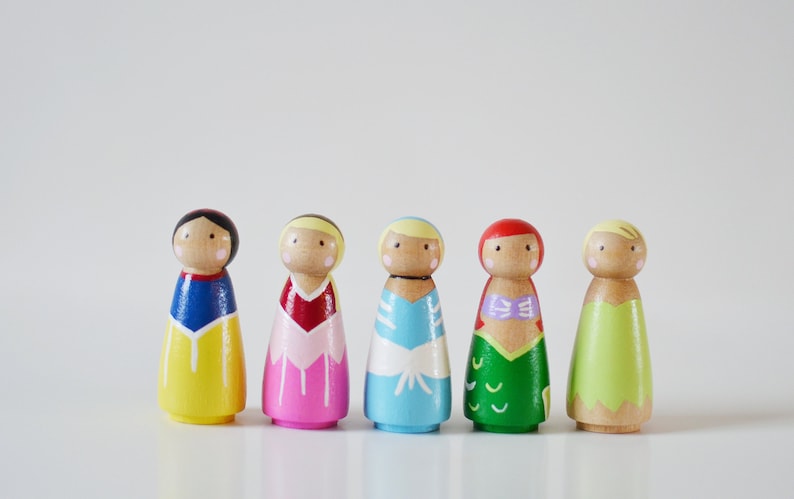 Jewelry – Think tiny but still meaningful. A small piece of jewelry, like this Mickey Mouse Icon Initial Necklace is sure to make older kids smile!
PopSockets – Fill an Easter egg with a Mickey PopGrip by PopSockets for tech-savvy tweens and teens.
Ear Buds – Ear buds are ideal for kids who love music. These Star Wars BB-8 Earbuds are awesome!
Disney Easter Scavenger Hunt Printables
Here are the FREE PRINTABLE Disney Easter scavenger hunt files. Looking for more printables for your Disney vacation? Be sure to search "printable" on this site. Click these links to open the Disney egg hunt PDFs: