Or is that just me?)
Depending on how well you "stuff the stocking", this could be a very expensive endeavor! Here are some last-minute practical and inexpensive Disney stocking stuffers that won't compromise your budget.
Mom Rewritten uses affiliate links which means I may earn a small commission if you purchase through the links in these posts. As an Amazon Associate I earn from qualifying purchases. For more information, see the Privacy Policy and Disclosures tab.
Disney Stocking Stuffers on a Budget
You've already decorated the house with these Disney crafts, decor and ornaments. Now it's time to carry the theme by creating Disney Christmas stockings! I'm a practical gal, I'll admit it. I tend to gravitate towards Disney stocking stuffers that my kids already need. We just don't need more junk for the bottom of the toy bin. I choose items like a new toothbrush, books, crayons, winter gloves, and bubble bath. Yes, even a package of new underpants make it in to the stocking!
If you like practical gifts for kids that are still fun, these Disney stocking stuffers hit all the marks! All those cute little things have a cost, so read on for a few basic stocking stuffer tips to stay on budget. I've included lots of ideas, for babies to teens.
Best Tips for Disney Stocking Stuffers
1. What's your stocking budget? Those little things really add up so make sure you have a cost in mind before buying. It's easy to go overboard!
2. Keep size in mind. Take the size of your stockings into consideration. If a gift is too large to fit into the stocking, wrap it up and set it next to the stocking or on the mantle.
3. How many items should you get? Keep the number of stocking stuffers between 3-5 (depending upon the size).
4. Don't buy junk or just "things" to fill the stocking. Stick to what you know will be used and well-loved. Best to choose things that will actually be enjoyed. It's worth spending a little more rather than just filling stockings with bottom-of-the-toy-box items from the dollar store.
5. Upcoming Disney Trip? Think about the practical things you'll be purchasing already for your vacation. Items like sunscreen, a new bathing suit for the hotel pool, sunglasses and Disney gift cards. Might as well gift them to the kids in their stockings now!
Cozy Up
'Tis the season to keep warm and these gifts will keep them toasty and stylish. A warm scarf, hat, gloves, slippers or socks are always welcome, especially if they feature a favorite character. Socks in a stocking? Kids will get a kick out of that!
These kid's Star Wars Socks are perfect for boys or girls (the Stormtroopers are my fav).

Heading to Galaxy's Edge with teens? This cool Baby Yoda Mandalorian Infinity Scarf is awesome (if you don't decide to keep it for yourself!)
This is Halloween…but the Disney Nightmare Before Christmas Jack Skellington Flip-Down Beanie Hat
is also perfect for the Christmas stocking too!
---
Something to Read
Whether you're gearing up for a magical vacation, looking for education or just love Disney, these books are perfect as Disney stocking stuffers.
Definitely one of my daughter's favorites when she was a baby, Disney Baby My First Words
.
From the popular "Who Was" series, Who Was Walt Disney?
is one of my son's favorites. Since reading it in a single day, he has been schooling us on Walt's life history!
Hidden Mickey spotting is a fun pastime in the parks, choose from either The Hidden Mickeys of Walt Disney World
or The Hidden Mickeys of Disneyland
.
They've seen the movies, now read the books! All three are available, including Descendants 3 Junior Novel
.
Art Supplies
Art supplies are one of the practical gifts that encourage a hobby. Art supplies are always a family favorite in our house. Even better if they have a Disney theme. Some of these are great for taking on a trip.
A roll-up fabric travel crayon holder for toddlers and preschoolers is great for road trips and plane flights.
Pair crayons and markers with a Disney Coloring Book
and host a family coloring night!
Color Wonder sets like this Crayola Color Wonder Frozen Set
are so great while traveling since they are completely mess-free!
Encourage journaling when you gift a notebook and pen. This Disney Pixar UP! Notebook is just like the one from the movie. Adventure is out there!
---
Disney Accessories
These accessories, from toddler to teen, make great Disney stocking stuffers! Ideal for the parks and perfect at home to get a "Disney fix".
Toddlers love Disney snacks too, especially when they're "Rumbly in My Tumbly" like this Winnie the Pooh t-shirt says!
This "Disney font" personalized necklace is a special gift for a teen or tween (or Mom!). It's a pricier gift but in sterling silver or 14K gold, it's sure to last.
A new Disney-themed phone case is a practical but fun dash of Disney on an everyday item!
---
Washing Up
My little ones are obsessed with the Disney Magic Timer app that encourages longer brushing. My kids already have Star Wars mouthwash, Cars toothpaste and an Avengers toothbrush. What's better to balance out holiday sweets than oral hygiene products like a Disney Minnie Mouse Dental Set.
Chillin' like a Villain in a tub full of suds with this foaming scented Disney Villains Poison Apple Bath Bomb.
For the ultimate fan, these charming Disney Mickey and Minnie Shampoo & Body Wash bottles
might just encourage your kids into the tub.

I absolutely LOVE my Wet Brush and have one for each of my girls. This new Wet Brush featuring Elsa from Frozen 2
might just end up in the stocking this year!

My older kids like something a little more "grown up" in a sophisticated scent like the Disney H2O products (this Sea Salt Bath Soap is all I use in the shower). ShopDisney carries the entire line, including shampoo, lotion and body butter.
---
Stock Up for the Year
Make practical things a gift. Kids just want to see their favorite character and they are things that you would normally buy through the year anyway! These practical gifts are fun Disney stocking stuffers.
These Lip Smacker Disney Tsum Tsum Lip Balms
are just too cute, but also practical!
These Marvel Cloth Facial Coverings are great for the fan who is planning a visit to Avengers Campus at Disneyland.
My kids think Disney Band-Aids make all the boo-boos better!
Buy all the hair ties for the entire year now! This variety of Disney elastic hair ties will keep her hair neat and pretty.
---
Vacation Goodies
Think ahead to what your kids will need things for an upcoming vacation, then stuff it in the stocking!
A Disney Pop It! Fidget Sensory Toy is an easy way to alleviate boredom and anxiety while also keeping antsy kids from touching all the things in line.
This World of Disney Eye Found It Card Game
is the perfectly compact game to bring with you on a trip. These cards are also the most popular item on my suggested list of things to do while waiting in line at Disney.
Start off their Disney pin trading collection with this Star Wars First Order Lanyard. Attach a few of the authentic ShopDisney pins to get them started on this popular park pastime.
A great one to play while waiting for food to arrive at restaurants or while on the road trip, Toy Story Mad Libs
is good family fun (search for Frozen, Mickey Mouse and Star Wars versions too!)
These clever Imagine Ink Super Set
will buy you quiet time with the kids while traveling or resting in the hotel room.

---
A Little Something Just for Fun
Don't forget at least one fun little thing that your kids will enjoy through the year. Little ones might enjoy a little plush doll. Older girls would love a classy make-up set in a Disney-theme. And don't forget the Force in the form of a cool new Lightsaber! I've also included Disney stocking stuffers gifts for toddlers.
In my daughter's eyes, there are never enough plush and dolls! I have a feeling she'd also LOVE playing with these Disney Princess Handpainted Peg Dolls!
This Star Wars Light Up Lightsaber
has an extendable blade so it easily tucks into a stocking.
Teen girls will love one of these elegant Disney Princess Eye Shadow Palettes (this one is inspired by Ariel of the Little Mermaid).
Just like the Mandolorian, carry "The Child" wherever you go! This Baby Yoda Plush uses magnets to sit on a shoulder.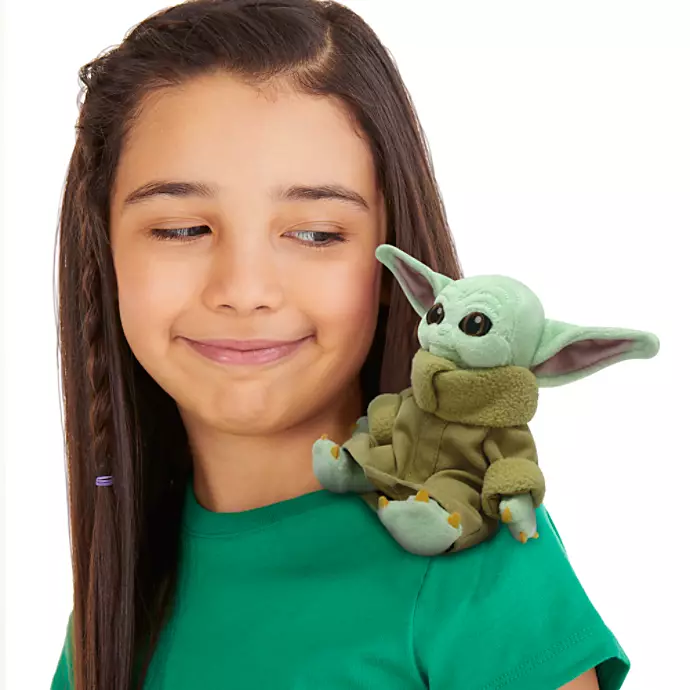 ---
Something Sweet in the Stocking
I bought these Disney's Candy Canes for my kids last Christmas. They were just the perfect size to toss a few of each flavor into each stocking. Consider adding packet of hot cocoa to the stocking. My kids love receiving a special treat in their stockings (we even let them indulge right after breakfast!) It is Christmas, after all!

This post originally published Dec 18, 2015 and has been updated.

You've carefully budgeted your Christmas shopping and then you remember…you didn't buy anything for the STOCKINGS! (