Are there Disneyland ride heights restrictions? No height requirements or low height limits on most attractions makes Disneyland a place everyone can enjoy, despite their age or stature. But there are certain Disneyland ride height requirements you should be aware of before your trip. This is everything you need to know before you go!
Mom Rewritten uses affiliate links which means I may earn a small commission if you purchase through the links in these posts. As an Amazon Associate I earn from qualifying purchases. For more information, see the Privacy Policy and Disclosures tab.
This post was originally published on Sep 22, 2014 and has been updated and republished with a new date.
Disneyland Ride Height Requirements
One of the major rites of passage is when a child finally hits the Disneyland height requirement for a particular ride! But did you know that a majority of rides don't have any height restrictions?
Is your child tall enough to ride all of the Disneyland attractions? How tall do you need to be to go on ALL of the Disneyland rides? How will you know which Disneyland rides have restrictions?
There's more to know than JUST Disneyland ride heights! If you're planning your first Disneyland vacation, be sure to read this additional advice. Then, follow these tips about Disneyland ride height requirements so you're prepared in advance.
Looking for Disney World planning tips? Read more about planning a first Walt Disney World vacation.
Free Disneyland Ride Height Requirements Printable!
Want a free printable Disneyland guide for all the height restrictions in both theme parks? Print this out and take it with you on vacation. You'll be able to see at a glance which rides each kid is tall enough for!
Disneyland rides are highlighted in yellow and Disney California Adventure in taupe. Rides are sectioned off by height requirement. Each "Land" is color-coded for quick planning. Later in this article I share how to get this handy freebie!
Discounted Disneyland Tickets
My travel partners at Get Away Today offer both discounted Disneyland tickets and Anaheim-area hotels to fit any budget! Many hotels include exclusive discounts like free parking, complimentary breakfast or even free nights, just for booking through Get Away Today.
Disneyland tickets purchased now are good through January 12th, 2024. Purchase your multi-day tickets through Get Away Today now.
When you're ready to book your Disneyland vacation, my friends at Get Away Today are ready to help! Mention code REWRITTEN to receive an extra discount off your SoCal vacation package of two or more days.
Why Are There Disneyland Ride Height Restrictions?
Bottom Line: Height requirements are in place at the Disney parks to keep your children safe.
There is a reason why the requirements are in place. It might not make sense to you why you can bring an infant onto Toy Story Midway Mania (which has no height restriction) but have to be 32″ to go on Luigi's Rollickin' Roadsters.
Just know that the Disneyland resort has those restrictions for a reason. There's no getting around it. If you're child isn't tall enough, the Disneyland Cast Members aren't going to let them ride.
If your child isn't tall enough for a handful of attractions, there are still plenty of rides that they can go on (many that don't have restrictions at all!) Read more tips for toddlers including this one-day Disneyland itinerary.
Step-by-Step Guide To Pre-Vacation Height Planning
If you're going to Disneyland this year, be sure take new measurements of each child. Here are the tested tips for measuring your kids before your trip.
1. Measure at home with the shoes that your child will be wearing to the park. Have children rest back against a flat wall, heels completely to the wall for the most accurate height reading. Don't allow kids to stretch, tip-toe or raise their chin.
2. Use a tape measure to record your child's measurement.
3. Scan the list of Disneyland ride heights limits and take note of what your children will or will not be able to ride. Keep scrolling, I have them ALL listed in a printable height requirement chart below!
What if your child is SO close to the requirement? If we're talking centimeters, have your child wear tennis shoes with a thicker sole instead of flat sandals.
Pediped is our go-to because of their thick padded soles with inserts. And they require no "break-in" period, so they're great for travel!
4. Let your kids know in advance what rides they will be able to go on and which ones they aren't tall enough for. You don't want any disappointed thrill seekers on their Disney day when they discover that they miss the height requirement for Star Wars: Rise of the Resistance by an inch!
How accurate are Disneyland height requirement? Are Disneyland ride heights markers accurate? Read more from my friend Becca at This Crazy Adventure Called Life.
Exceptions and Rules to the Height Requirements
In addition to the basic height restrictions, there are a few attractions will additional rules and exceptions.
There are some rides that allow guests that don't meet the height requirement to ride with a taller guest.
Look for Disneyland rides with height and age restrictions – Children under 7 years old must ride with a person 14 years or older, even if they meet the height requirement!
What are the Height Restrictions at Disneyland?
Outside each attraction there will be a sign. It will briefly explain the attraction and offer guidelines for guests. This includes height and age restrictions as well as wheelchair transfer info.
There may be explanations on the signs for attractions that may cause discomfort to those who are pregnant or have back issues. Read these cautions so you're aware if they apply to your group.
How Tall Do You Have to Be for Disneyland Rides?
Each attraction has different height restrictions or requirements. Some rides allow all ages and heights while others have minimum (or maximum) allowances.
Once you've found the sign near the entrance, look for the Disneyland ride heights measure. The measurement bar MUST touch your child's head (not just their hair!) in order to pass.
Your child cannot be able to walk underneath the sign. Their head needs to reach or exceed the measurement bar.
How Strict is Disney About Height Requirements for Rides?
In a few words, yes Disney theme parks are very strict about guests meeting the requirements. A Cast Member stationed at the front of each attraction will check your child at the beginning of each ride. Cast Members are very careful about checking height because the safety of your children is a high priority.
Occasionally another Cast member will check again further down the line (like my son in the picture below at Radiator Springs Racers).
The Cast Member may touch your child to flatten down hair or to make sure they aren't standing on their tippy-toes. They will almost always request that kids remove baseball hats or Mouse Ears.
In certain cases, they may even request that a child remove their shoes (if the child is wearing wedges or heels). It is their job to make sure your kid is safe and meets the Disneyland height limits for that attraction.
Your Child Is Tall Enough – But Are They Ready to Ride?
So your child passes the test – they are tall enough to ride! But is the attraction appropriate for your child? Some rides might be too fast, loud or scary for your kid. And only you will know this information.
If you have a child who is tall enough for the attractions but you aren't sure it's appropriate for them, I suggest doing your pre-vacation research.
If you find that your child is often scared or nervous, consider reading this guide about all the potentially scary things at Disneyland.
Read on the Disneyland website about each of the rides and even consider watching YouTube videos of the rides to see if it will be a good fit for your kid. So just because your kid is physically tall enough to ride Big Thunder Mountain Railroad, doesn't mean they're mentally ready for it yet.
Also some of the ride overlays featured during the holiday seasons may not be appealing to your child, even if they've been on it before. For instance, Space Mountain: Ghost Galaxy during Halloween Time at Disneyland is much more frightening than the usual attraction.
Follow the tips on this post with helpful tips for calming scared and anxious kids at Disney. Doing pre-vacation research is imperative for families with kids who want to ensure a happy day for all!
Rides at Disneyland With Height Requirements
Autopia (32″ with qualifying companion. Guests need to be 54″ to drive alone)
Big Thunder Mountain Railroad (40″)
Indiana Jones Adventure (46″)
Matterhorn Bobsleds (42″)
Splash Mountain (40″)
Space Mountain, or holiday overlays, Hyperspace Mountain or Ghost Galaxy (40″)
Star Tours: The Adventure Continues (40″)
Millennium Falcon: Smugglers Run (38″)
Star Wars: Rise of the Resistance (40″)
Rides at Disney California Adventure Park With Height Restrictions
Incredicoaster (48″)
Goofy's Sky School (42″)
Grizzly River Run (42″)
Guardians of the Galaxy – Mission: BREAKOUT! (40″)
Luigi's Rollickin' Roadsters (32″)
Radiator Springs Racers (40″)
Soarin' Around the World (40″)
Mater's Junkyard Jamboree (32″)
Silly Symphony Swings (40″ and in a tandem swing or 48″ to ride alone)
Jumpin' Jellyfish (40″)
Are There Disneyland Rides Without Height Restrictions?
There are A LOT of Disneyland rides without height requirements! In particular these are located in the Disneyland Park, as opposed to Disney's California Adventure park. You can check the list of attractions, or simply look at the signage at the attraction. There are some that might surprise you, like Mad Tea Party and Astro Orbitor.
These are the rides that you can go on with everyone, including your infant and toddler. There are some rides that have special rules however, so follow the Cast Member's instructions.
Just like height requirements, these rules are in place for a reason so make sure you follow what the Cast Member says.
Even on rides without height restrictions, you may need to have your child seated in a certain way. This might include removing a baby from their front carrier. You may have to turn your little one so they are seated forward on your lap with legs under the lap bar. Other rides may require you have the child seated on their bottoms on the seat and not sitting on your lap.
Rides at Disneyland Without Height Restrictions
Alice in Wonderland
Astro Orbitor
Buzz Lightyear Astro Blasters
Casey Jr. Circus Train
Davy Crockett's Explorer Canoes
Disneyland Monorail
Disneyland Railroad
Dumbo the Flying Elephant
Finding Nemo Submarine Voyage
Haunted Mansion and the seasonal overlay, Haunted Mansion Holiday
"it's a small world"
Jungle Cruise
King Arthur Carrousel
Mad Tea Party
The Many Adventures of Winnie the Pooh
Mark Twain Riverboat
Mr. Toad's Wild Ride
Peter Pan's Flight
Pinocchio's Daring Journey
Pirate's of the Caribbean
Rides at Disney California Adventure Park Without Height Requirements
Golden Zephyr
Jessie's Critter Carousel
The Little Mermaid: Ariel's Undersea Adventure
Monsters Inc. Mike & Sully to the Rescue!
Pixar Pal-A-Round
Toy Story Midway Mania!
Inside Out Emotional Whirlwind
Looking for things to do once you get into line? Check out this list of 12 Things to Do Waiting in Line at Disney Parks.
Using Disneyland Rider Switch
Your toddler isn't tall enough to ride Splash Mountain, but everyone else wants to ride? Fortunately Disneyland offers a complimentary Rider Switch program for families with kids that don't meet the height restriction. You might have also heard this called ride swap or a "stroller pass".
Using the Rider Switch option will allow all who want to, the chance to ride select attractions. It also eliminates families from all having to wait in line twice (and it can be used in conjunction with Disney Genie+).
Not all attractions offer the rider swap program but these are the attractions that do:
Disneyland Rider Switch
Autopia
Big Thunder Mountain Railroad
Gadget's Go Coaster
Indiana Jones Adventure
Matterhorn Bobsleds
Splash Mountain
Disney California Adventure Rider Switch
Incredicoaster
Goofy's Sky School
Grizzly River Run
Guardians of the Galaxy – Mission: BREAKOUT!
Luigi's Rollickin' Roadsters
Radiator Springs Racers
Soarin' Around the World
Mater's Junkyard Jamboree
Silly Symphony Swings
Jumpin' Jellyfish
How Rider Switch Works
Family approaches the Cast Member at the entrance of the ride and tells them they'd like to take advantage of the Rider Switch program.

The Cast Member will either scan the Disneyland ticket or Disneyland app on your phone and assign the family a Rider Switch pass.

At least one adult will stay behind with the child(ren) that are not riding.
First group will get in the regular queue and go on the ride.

If they have a Lightning Lane reservation for the attraction, they will use that line instead.

Family will meet up after the ride. Adults will trade places. Second group (up to three people) will redeem Rider Switch to the Cast Member located at either the exit or Lightning Lane entrance to ride.
Keeping Track of Heights at Home
A fun way to keep track of kid's heights is with a Disney-themed growth chart. Hang one up in your child's room as a way of tracking their measurements and as a sweet memento!
Etsy designer Simply Sawdust Studio offers this adorable Disney Height Chart in several versions including Steamboat Mickey, Minnie Mouse and the classic Mickey shown here.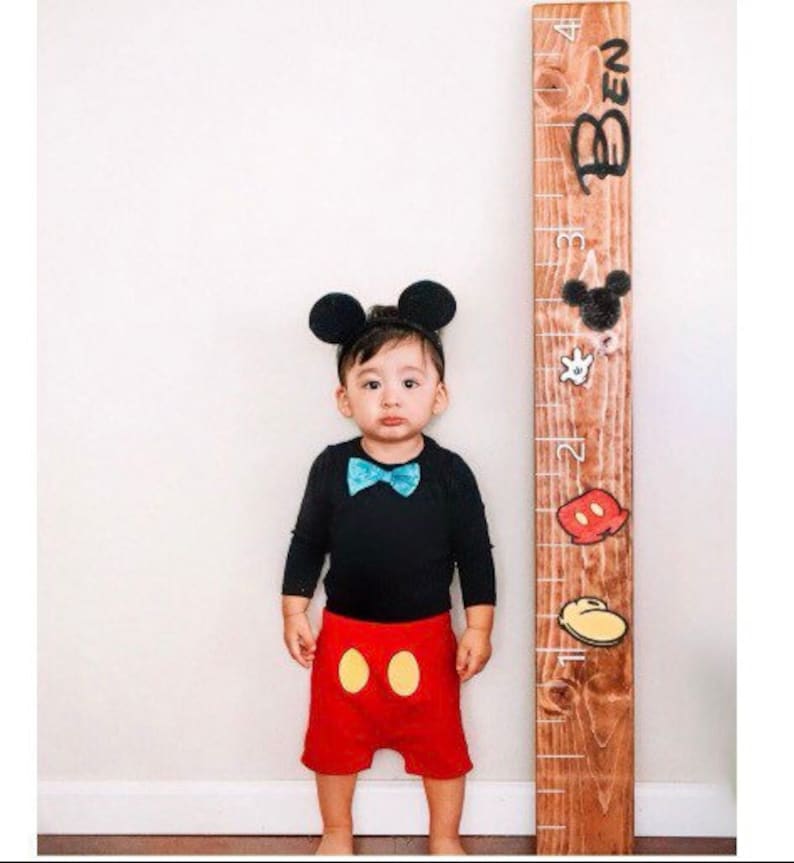 This beautiful Wooden Castle Height Chart from Bright Gift US isn't just a practical way to measure children. It's also lovely home decor for a themed bedroom or nursery!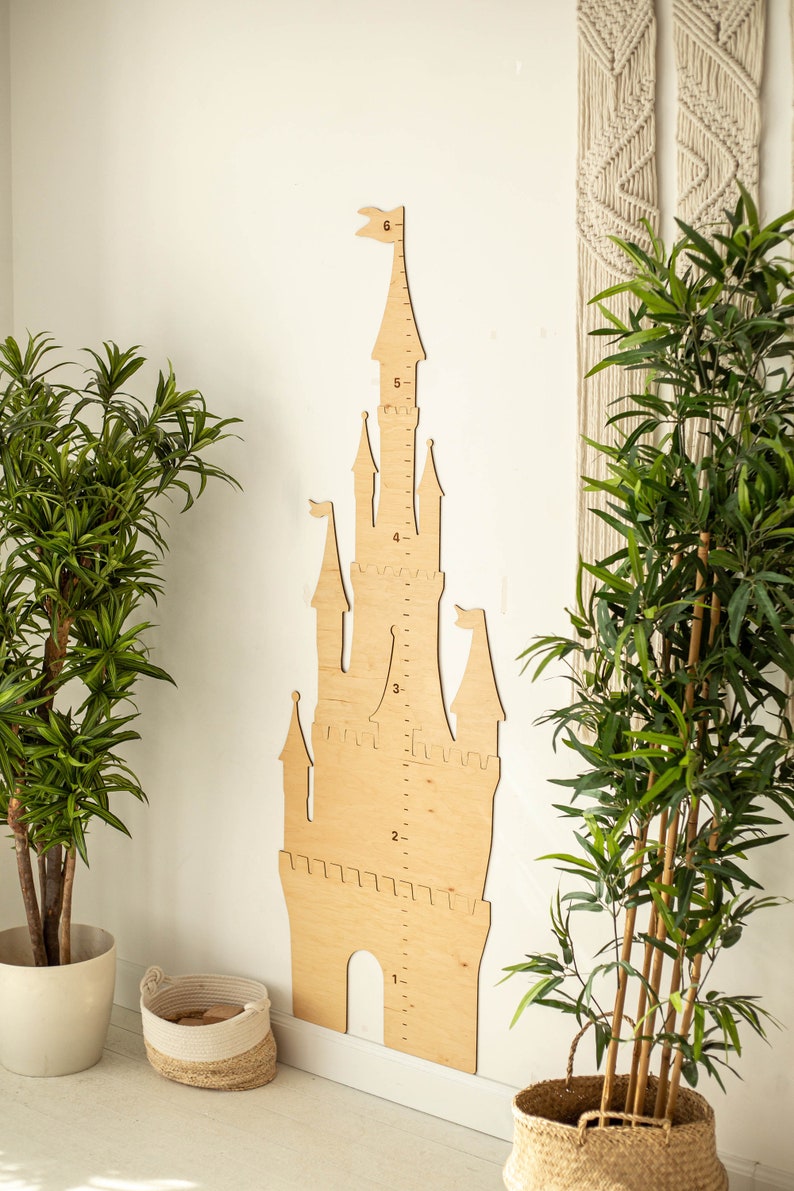 The amazing Spider-Man Height Chart helps kids get pumped for their first Avengers Campus visit. No height required for WEB SLINGERS! There's a princess version as well as Toy Story and Frozen.
Disneyland Ride Height Requirements – FREE PRINTABLE
Print out your free Disneyland ride height requirement chart to use for vacation planning!
Where to Find the List of Disneyland Ride Heights Requirement
I've listed all the rides that do not have height limits as well as those with height requirements in this article. If you want more details about each attraction, check out the official websites.