Start off the school year with all the things each child needs, from pencils, notebooks and yes, plenty of bookmarks. Gather the kids and your crafting supplies! These are 32 fun do-it-yourself bookmark crafts you can make at home for back to school.
Mom Rewritten uses affiliate links which means I may earn a small commission if you purchase through the links in these posts. As an Amazon Associate I earn from qualifying purchases. For more information, see the Privacy Policy and Disclosures tab.
Kid's Bookmark Crafts
It's a pet-peeve of mine to see my kids using whatever they can get their hands on as a bookmark – a sock, snack wrapper, a receipt. Or the worst, when the book is splayed out flat, bending the spine-Ack!!
My 9 year old is an avid reader so it's very common for him to have multiple books being read at the same time. I have a good amount of bookmarks ready for him to grab whenever he starts up a new story.
These DIY bookmark crafts range in textiles from paper to wood and other creative mediums. This round-up includes many of my blogging friends (photos used with permission). Click over to get the tutorials and support their small businesses.
Gift a book along with a coordinated bookmark. For book suggestions, read this gift guide with 100 best books for kids. Keep reading for more DIY bookmark crafts you can make with the kids!
Wooden Bookmark
A combination of hand painted wood and personalized vinyl, these wooden bookmarks are a unique piece of art. Click through for the full wooden bookmark craft tutorial!
Paper Printable Bookmark Crafts
In Our Spare Time offers this Printable Coloring Bookmark with a fun, underwater theme that kids can decorate themselves.
It's a bookmark! It's a stick puppet! How cute is this Made with Happy Bat Craft Paper Bookmark for the Halloween season?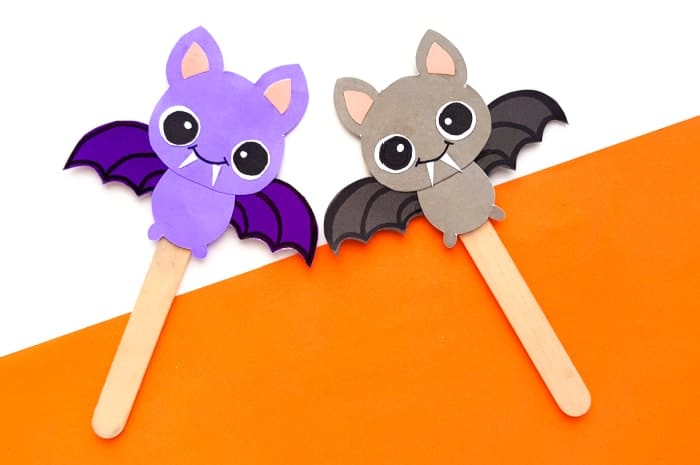 Mermaids and glitter shine together in this colorful printable Mermaid Bookmark template from Three Kids, Three Cats and a Husband.
All you need is origami paper, glue and a pen to create these sweet Ladybug Corner Bookmarks from ConservaMom.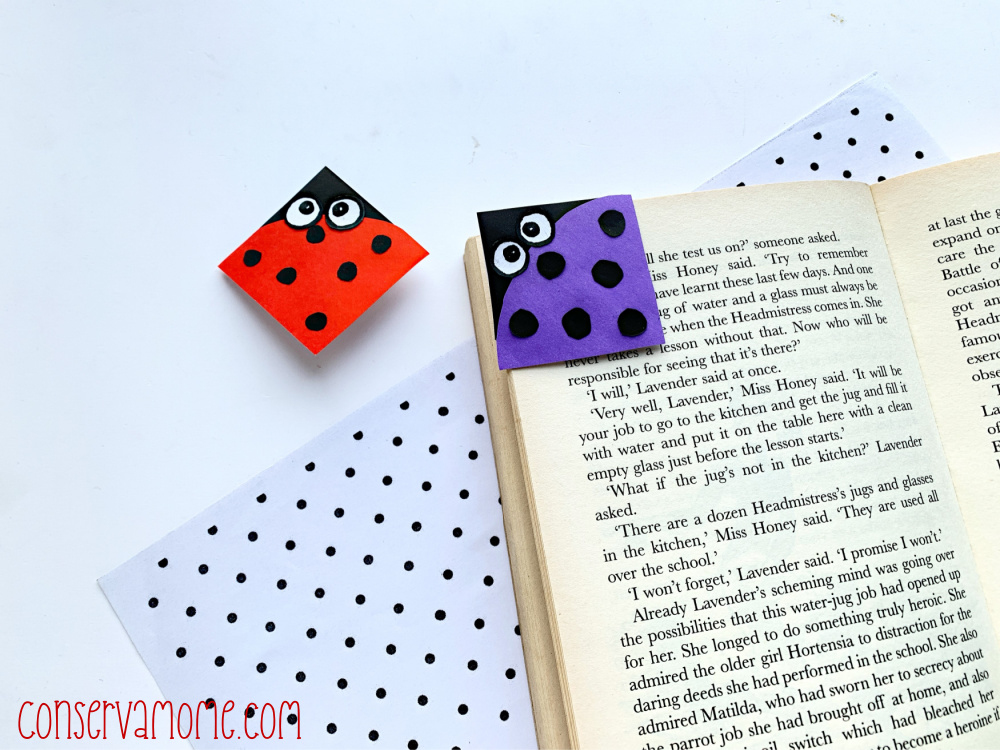 For this DIY Graduation Bookmark, Ann's Entitled Life includes a printable card idea for gifting this bookmark to a graduate.
For these printable paper bookmark crafts, you'll need a printer with colored ink. I highly recommend signing up for HP Instant Ink. Your HP printer will connect to the Instant Ink program and automatically detect when you're running low on ink.
No more last minute runs to the store or trying to figure out which cartridge you need for your printer! Plus the cost is at a great price, especially given the convenience. Choose the plan that works best for you. Try HP Instant Ink for yourself!
Fabric DIY Bookmark Crafts
Easy DIY Corner Bookmarks from Happiest Camper are an excellent way to make good use of scrap fabrics! This is a great first sewing machine project for youngsters.
These Fabric Bookmarks from Easy Things to Sew combine both machine and handstitching for a rustic and raw edged look.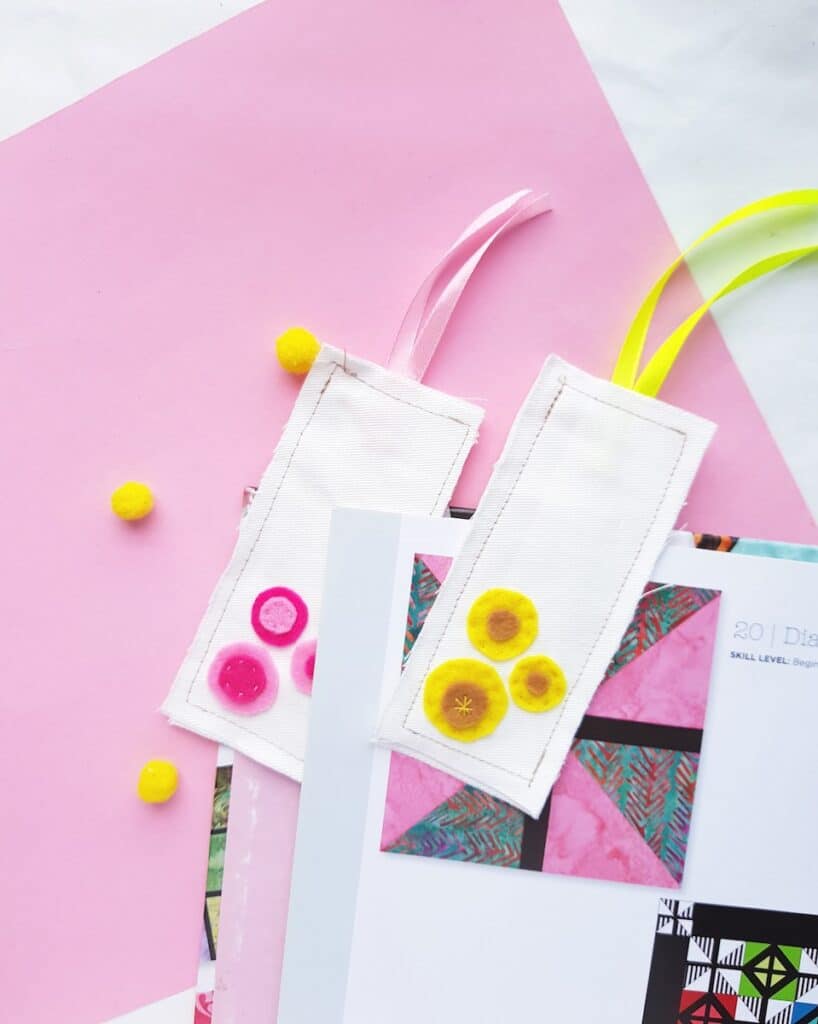 Hit the scrap bin and make up a bunch of these Simple Fabric Bookmarks from Needlepointers. Just a basic straight edge stitch is needed.
The DIY Dreamer offers these step-by-step instructions for Sewing Fabric Bookmarks, another awesome beginning project for someone learning how to sew.
No Sew and No Glue Bookmark Crafts
Using just flowers and clear contact paper, Lovely Indeed shows how to create elegant and beautiful Pressed Paper Flower Bookmarks.
Want to use fabric but not the sewing machine? Try this No Sew Upcycled Fabric from Creative Green Living.
Duct tape is a cool and trendy material for creating durable crafts. DIY Candy shares how to make Duck Tape Corner Bookmarks in this tutorial.
Bookmarks with Paint, Crayons and Markers
Print, cut and hand over these Printable Unicorn Bookmarks to your Unicorn loving kids Simple Everyday Mom. With just markers and crayons, they'll have their own whimsical page markers!
Create these unique Watercolor Bookmarks using the tips from Projects With Kids. Use watercolor paper, paints and stamps to make beautiful and creative bookmarks that are also mini pieces of art!
Bookmark Crafts with Paperclips
Crafty kids will enjoy making these Fabric Yo Yo Bookmarks from In Our Spare Time. Use your scrap fabrics and button stash to make unique page holders.
Using basic felt and puff paint, get the details on how to design your own Paperclip Bird Bookmark from Craftsy Hacks.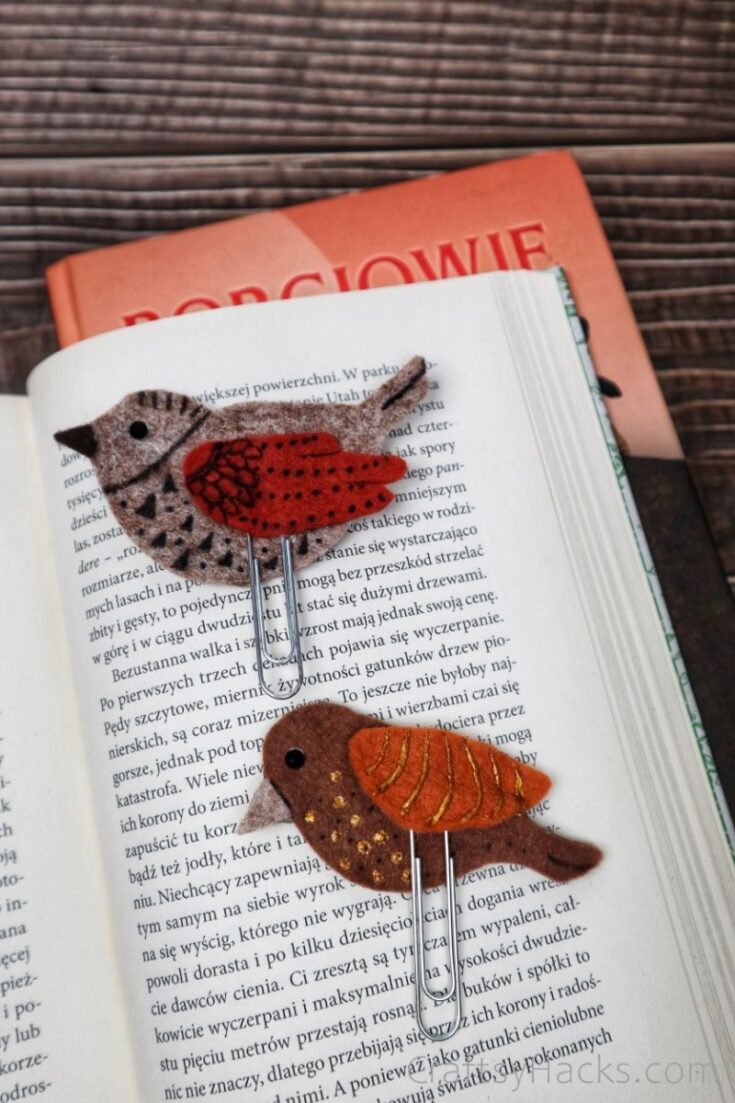 If ultra-easy is your game, you can't beat this Simple Ribbon Bookmark from Craftivity Designs. Uses just paperclips and leftover ribbons.
Leather Bookmarks
Get the tips on how to customize these simply no-sew Handmade Leather Bookmarks from Making Manzanita, including paint, wax and and cord loops.
This edgy and sophisticated DIY Leather Bookmark craft from A Rose Tinted World is an awesome project for a tween or teen.
Felt Bookmark Crafts
These easy Felt Bird DIY Bookmarks use a simple paperclip and colored felt. Use the detailed instructions from Sustain My Craft Habit to decorate these birds as creatively as you wish.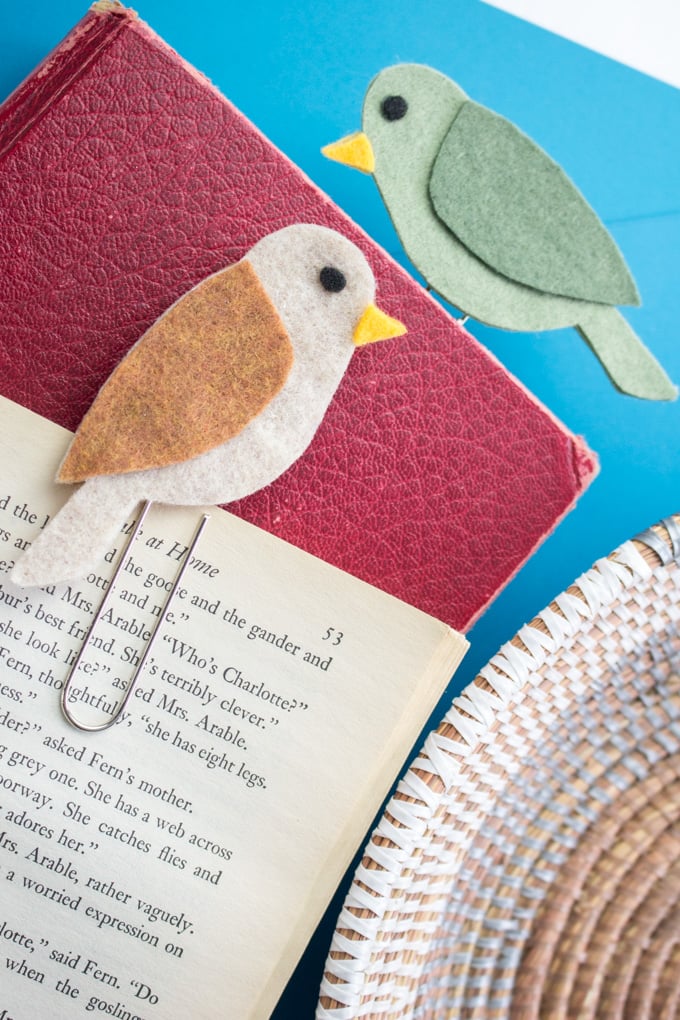 From Easy Things to Sew, try making a Felt Flower Elastic Book Band. Easy to put together and a do-able first sewing project for kids.
Paper Crafted Bookmarks
These Rocket Craft Bookmarks from Kim and Carrie use leftover colored craft or construction paper to make simple pieced-together paper pageholders.
Give kids a hand with marking their page with this Handprint Kid's Bookmark Craft from Craftsy Hacks. Totally personalized, young kids will enjoy making this craft project together!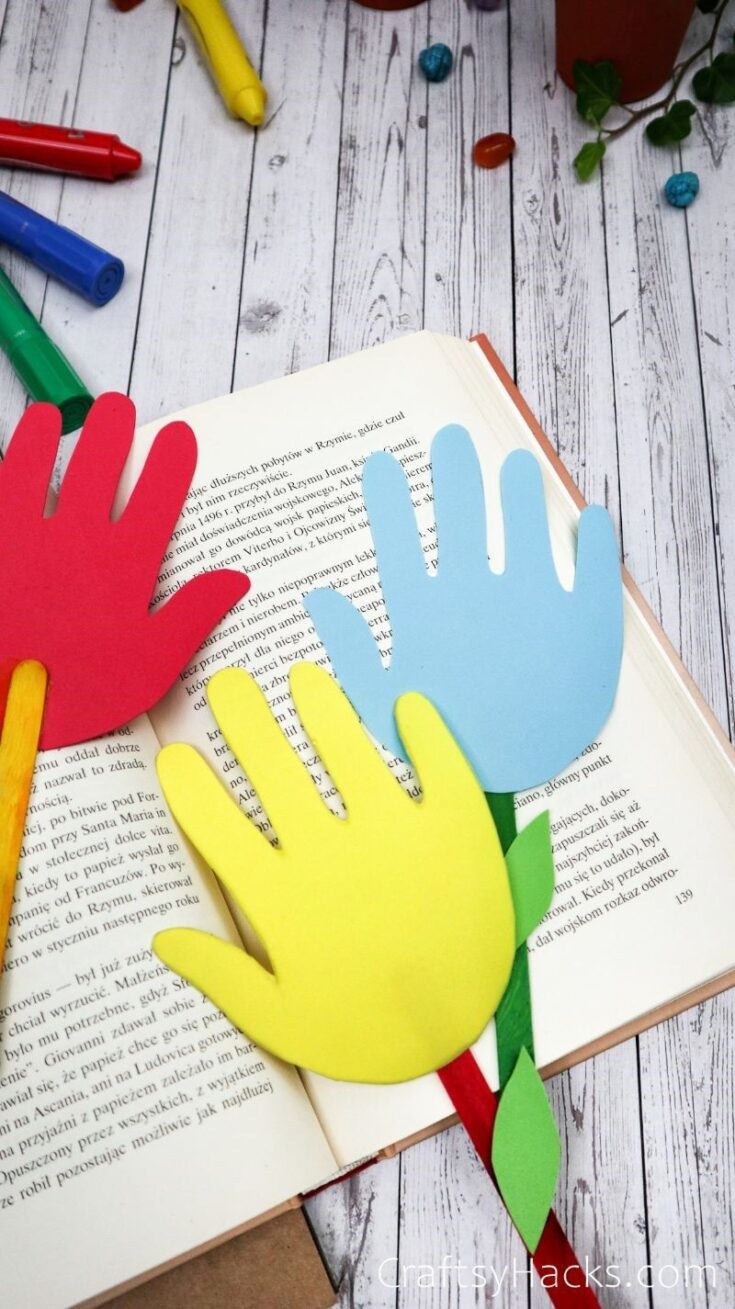 Hold your place in the Christmas classic story and make a whimsical Grinch Bookmark from Family Budgeting.
How adorable are these paper craft Ladybug Bookmarks from Mommy Made That! Step by step directions for crafting the corner bookmark and printable for the insect.
Tasseled Bookmarks
Love Our Real Life Cardstock Handmade Bookmark includes instructions for making your own simple yarn tassel.
This rainbow tailed Unicorn Bookmark is all about the tassel! Find out how to make this adorable bookmark and tassel using the tutorial on Tikkido.
Bookmarks with Buttons
From A Rose Tinted World, these handmade Fabric and Button Bookmarks loop around the book pages using a button and elastic band.
A button, a paperclip and glue – that's all you need to craft these Needlepointers Button Bookmarks that are a perfect way to use favorite buttons in your stash.
More Handcrafted Bookmark Crafts
Save up those ice pop sticks and recycle them into something beautiful! Check out this Made with Happy Popsicle Stick DIY Flower Bookmark, which shows how to create simple craft paper flowers.
Do you save those teeny tiny scraps from fabric cuts? This is just the project for you! This craft for Scrap Fabric Bookmarks from Upcycle My Stuff results in completely unique and creative designs.
With just hot glue, elastic and denim scraps, kids can make this charming No-Sew Elastic Book Band from Sustain My Craft Habit.
If you have a way with a crochet hook and yarn, these dainty Crochet Bookmarks from Crochet n' Create are perfect.
Kitty lovers will adore making these precious (and super easy) Cat Bookmarks, crafted from paint chips by DIY Candy.