I love the Disneyland Resort for so many reasons, one of which is that it's very accommodating to my family of five. I've also traveled to Disneyland with a family of eight and found it to be a fun and relaxing vacation!
We know that when we stay at a Disneyland Resort Hotel, we'll be within walking distance and that the hotel room will have enough space for us all to spread out. You have the choice of calling ahead for dining reservations, but generally at Disneyland a walk-up with a short wait at a restaurant is typical.
Mom Rewritten uses affiliate links which means I may earn a small commission if you purchase through the links in these posts. As an Amazon Associate I earn from qualifying purchases. For more information, see the Privacy Policy and Disclosures tab.
Unlike at Walt Disney World, where finite details are planned out 3 months in advance, a Disneyland vacation is a bit more casual. Dining and rides are planned mostly on a moment to moment basis. This definitely allows for some flexibility in scheduling, which is much appreciated when traveling in a large family or group.
---
DISNEYLAND RESORT ROOMS
Several years ago my extended family took a weekend vacation to the Disneyland Resort. We were able to book two rooms with connecting doors and the third room across the hall.
Most of the Disneyland Resort hotel rooms fit 5 adults. Rooms may include a combination of the following:
1 King Bed and 1 Queen-Size Sleeper Sofa
1 Queen Bed and 1 Bunk Bed and 1 Trundle Bed
2 Queen Beds
2 Queen Beds and 1 Day Bed
Rooms also have a fold-out pack n' play for babies.
Maximum occupancy for most Disneyland Resort rooms is 5 (the baby doesn't usually count into the total). Suites can sleep from 6-12 guests, making it ideal for extended families traveling together who can divide the cost of the room between them. Dial (714) 956-MICKEY to speak with a Cast Member about booking just the right space for you and your large family.
---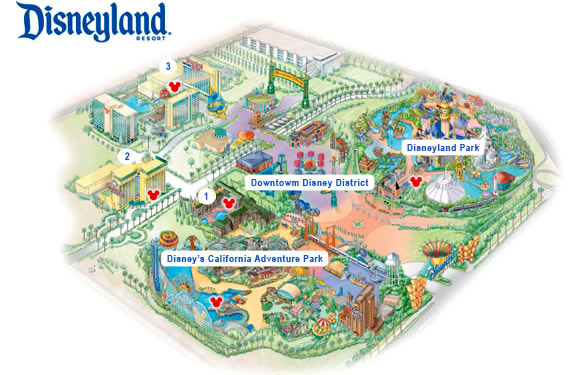 PROXIMITY TO THE PARKS
When traveling with a large group, it's important that everyone's needs are met. If little ones need to nap in their crib, grandparents need to rest their feet or if everyone is hot and needs a swim mid-day, it's nice to have the hotel within a quick distance. This is completely different than a vacation at Walt Disney World, which might mean a turnaround time of an hour to get back to your room.
The hotels of the Disneyland Resort are just a quick walk from the Park entrances. No buses or trams to wait for. You can hop aboard the Monorail in Tomorrowland from inside Disneyland Park, which will deposit you into the Downtown Disney District. From there it's about a 5 minute walk to the Disneyland Hotel (#3 on the map) and about 10 minutes to the Paradise Pier (#2 on the map), so you're quite close to the action. #1 on the map, Disney's Grand Californian Hotel & Spa is even closer, sporting it's own entrance to Disney's California Adventure Park.
As you can see on the map the two Parks entrances face each other and are extremely close. This makes Park Hopping a breeze and very easy to do within minutes, even with a large family in tow. The Downtown Disney District is also only a few minutes walking distance away with a wide variety of shopping and dining that will please everyone.
---
DINING CHOICES.
When dining with 5+ in your group, consider that your party may need to be split up. Choose restaurants that can accommodate a large group and offer a variety of dining options.
The Big Thunder Ranch Barbecue is a good choice, with outdoor seating at picnic tables and all-you-care-to-eat ribs, chicken, cole slaw, beans and cornbread.
We fit a party of 8 at Goofy's Kitchen. This buffet is great, with food to please nearly everyone in your group.
We also like the Plaza Inn for the large platters of fried chicken and mashed potatoes that can be shared and the spacious seating to seat a large group.
Reservations are offered up to 60 days in advance at select restaurants throughout the Disneyland Resort. You can make dining reservations online or call (714) 781-DINE or (714) 781-3463.
Planning on a very large group like a family reunion? Read which restaurants can accommodate 50+ in this question and answer on the Disney Parks Moms Panel.