Traditions aren't intended to be fancy or over-the-top: Traditions inspire, spur creativity and create lasting memories. Keeping up traditions doesn't have to cost you anything extra so don't worry if your budget is already over-taxed.
For children, something only has to be done once to make it "tradition" (ie: "We always have waffles on Christmas", only because you served them last year!) Ask your children what traditions are their favorite. My parents and grandparents were very big on Christmas traditions and it made the holidays extra special. Each family member painted a winter scene on their front windows using tempera paints. Christmas Eve night was spent at church, holding candles and singing songs. Santa's gift was always assembled and unwrapped under the twinkling tree. Christmas Day our entire (very large!) family got together for lunch and to open presents in our wild gift exchange…it was an all-day event! It's a tradition we hold today. Those are incredible memories that I hope I can create in our own way for my children.
Some of these traditions are classics and some might be completely new to you. I hope that you'll find some inspiration for your family holidays by incorporating a few of these holiday traditions for kids.
I love that holiday traditions can be started at any time. This year we're trying a new
---
Here are a few ways you can incorporate traditions into your holidays this year:
FOOD
Do you have a traditional food that gets prepared each holiday? In my husband's family, his aunts get together and make tamales that we can enjoy in the new year. For our family luncheon, my aunt brings an ambrosia salad (a sweet treat with marshmallows and canned fruit). It was something that my grandmother used to prepare and my aunt carries the tradition.
Last year I made this Christmas Cranberry Cake, which was a hit!
A friend of mine started a cookie decorating party several years ago for her nieces, nephews, cousins and friends. She makes the sugar and gingerbread cookies, I make the royal icing and we all gather for dinner and decorating. Everyone enjoys it, young and old alike. I recommend using squeeze bottles for the icing (which makes decorating and clean up so much easier).
As a child, my mom always prepared a Bisquick coffee cake to eat on Christmas morning. Many times I've prepared an overnight French Toast that I can make the night before and pop in the oven while we unwrap gifts. If you don't have a traditional food think about what your family favorite is and serve it over the holiday week. Or find a new favorite in a holiday-themed cookbook, like this one, The Pioneer Woman Cooks: A Year of Holidays
.
---
MUSIC
Certain holiday songs can take me back to a place and time in my childhood and I'm sure there are songs that do the same for you. The Little Drummer Boy for me is sitting next to my dad in the church choir and hearing his deep bass pah-rump-a-pum-pumming out the beat of the drum. Hearing Mariah Carey's All I Want for Christmas Is You
 puts me back to the 90s while out Christmas shopping with my brother. Whether it be Josh Groban's Noel
 album, Mannheim Steamroller's acoustic A Fresh Aire Christmas
 or The Chipmunks Christmas Don't Be Late
, these songs put us in the holiday mood.
For me it's not Christmas until I've heard Whitney Houston sing Do You Hear What I Hear. Goosebumps every time! Think about your favorite seasonal music and play it at home or in the car. Sing the lyrics, teach your kids and let the music put you in the Christmas spirit!
---
VOLUNTEER
Volunteering your time to a cause is beneficial not only to the other person but to your spirit as well. With the extra events going on in communities this time of year, extra volunteers are always welcome. Check in with local shelters, soup kitchens and churches to find out how you can pitch in. With three young children, my time is limited and finding someone to watch our children so we can donate our time to a cause can be a challenge. Find out if there are volunteer opportunities for your children to participate in as well. My husband and son have gone out with our church to deliver sandwiches to the homeless and it was an eye-opening experience that he's never forgotten. If your time is limited, consider donating your gently used clothing and toys to a local thrift store or shelter.
---
PHOTOS
Capture the moment in time with a snapshot of your child in front of the Christmas tree with their favorite gift of the year.
---
GET OUTSIDE
Enjoy an outdoor activity with your family that is appropriate for the season. We have never celebrated a "White Christmas" before so we make do with warmer temps and a hike in our neighborhood park. If you have snow, get out in it with the kids for a sledding competition, snowball fight or snowman building contest. Make it your tradition on one of the holiday nights to take a drive and see the Christmas lights. We have a neighborhood nearby with fantastic Christmas displays and lights and we make it a point to drive though it several times during the season and to walk through it at least once. Load up with cocoa and treats to snack on as you walk!
---
PAMPER YOURSELF
No need to spend a ton at the salon this season when you can enjoy a relaxing "Spa-day" at home. The holidays can really take it out of you! Doesn't a warm foot soak sound lovely? Do it up at home and you can rest in your pjs while you polish your toes or read a magazine while wearing a homemade facial mask. Pretty up with creative hair-dos for a holiday party. I bought some Jamberry nails this season and have loved how long they last (2 weeks on my hands and 4 weeks on my toes!) I have Midnight Celebration (the first image on the left) on my hands right now and think they are so fun & festive. Pampering might not fall under the free catagory, but staying home is certainly cheaper than going to a salon. Perhaps pampering yourself might also just be as simple as curling up in bed with a favorite book to recharge your holiday batteries. Make it your new tradition to take a break during the busy season and take care of yourself!
---
UNWRAPPED
For at least ten years there was a gift box shaped like a toy shop that was passed through our family. It was a delight to receive that box, no matter what was inside because it was tradition. Finally the box fell apart and had to be tossed out but it is a fun tradition to start in your family. Find a quirky gift bag or box and keep it around the family, gifting someone new each year.
I was shocked when a friend told me their Christmas morning of gift exhanging was traditionally over in less than 10-minutes: apparantly it was a frenzy of unwrapping, paper flying and "thank yous" thrown around the room. Our family tradition has always been to open gifts one person at a time and for the others to watch what they receive. That way the giver has the joy of seeing the recipient view their present for the first time. Our kids know that we take turns in our home too and the youngest child gets to choose the first gift. Some families have a Pickle Ornament
 on their tree and the first person to spot the pickle gets to choose their first gift to open. We all have pickle ornaments in our family too but that's because our surname is Dill!
---
ORNAMENTS
9 years ago I started collecting these Hallmark ornaments in the Beauty of Birds series. I missed the first year! This was the offering in 2014, isn't she pretty?
I have all of my collection on a small white tree and traditionally have the tree set up on my dining room buffet. Collecting ornaments throughout the years is a beautiful tradition. I have ornaments on my tree that my grandmother gave me as a child. I adore pulling out my beloved ornaments year after year.
The handmade ornaments that my children have made over the years are a delight. A paper crayon drawing of an angel that my littlest made in Sunday school is my current tree topper.  Many Disney fan collect ornaments at the Parks as a memento of their dream vacations. If you have it in your budget, it's a nice tradition to take the kids out and let them choose an ornament at the store each year. These would be ornaments you would send off with them when they are grown and have their own home! (from left to right, Tigger, Disney Parks Light Up Ears, Sorcerer's Apprentice – images from Disney Store)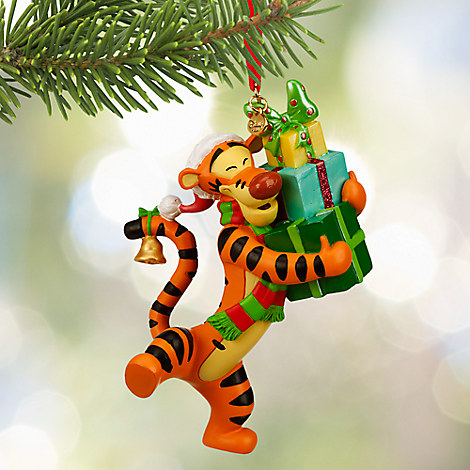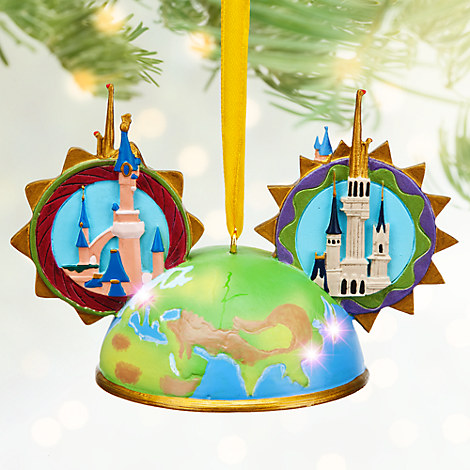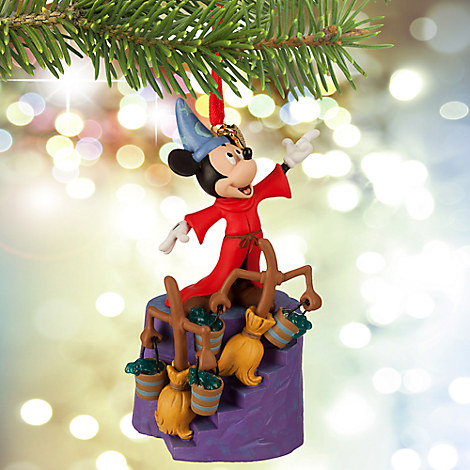 ---
RELIGIOUS SERVICES
When I recently asked my older children what their favorite part of the Christmas season is they both answered the same: Church. We attend church every Sunday and they also attend a life group Bible study once a week. Church is a part of their lives on a regular basis already but I was still intrigued to hear that attending services is their favorite Christmas tradition. During the holidays people in general are more open to attending church service. If you don't already have a "home church", consider accepting the invitation of a friend to attend. And if you already regularly attend, reach out to friends and invite them to come with you to service.
---
This post contains affiliate links
What are the favorite holiday traditions in your family? Please share them below in the comments!