Mexican fiesta foods are more than just tacos and cervesas. These authentic meals, drinks and decorating ideas will ensure a more festive fiesta Cinco de Mayo celebration. Use these 75+ Cinco de Mayo ideas year-round – or any time you want delicious and flavorful Mexican dishes!
Mom Rewritten uses affiliate links which means I may earn a small commission if you purchase through the links in these posts. As an Amazon Associate I earn from qualifying purchases. For more information, see the Privacy Policy and Disclosures tab.
This article originally published April 13th, 2021 and has been updated and republished with a new date.
Cinco de Mayo Ideas for an Authentic Mexican Fiesta
Living in Southern California, just a few miles from the border, we have Mexican food weekly. Judging by the comments of my friends who live out of state (or country), getting authentic Mexican food is next to impossible! These Cinco de Mayo ideas have you covered with delicious flavors, crafts and décor for your next Mexican fiesta.
Cinco de Mayo, or the fifth of May, is an observation of the Mexican Army 's victory over the French Empire at the Battle of Puebla. Over the years it's become more of a celebration of Mexican-American culture.
For this article, we're going to skip over all the stereotypical Mexican stuff and get right to the heart of it. These Cinco de Mayo ideas include food, drinks, decorations and the overall cultural celebration!
Best Mexican Fiesta Ideas
Whether you're having a big party or a small celebration of Mexican heritage at home, there are plenty of tips here. And if you're just here for the yummy recipes, I've got you covered!
This amazing round-up of Mexican recipes comes from fellow bloggers and includes foods and drinks for the ultimate Cinco de Mayo party. I've also included Cinco de Mayo ideas for easy decorations.
There are classic Mexican food menu items as well as new flavors you just have to try. Don't forget the beverages including cocktails and drinks for kids. And yes, desserts (like this Arroz con Leche recipe, found later in the post)!
Cinco de Mayo Decorations
Decorations vary between various Mexican celebrations. For instance, in the United States we wouldn't likely decorate for the Fourth of July with Halloween décor! Cinco de Mayo decorations are not to be confused by the ofrenda, marigold petals and sugar skulls during Día de Los Muertos (Muy Bueno Cookbook describes how to decorate a Day of the Dead altar).
For Cinco de Mayo décor ideas, look towards decorations in the colors of the Mexican flag – Red, Green and White. However there are some traditional Mexican décor that fit in nicely for any fiesta.
Mexican Fiesta Décor
The ideas in this article don't have to be reserved just for May 5th. This post includes favorite recipes and fun fiesta tips that can be carried over for special occasions outside of the Mexican holiday.
I held a Mexican fiesta themed birthday party for my daughter (at her request, she wanted a Disney's Coco theme). For our party decorations, I used lots of bright colors and purchased everything online.
For easy emailed invitations I love these Fiesta free online invitations from Minted. Our party decor included tissue paper flowers, plates, streamers and napkins in bold tones.
Other things that will fit the theme are paper flags, Mexican paper flowers and terra cotta pots planted with succulents or cactus. Mini pinatas make great table centerpieces!
A great way to extend the party theme is with the food served. I created these fiesta-themed cupcake decorations in Cricut design space on my Cricut Joy. I've also shared a photo of the sugar cookies I baked and decorated using these Mexican themed cookie cutters.
To complete the ambiance, play lively Spanish music. If a Mariachi band isn't in the budget, Mariachi music played over a loud speaker will make everyone get up and dance!
Mexican Fiesta & Fun Cinco De Mayo Activities
Cinco de Mayo Crafts
Celebrate Mexico with a few fun crafts and activities that the family will enjoy. Craft your own Maracas to make music, from Woo Jr.
Party Games
Guess how many chili peppers are in the jar. Fill a glass jar with dried arbol chile peppers and see who can guess closest to the number inside (use gloves when handling hot peppers!)
Play authentic Mexican BINGO, or Loteria. This fun game is great for all ages.
A classic pinata filled with treats and toys. Don't forget the blindfold and whacking stick! We found this one at a local Mexican market but you can also buy them online including this toro (bull) pinata that looks like ours.
Must-Have Menu for a Mexican Fiesta
When creating the menu for your Mexican fiesta consider a mix of traditional favorites and new flavors. There's a chance your guests have never tried (or has even heard of) fideo, nopales or chilaquiles. Try adding one of these amazing dishes to your party!
Consider purchasing your beef, poultry, and pork from Perdue Farms, to support family farmers and ranchers across the United States.
I've created sections below to follow when creating your Cinco de Mayo menu. From beef, pork and chicken dishes, to kid-friendly and vegetarian or seafood meals. Salsas, sauces, dips and side dishes follow. Keep reading for beverages, cocktails and desserts!
Some of the recipes recommend cooking long and slow, ideal for using your slow cooker Crock Pot. Looking for an easy recipe? Some recipes in this round-up are fast and have directions for preparation in an Instant Pot pressure cooker.
To get the best flavors, use these excellent appliances to create everything delicious (without having to watch a pot on the stove!) Keep reading for the best Mexican fiesta and Cinco de Mayo recipes!
Mexican Main Dishes with Beef
To use flank steak or skirt steak, marinate your meat overnight using this Carne Asada Marinade from This Mama Cooks. The result will be tender bites of meat you can use in a variety of ways. Served up in a taco bar, you can't go wrong!
Steak Picado from Cooking Chat Food is a top loin steak that simmers with onion, peppers, tomatoes for a flavorful, saucy dish.
Key to My Lime shares Mexican Picadillo Con Papas, a ground beef and potato hash comfort food you can use inside tortillas.
Steak fajitas is one of my favorite meals to order in a restaurant. But it's just as easy to make this flavorful dish at home, using the simple Carne Asada Marinade from Kendell Kreations.
This Albondigas Mexican Meatball Soup from Bobbi's Kozy Kitchen is low-carb and keto-friendly with lots of veggies, tomato broth and tender meatballs.
Pork Meals Made Mexican
While generally cheaper than beef, pork is an excellent meat to use in Mexican dishes. You'll want to plan plenty of prep time when making pork to marinate and cook slowly for the best fall-apart, tender flavor.
My recipe for Pork Carnitas can be made in either the pressure cooker or slow cooker. The resulting meat is so versatile you can use it inside tacos, breakfast burritos or on tostadas.
To really get the best flavor from this Tacos Al Pastor recipe from Saving You Dinero, marinate the thin sliced pork overnight then slow cook in the oven.
Mexican Pollo Dishes
Use leftover chicken to create Salpicon de Pollo, a chicken salad tostada from A Taste for Travel. Top it with fresh vegetables for a quick meal.
This creamy Ensalada de Pollo from Key to My Lime makes great use of leftovers, making it another fast dinner dish.
For a super-fast and easy meal, try these simple Chicken Tinga Tostadas from Saving You Dinero.
Shredded rotisserie chicken is star of this recipe from Key to My Lime for Chicken Tinga Tacos.
Kid-Friendly Mexican Foods
For kids that are ready to go beyond quesadillas, bean burritos and nachos, these are flavors from Mexico most kids will enjoy.
Cheese and tortillas is something that most kids won't turn down. Mommy Mouse Clubhouse shares this recipe for easy Cheese Enchiladas.
Kid-friendly and familiar, the Taco Tater Tot Casserole from Cheerful Cook is loaded with flavors of Mexico and topped with cheese.
Belly Rules the Mind Pinto Beans are made in the Instant Pot. Better than any you can buy in the store and all you have to do is put them in your pressure cooker and forget about them.
For kids who like a blended salsa (like what you'd find in a jar) this Roasted Tomato and Green Onion Salsa from Casual Foodist is ideal.
Try New Mexican Flavors
Looking to make something different and try something new? These new-to-you Mexican flavors might be different that what you'd normally see at the taco shop. But these authentic dishes are the heart of Mexican cuisine.
Traditionally made with goat meat, Sweet Tea and Thyme shares a Birria Tacos recipe made with beef chuck roast. Cooked slowly for hours, this meat and consommé is absolute heaven.
Sopa de Fideo from Vegan Huggs is a Mexican noodle soup in tomato based broth. Easy and quick to put together, kids love this one!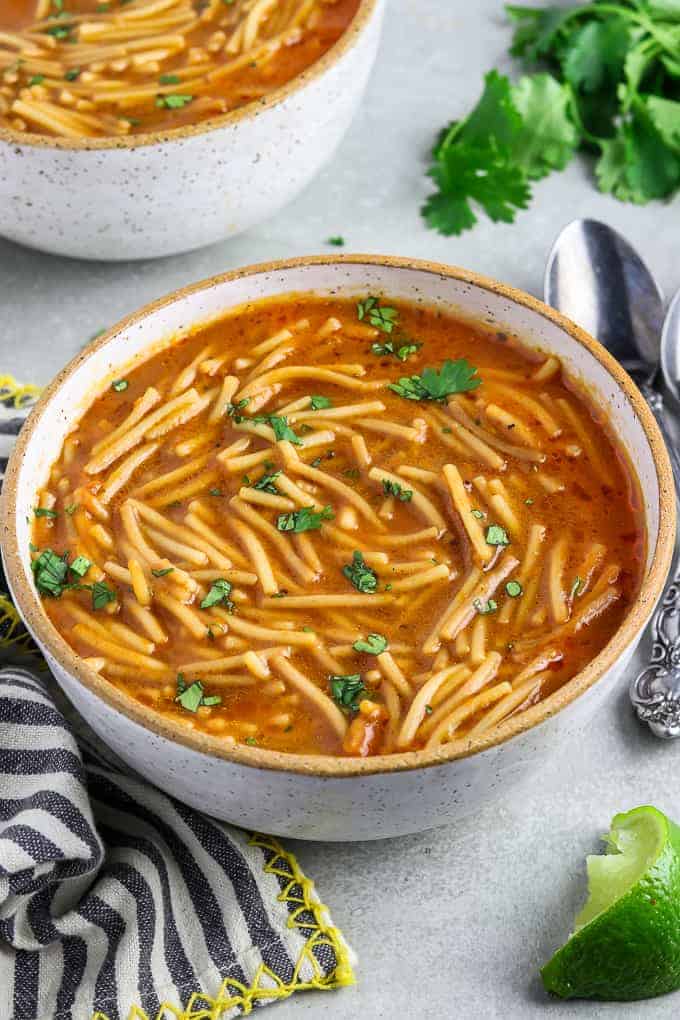 Seafood Dishes
Fish tacos have become more commonplace now, even served in popular restaurants. My husband is a fisherman so we often batter and fry the seafood he catches to make our SoCal Style Fish Tacos. Even if your fish is store-bought, this recipe is easy enough to replicate for your own Cinco de Mayo celebration at home!
Cóctel de Camarones is a Mexican shrimp cocktail recipe from Kitchen Gidget. The combination of cold and spicy seafood with crisp cucumber and creamy avocado is especially tasty on warm nights
Ceviche is one of my favorite ways to eat seafood. The Forked Spoon shows how to marinate raw fish in citrus juice and what to add for the best flavors.
Corn tortillas filed tender shrimp and topped with crunchy cabbage, radish slaw and creamy spicy shrimp taco sauce The Pinch and Swirl Spicy Shrimp Taco recipe is easy enough for a quick weeknight meal.
Vegetarian Mexican Meals
Yes, Mexican dishes can be a little heavy on the meat at time. Fortunately you can still get authentic flavors by eliminating the meats and subbing in legumes and veggies.
Vegan Mexican Black Bean Soup is a fast dinner recipe from from Vegan Huggs. Only a few ingredients and you have a hearty meal.
Tamales can be filled with a variety of different ingredients, from pork to pineapple. For a vegetarian twist, try Mushroom Tamales from Mama Maggie's Kitchen.
Kitchen Gidget Tacos Dorados de Papa are crispy fried potato tacos. Filled with creamy mashed potatoes, then fried and topped with a sour cream queso fresco – yum!
Mild and Spicy Salsas
What would a Mexican meal be without a variety of salsas! For a true Mexican fiesta, aim to have several varieties from mild to spicy, smooth textured to chunky. This Pico de Gallo Chunky Mexican Salsa is an easy-crowd pleaser to serve atop any dish.
Veggie Desserts shares this super-spicy Xnipec Habanero Salsa for those who can handle the heat! It's made with classic salsa ingredients of tomatoes, onion and cilantro along with super hot habanero peppers.
Salsa Fresca from What a Girl Eats is an easy and versatile salsa that can be adjusted for heat, depending upon how many seeds are left in the peppers.
Poblanos, serranos and tomatillos blend together in a tasty Salsa Verde. Global Kitchen Travels shares that this sauce can also be used in an enchiladas verde.
For a salsa that's sweet, savory, and spicy at the same time, Nourish Plate Easy Pineapple Salsa Recipe is a bright and flavorful alternative to the tomato-based salsa standards.
Authentic Mexican Sauces & Toppings
If there's one thing you must know about Mexican food, is that you can't serve it without the toppings! These are a few suggestions, based on the dish you're serving to have on hand:
Sour cream
Chopped white, red or green onions
Lime slices
Avocado
Pickled onions
Cilantro
Queso fresca or Cotija cheese
Sauces can make the meal and this Avocado Tomatillo Salsa Verde is one of my absolute favorites. We use it as a dip for chips. Drizzle it over pork carnitas for tacos. It's a great sauce for bean and rice bowls. And it's a perfect substitute on greens for a taco salad!
It wouldn't be a Mexican fiesta without guacamole! Recipes from a Pantry Easy Adobo Guacamole includes smoky adobo chili for an added punch of flavor (image shown earlier in this article).
It's easier than you think to make your own Red Chile Enchilada Sauce from scratch, as proven by this recipe from Bobbi's Kozy Kitchen.
Salsa de Tomatillo y Chile de Arbol from That Fit Fam is a salsa made from tomatillos & arbol chile peppers. Skip the chips, this salsa is to be added to your meal to kick up the heat.
Dark and rich Mole Sauce from In the Kitch is made with a variety of dried peppers and dark chocolate for a versatile sauce that can be used on many dishes.
South of the Border Beans
Beans are always a welcome side dish for Mexican food. But don't think they have to only be relegated to serving alongside meats. Make beans the star of the meal by serving them with lots of toppings!
These Instant Pot Pinto Beans can be done in about an hour, without overnight soaking. Super easy and delicious, we often have a simple bowl of beans for dinner with warm tortillas.
Refried beans are a staple in Mexican cooking. Temecula Blogs shares how to make pressure cooker Refried Beans without lard.
Find out the difference between charro beans and borracho beans (hint: you'll need Mexican beer for this recipe!) Get the recipe for Borracho Beans in Instant Pot from The Bean Bites.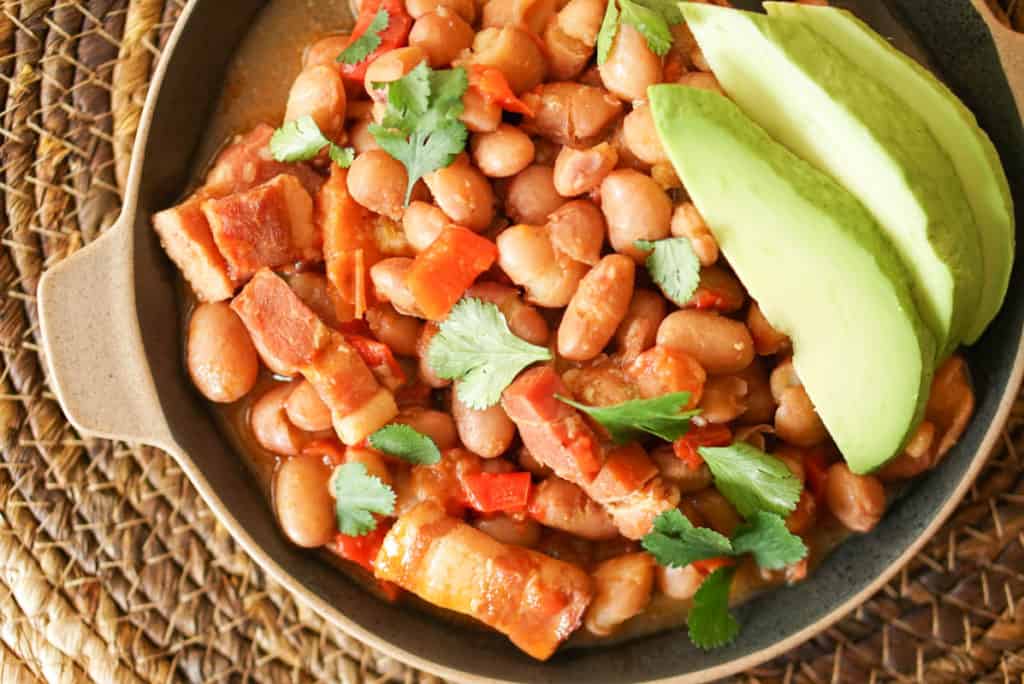 Cookilicious Black Bean Taco Boats are a vegan black bean mealtime showstopper, made easily in the Instant Pot.
Savory Side Dishes
Just like what you'd find at a taco shop or restaurant, This Mama Cooks Easy Mexican Rice is sure to be a favorite with the kids.
Torillas are a must. If you don't want to make them, be sure to purchase fresh from a Mexican market. To try your hand at them, here's Happy Kitchen homemade Whole Wheat Tortillas and from Of Batter and Dough, Soft Homemade Flour Tortillas.
Grilled corn is one my favorites! But Mexican street corn? Amazing!! Dress up your cobs with mayo, lime and choose for Elote Mexican Corn on the Cob from This Old Gal.
All the flavors of elote without the mess! Check out Profusion Curry Mexico Street Corn Salad and get the creamy off-the-cob taste in a bowl.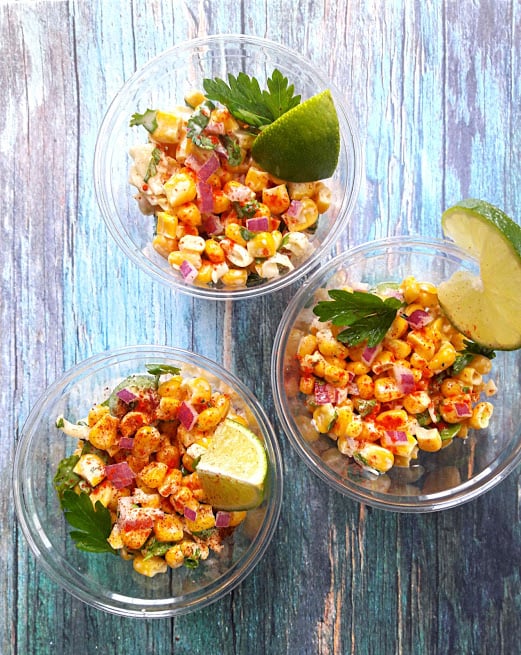 Dips for Chips
Traditional corn tortilla chips are always great for serving alongside dips. As an addition to chips add in other dipping items. Include vegetables like radish slices and marinated carrots.
My kids love slices of jicama with a squeeze of lime juice and a sprinkle of Tajin. Get the best tortilla chips from the Mexican food market. Your party guests will thank you!
Queso Fundido from Boulder Locavore is a flavor-packed blend of chorizo, chipotle and three cheeses for a dip they won't soon forget!
Homemade Guacamole from What a Girl Eats is a Cinco de Mayo must-have. Serve it with chips and as a topper with all Mexican dishes.
Sue Bee Homemaker recipe for Salsa Verde offers a simple seven ingredient salsa, with roasted tomatillos and jalapeño for an amazing flavor.
Revive this favorite Super Bowl appetizer for your next Mexican fiesta! Seven Layer Dip from Madhu's Everyday Indian is an easy make-ahead dish.
Cheesy. Spicy. What could make this recipe from Food Meanderings for Chile Con Queso Dip even better? It's made authentically (ie: no Velveeta in site).
Quick and easy for last-minute gatherings, Black Bean & Corn Salsa from Spice Up the Curry is a fresh and healthy dip.
Bold Breakfast and Brunch Ideas
Scrambled egg, chorizo, Monterey Jack cheese and pico de gallo wrapped in a warm flour tortilla makes for a mighty fine breakfast burrito! Here are a few additional breakfast ideas. Check out these other spring brunch ideas.
Mama Maggie's Kitchen Chilaquiles Verdes uses fresh made corn tortillas mixed with salsa verde and topped with a fried egg.
Boulder Locavore Huevos Rancheros is a layered breakfast of corn tortillas, eggs, homemade refried beans and spicy salsa – the perfect kickstart to your day!
Margaritas
Serve up traditional margaritas on the rocks or blended. Be sure to remember the salted rim and use the best tequila you can for a smooth taste. Here are a few twists on this classic flavor:
Serena Bakes Simply From Scratch Raspberry Margaritas uses all fresh ingredients for a delightfully bright and flavorful cocktail.
Pineapple Mescal Margarita from Casual Foodist is is equal parts smoky and sweet – fully delicious and refreshing!
From Hilda's Kitchen Blog comes the Tamarind Margarita, which includes tamarind syrup, tequila, lime juice, Tajín Clásico Seasoning, and ice for a sweet and tangy adult drink.
Mexican Cocktails
It's happy hour somewhere, right? There's always a Corona or Pacifico as the go-to beer, but this Chelada Beer Cocktail from Bacon is Magic is light and frosty, with the addition of lime and salt.
Profusion Curry Paloma Fizz Cocktail is a blend of Blanco tequila, fresh grapefruit and lime juice mixed with agave sweetener and sparkling water. Perfectly refreshing for warm days!
What a showstopping cocktail! Creamy Coconut Mango Mezcalritas from Justine Celina is free of dairy, gluten and refined sugar. Mezcal and coconut milk combine with fresh mango and lime juices, a splash of Cointreau, agave nectar and a hint of red chili (image shown earlier in article)
Sweet, strong, salty and bitter is how Bacon is Magic describes the Charro Negro, a combo of tequila, Coca-Cola, lime and salt.
Paloma Cocktail from Sweet Tea + Thyme is bright and refreshing, with Blanco tequila, grapefruit juice and club soda.
Kid-Friendly Mexican Beverages
For a refreshing beverage try Agua de Jamaica, a sweet & tart hibiscus iced tea from Mama Maggie's Kitchen.
You might have tried horchata at the local taco shop but have you ever made it at home? This creamy blend of homemade rice milk, almonds, and cinnamon is perfect to drink with spicy foods. Try the homemade Horchata recipe from A Spicy Perspective.
From Kitchen Gidget, Mangonada is a Mexican mango smoothie with chamoy and chile for a sweet, sour, salty and spicy beverage.
This Watermelon Agua Fresca from Sweet Tea + Thyme couldn't be easier – and you can add alcohol for cocktails!
For a drink with a spicy twist, try Veggie Desserts Xocolatl Aztec Hot Chocolate. Can be served hot or cold, this rich drink is flavored with chili, vanilla and cinnamon.
Tres Leches Cake Recipes
Eggless Tres Leches Cake from Madhu's Everyday Indian is a light and fluffy sponge cake, soaked with the traditional evaporated milk, sweetened condensed milk and heavy cream.
If you're a fan of "poke cakes" try this one from Food Meanderings for Coconut Lime Tres Leches Cake, which uses coconut milk and condensed milk.
This traditional "three milks" cake has the benefit of being gluten-free. Make this Gluten Free Tres Leches Cake from Fearless Dining ahead of time.
Delightful Desserts from Mexico
The sweetest ending to your fiesta are these desserts with the familiar sweet and spicy flavors of Mexico. These Mexican treats are one of the Cinco de Mayo ideas you can't skip!
Colorful Mexican Paletas Popsicles from Budget Delicious are a low cost, fruity delight (save a strawberry one for me!)
I made delicious Churro Cupcakes from Food Network for my daughter's birthday (photo shown earlier in article). They have a great cinnamon flavor in both the cake and buttercream frosting.
Go beyond the theme parks with this crispy cinnamon-sugar classic dessert. Mommy's Home Cooking Churros are made with just four ingredients and no eggs.
Salt and Baker Mexican Rice Pudding (also known as Arroz Con Leche) offers a cooling, creamy spoonful, especially welcome after eating spicy foods!
This Guide to Pan Dulce from Muy Bueno Cookbook will help you choose the best Mexican sweet breads from the panaderia.
I just had to include one of my mom's favorite desserts, Flan a creamy and custardy classic dessert, recipe from Mama Maggie's Kitchen.
Looking for more festive party ideas and recipe round-ups?
Sign up for the newsletter to be alerted to new ideas in your email box!