This shop has been compensated by Collective Bias, Inc. and its advertiser. All opinions are mine alone. #MerrySpritzmas #CollectiveBias
Though I really do try to stick to our family motto and keep things simple during the holidays, it can be easy to get wrapped up in the excitement of the season. That means events, activities and parties just about every weekend in December. The holidays are a time of parties – I have two each weekend this season! I love it all, I really do. But wow, does it get busy! Seems I hardly have time to use the bathroom (we'll get to that issue later!)
My husband's work Christmas party was this past weekend. With four kids at home, I didn't have a lot of time to get myself primped. But I still wanted to look good, right?! I'm sharing my tips for getting prepped for a night out, including what to pack in your holiday evening bag. Keep reading and I'll give you all the details on why Poo~Pourri is a party MUST HAVE!
Hover over this photo and click on the images to visit Bed Bath and Beyond's website, where you can order directly!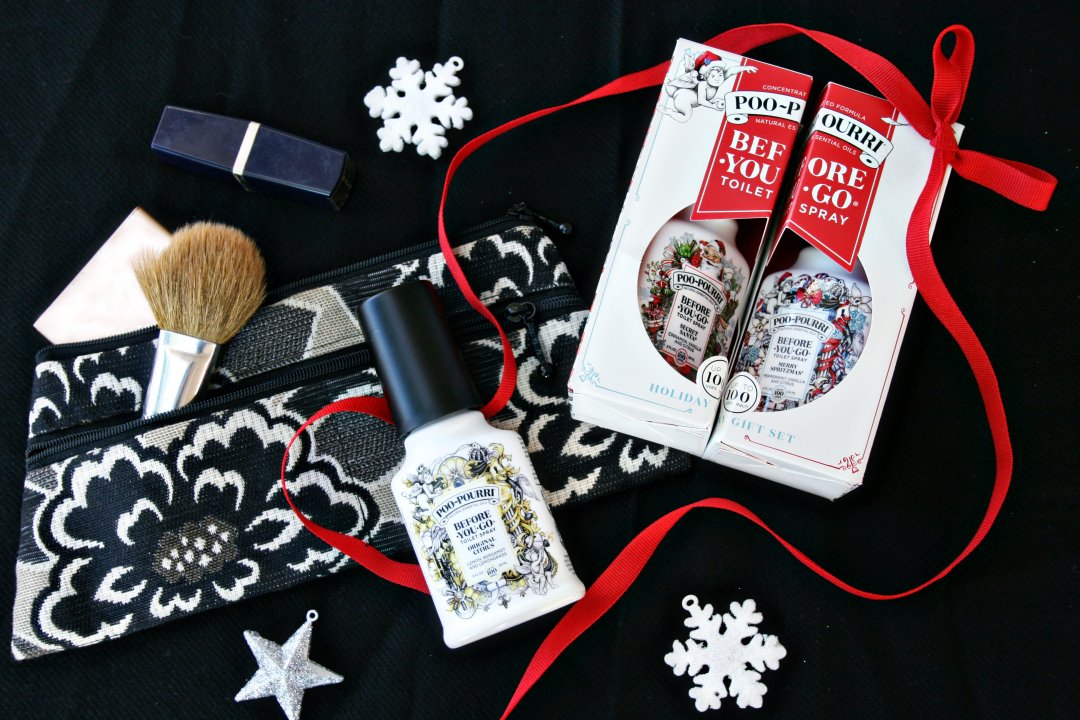 Time Management
When you're getting ready to go out for the night, plan ahead and make a list of what needs to be done.
I chose my outfit the week before the Christmas party. I made sure to try on my outfit with the shoes that I was planning to wear. If you need to pick up stockings or tummy support briefs this will give you a few days time to grab those necessities.
I did my nails the day before so I wouldn't feel rushed the morning of the party.
I needed a haircut before the party so I scheduled it for that afternoon. This way I was able to get the wash, cut and style and save time on not having to do my hair myself.
Have the babysitter arrive early so that will give you time to put your make-up on and get dressed so you aren't running around, tending to the kids.
Packing Your Holiday Evening Bag
Just before before the party, I pack up my holiday evening bag. Once I've decided on my outfit, I match the bag with what I'm wearing. You won't need a lot, so your evening bag can be really small – Unless you're like me and your husband tends to hand you everything out of his pockets to carry in your purse. These are my handbag must-haves for a night on the town.
Wallet. Include at least a few dollars, just in case you need to tip or the parking lot only takes cash.
Drivers license or ID. You might get carded!
Make-up refreshers. This may include blotting papers to get rid of excess oil, finishing powder and lipstick or gloss.
A small mirror. Use it quickly to check your teeth and make sure there's no holiday food left there after your meal.
Compact hair brush.
Fully charged cell phone. And just in case you get into a selfie mood and post a ton of pictures to social media, bring a back-up charger and cord.
Antacids. After eating a rich dinner & having a few drinks, my tummy needed some relief.
Car and house keys.
Poo~Pourri.
Don't be the Party Pooper
Time to get real. Think about the last party you went to. Seems like there is always someone waiting outside the bathroom door to use the facilities after you, right? With so many holiday parties at friends' houses and the bathroom line down the hall, nobody wants to the be the "party pooper" – leaving a stink behind for the next guest!
Have you heard of Poo~Pourri? If you haven't, this video is a must watch.
Simply spritz Poo~Pourri into the toilet bowl before you go. Poo~Pourri's pure blend of natural essential oils creates a film on the surface of the water. The protective barrier traps odor under the surface – which means no stink! All you'll leave behind is a light refreshing scent. When you leave the bathroom for the next person in line, nobody will be the wiser!
Give the Gift That Doesn't Stink
I was recently at Bed Bath and Beyond and found a large collection of Poo~Pourri. It was located at a kiosk towards the front of the store. There were more Poo~Pourri products on an end cap (including a gift box that looks like a toilet!)
I have Original Citrus in the bathroom at home, which is a blend of lemon, bergamot and lemongrass natural essential oils. Merry Spritzmas® and Secret Santa scents are sold in this clever holiday pull-apart gift set (the text on the box makes me giggle!)
I kept Poo~Pourri Merry Spritzmas® in my evening hand bag. The blend of peppermint, vanilla and citrus is a spritz of holiday magic! And it was a relief to know I had the Poo~Pourri with me on the chance that I needed to use it at the party. Did I use it? I'll never tell!
I already know whom I'll be gifting Poo~Pourri Secret Santa to! Poo~Pourri is actually the perfect item for the holiday gift exchange –  It's funny to give but it really works!
Don't forget to look out for special coupons on one item at Bed Bath and Beyond's website before heading out to shop or shopping online. And check out these other fun ideas on how to give the gift of Poo~Pourri this holiday season!