This is an update of a post originally published March 20, 2015. I received the following from the sponsors mentioned in this article – Complimentary Sip & Savor from Disney for the Disney California Food and Wine Festival, reserved viewing for the Magic Happens parade, complimentary FuelRod, reduced hotel rate for the Courtyard Marriott, and reduced rate for dinner at Ralph Brennan's Jazz Kitchen.
Mom Rewritten uses affiliate links which means I may earn a small commission if you purchase through the links in these posts. As an Amazon Associate I earn from qualifying purchases. For more information, see the Privacy Policy and Disclosures tab.
Spring at Disneyland
For certain, springtime at Disneyland is one of the most beautiful times to visit. It can also be one of the most busy times at Disneyland, with many children out of school on spring break. Keep reading for all the wonderful things coming to Disneyland Spring 2020 and tips for maximizing your time in the parks.
Planning a spring break trip to Southern California? Check out these other area attractions and make a it a complete family vacation.
Where to Get Tickets for Springtime at Disneyland
The SoCal Spring Ticket Deal brings in additional locals, especially on the weekends. This 3-day ticket is an exceptional value and can only be used by Southern California residents with valid identification (shown at the gate during admission). Tickets must be purchased by May 18th and are valid through May 21, 2020. Best part is that you don't have to use the pass on consecutive days but can visit any time through the end of the promotion (May 21st). The weekends at the end of May are guaranteed to be crowded, as locals will be flooding into the parks to use the last of their ticket.
Not able to take advantage of the Southern California deal? You can still take advantage of the Kids Spring Sale ticket, also available through my ticket partner Get Away Today. This is a 3-day ticket for kids aged 3-9 and can include Park Hopper and/or Maxpass, valid through May 21st, 2020.
Combine these awesome ticket savings with a Get Away Today vacation package. Use code REWRITTEN on any 2+ vacation package for an extra $10 savings!
Magic Happens Parade
Disneyland's newest parade is marching down the streets of Main Street U.S.A. with an iridescent sorcerer-inspired Mickey leading the way! There are a total of 9 awe-inspiring floats in the Magic Happens parade, along with 90+ performers and a new soundtrack.
Magic Happens parade is a mix of classic Disney and Pixar favorites, including Moana, Sword in the Stone, Cinderella, and a float inspired by "Coco".
I was in the parks on February 28th to experience the Magic Happens Parade on opening day. Being that this was the first day, there were large crowds but I'd only expect that to increase going into spring break. The parade feels shorter than some parades in the past and it moves along at a good pace.
Expect to see guests staking out spots very early along the parade route. If you're wanting to see the show, I'm highly recommending the Magic Happens dining package (see the following section for more details). Otherwise plan on curbside seating for 2 hours before the parade start time if you want the best viewing.
New Plaza Inn Dining Package
The newest dining package combines a lunch entree with voucher access to the new Magic Happens parade reserved viewing area. This is a great way to maximize time in the parks and secure a place to watch this new attraction. You'll want to book an Advance Dining Reservation early and secure your meal. I mean look at that amazing dessert!
Adult entree: Slow-cooked short rib with chimichurri, chicken thigh fried to a golden brown, pesto-infused mashed potatoes, roasted seasonal vegetables, corn relish, and dessert. Vegetarian options are also available upon request.
Kids entree: Fried chicken tenders, mashed potatoes, corn relish, choice of applesauce or baby carrots, and dessert (beverage choice of a small Dasani water or small lowfat milk).
Springtime at Disneyland Shopping Spree
Get your souvenir shopping done during spring at Disneyland and you're sure to walk away with some treasured mementos. The new Ink and Paint collection (also sold at ShopDisney) was a highlight in the park gift shops.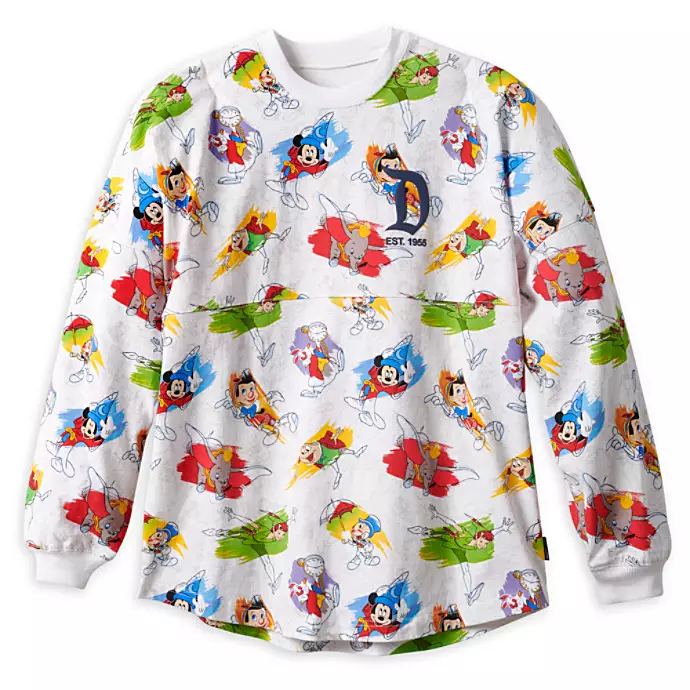 Other items include adult giftables from the Disney California Food and Wine Festival like these kitchen items that will add Disney to your daily cooking routine.
To commemorate the Magic Happens parade, Disneyland has released some fun new treats and souvenirs. Souvenirs include a Sorcerer hat inspired Mouse Ears headband and lots of purple tees. These sweet snacks are inspired by the parade floats, including the Sleeping Beauty cupcake and Coco cookie.
Changes to the Morning Rope Drop Routine
In previous years I've mentioned that families should maximize the first two hours at Disneyland. There's a slight twist in that strategy with the introduction of Rise of the Resistance and the need to obtain a boarding pass at park opening to get on this ride. This has greatly changed crowd levels in the mornings this springtime at Disneyland. These are a few strategies to consider if you're planning a spring Disneyland vacation.
Don't wait until that morning to buy your park tickets. You should pre-purchase using the tips on this guide to Disneyland tickets.
Have the Disneyland app uploaded onto your smart phone before your visit. Already have the app? Make sure it's updated to the most current version.
Arrive early to allow for parking or walking, getting through the security check point and waiting in line to enter the park.
Choose to stay at a near-by Anaheim Good Neighbor Hotels, like the Courtyard Marriott or the Howard Johnson. These hotels are within walking distance (and can be booked in a vacation package with tickets at a discount with Get Away Today!)
If you plan to try for a Rise of the Resistance boarding pass, read more about the Star Wars: Galaxy's Edge strategies in the Disneyland with Kids Facebook group.
No interest in the new Star Wars ride? You should still plan your morning strategy before your trip. On many days, crowds lessen in the afternoon. Guests and locals that didn't obtain the boarding pass often leave after the morning hours.
Judicious use of Maxpass and FASTPASS will help, especially during spring break holidays.
Characters During Springtime Events at Disneyland
During spring at Disneyland, there are often the addition of certain characters to the meet 'n greet line up. Most notably are Disney "rabbits" including Roger Rabbit, Rabbit from Winnie the Pooh and White Rabbit from Alice in Wonderland. This line-up isn't always a guarantee between each year, but this is a trend that usually happens in the parks. Get your FuelRod in the parks to make sure your phone is fully charged for these unique meet 'n greets!
FASTPASS Changes
Three attractions will add FASTPASS and MaxPass availability this spring. The addition of FASTPASS will guarantee a longer queue in stand-by, so booking the FASTPASS or MaxPass is going to be a must.
Autopia in Disneyland's Tomorrowland
Monsters, Inc. Mike and Sulley to the Rescue! in Hollywood Land at Disney California Adventure
Millennium Falcon in Star Wars: Galaxy's Edge at Disneyland
Disney Food and Wine Festival
In 2019, I came away with some great tips for taking toddlers and preschoolers to the Disney Food and Wine Festival. There are some nice additions made to this year's event including a Chef Goofy meet 'n greet. Much of the 2020 menu is brand new with only a few most popular bites returning. In addition to the food marketplaces, look for kid-friendly entertainment including the live Jammin' Chefs show with Chip 'n Dale.
For details on many of the foods and entertainment I experienced in 2020 see my Instagram Stories highlight, AWEsome Disney. In addition to the marketplace kiosks in the Disney California Food and Wine Festival, other restaurants have added seasonal dishes to their menu. Find items in the park or even in Downtown Disney District, like Ralph Brennan's Jazz Kitchen (ask for the Secret Dessert, it's not on the menu but it's worth the splurge!).
Opening Spring 2020 – Tenaya Stone Spa
Disney's Grand Californian Hotel and Spa gains back its spa this spring! After a several month closure, the Tenaya Stone Spa is set to reopen in spring 2020. Facials, massage, salon services and body treatments inside of the Craftsman-style relaxation rooms. How great does that sound for an adults-only or girlfriend trip?
Easter Sunday at Disneyland
In 2020, all three of the Disneyland Resort hotels will offer a special Easter Sunday brunch and/or dinner. Advance Dining Reservations are required and should be made as soon as possible.
April 12th Easter Sunday Brunch and Dinner
Storyteller's Cafe at Disney's Grand Californian – Character dining at both – Brunch buffet: 7:00 AM to 2:00 PM and Dinner buffet: 2:00 PM to 10:00 PM
Goofy's Kitchen at the Disneyland Hotel – Character dining at both – Brunch buffet: 7:00 AM to 2:00 PM and Dinner buffet: 2:00 PM to 9:00 PM
Disney's PCH Grill at Paradise Pier Hotel – Character dining at both – Brunch buffet: 7:00 AM to 1:00 PM and Dinner buffet: 1:00 PM to 9:00 PM



Springtime at Disneyland is a magical time to visit. The weather is beautiful, the park is bright with flowers and there's plenty of new things to experience. Get the scoop on what's happening during spring at Disneyland including new things coming in 2020.