Are your children's art projects taking over the house? Find out how to showcase projects at home, whether short-term or in a permanent presentation. These are 42 creative ways to display kids artwork and additional safe tips for storage.
Mom Rewritten uses affiliate links which means I may earn a small commission if you purchase through the links in these posts. As an Amazon Associate I earn from qualifying purchases. For more information, see the Privacy Policy and Disclosures tab.
What To Do With All My Kid's Artwork?
From simple pencil sketches to elaborate acrylic paintings, kids love to see their art projects featured in the home.
For the most part your children's artwork comes in to the home for a short amount of time. After it is enjoyed for a b,it the art is then recycled to make room for new pieces. Sometimes a particular piece of art will become a favorite that you'll want on display permanently in the home.
This article explores different means of what to do with kid art. I'll share simple ways to display kids artwork. Keep reading to learn how to store precious keepsakes. And find out how to get rid of art without upsetting your kids!
How to Display Children's Art
Is your child coming home from school with their backpack stuffed with art projects? Or do you enjoy making art projects with kids in your home? If you're not sure how to properly display artwork, this is the inspiration you need!
First, decide how you'd like to show off pieces in your home, Then, you'll figure out which pieces to keep and how to store the special mementos.
Do you prefer to show off recent projects for a brief amount of time? Or would you like to create a more long term exhibit in your home? This article will cover ideas for both short term presentations or more permanent arrangements.
Showcasing their unique artwork in your home is one of the best ways to inspire and encourage creativity in kids! Creating these special displays will express to your child how much you love and appreciate their creative side.
Read more: Check out these 65 cheap and free staycation ideas including easy art projects for kids.
Ways to Display Kids Artwork
This post will offer up many different ways of displaying art made by your children. The displays discussed in the article also make great gifts for proud grandparents or aunts & uncles who love to receive special artwork. I'll cover some of the featured ideas here.
Short-term Displays
If you're looking for a rotation of art during a brief period a short term display option is best. This could include easy-to-switch-out platforms, like the fridge, corkboard, clothes pin line, clipboard or picture ledge.
Long-term Displays
For a perpetual exhibit of children's artwork or favorite projects, these long term ideas are ideal. For displaying classic pieces year-round choose more permanent fixtures like frames, shadowboxes, and laminating.
Easiest Way to Display Kids Artwork – On the Fridge
Paper projects featured on the refrigerator is a classic. It's simple and easy to swap out art with a sturdy magnet. Check out these creative ways to highlight your child's masterpiece in a temporary display on the fridge.
Wooden Art Frame with Magnets – The wood frame comes in a large number of colors to coordinate with your home's decor.
Personalized Wooden Name Plate Magnet – Inexpensive option to hang a single piece of paper from the fridge in super-cute customizable fonts.
Magnetic Picture Frame Pocket – Slip artwork into the clear plastic slot to display on the fridge or any other magnetic surface.
Magnetic Personalized Rainbow Clothespins – Short-term art and projects can be displayed quickly and easily with these colorful and inexpensive personalized clothespins.
Create Magnets of Kid's Past Designs – Use the Shutterfly "Upload Your Own" feature to scan and use images to create magnets. Use the magnets to feature new artwork on the fridge!
Open Frames
Collect large open frames to hang on the wall in which artwork can be displayed inside. Frames should be hangable but not have glass.
As a budget-friendly option, purchase second-hand frames at the thrift store or at garage sales. Spray paint the frames the same color to create unity. Or try one of these ideas!
Vintage Window Art Display from Love Our Real Life – Repurpose an old window frame into a Farmhouse-styled way to display kid's artwork with a few minor fixes and a fresh coat of paint.
Gallery Wall Open Frame Set – This bohemian set of picture frames will help to create an appealing and kid-friendly gallery wall for any space within your home.
Repurposed Antique Frame for Art from Lovely Etc. – This simple fix with twine and miniature clothespins will transform an old frame into a landing space for kid's art.
Ways to Showcase Artwork on a Board
Cork and felt boards are a convenient place to swap out artwork. Consider larger sized kid-friendly tacks like these glitter glass marble push pins.
Colored Framed Corkboard – Cork and push pins make it easy to rotate pieces. These colorful framed farmhouse-style corkboards add charm to any space.
Felt Board Strips – An inexpensive and modern choice to show off kid's artwork. Tape and Velcro secure these felt strips to the wall and can be removed and moved as needed.
Hanging Corkboard – The basic corkboard is an inexpensive choice that can be hung at child's height to allow them to switch art work as they wish.
Hexagon Felt Board Tiles – Peel and stick tiles adhere to the walls in any design you can think of. These honeycomb patterned boards come in a large variety of colors for any décor.
Use caution when using push pins and thumbtacks if you have toddlers or pets. Try removable double sided temporary tape instead of pins.
Hang Art on the Clothes Line
Not the actual outdoor clothesline! These art-specific clothes line and clothes pin displays make switching out pieces easy.
Consider hanging at kid's height in their bedroom so they can change out artwork as they wish. Use small wire Command Hooks to secure each end of the clothesline without damaging the walls.
Clothesline Artwork Display – Lots of cute and colorful designs to coordinate with decor, including rainbows, dinosaurs, art palate and more.
Wire Artwork Display with Clips – Hang a number of art pieces in a small space with this creative designed cable system. Metal clips attach on either end of artwork to create a chain of vertical hanging pieces.
Gallery Wall Ideas
Gallery Removable Wallpaper – The ultimate in gallery walls, this peel and stick removable fabric wallpaper is charming and practical. Photos and artwork attach with double-sided tape.
Interchangable Gallery Frame – This four-way frame allows you to easily slide artwork in and out of the slots to change out pieces. The open design allows 3-dimensional art to really shine!
There are a variety of options including this 4 slotted frame that showcases both vertical and horizontal designs.
Kid's Gallery Wall from Where the Smiles Have Been – This tutorial using hooks and sliding clips allows kids to hang odd-shaped pieces that go beyond the standard sheet of paper.
Frame Wall Decals – So cute in a playroom or kid's bedroom, these peel & stick wall decals are a sweet way to frame out kid's artwork. These frame decals adhere to the wall and remove without damage. Use double-sided glue dots to temporarily and safely attach art pieces to the wall.
Clip Art – Ways to Display Kid's Artwork
Personalized Look What I Made Art Display Sign – Show off their latest designs with this cute and convenient clothespin sign that's personalized with your kid's name.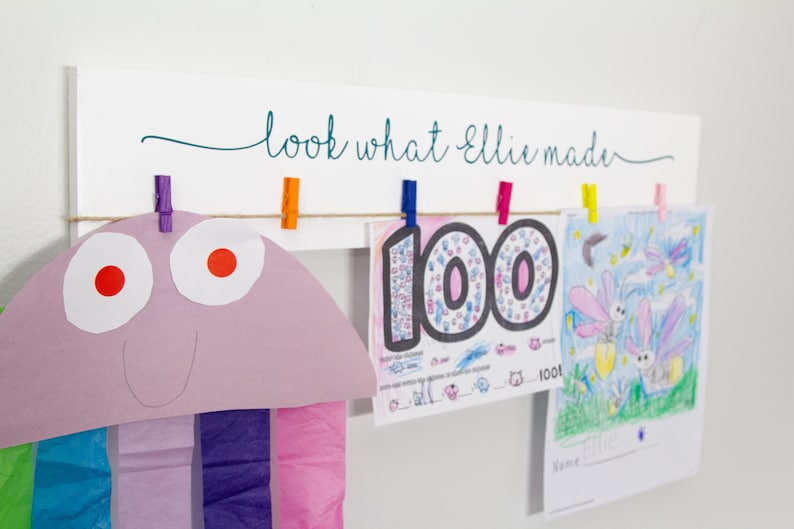 Wire Grid Hanging Display – Use metal clips or clothespins to showcase art quickly. The included panel baskets can hold larger 3-dimensional items like pottery or clay projects.
Metal s-hooks are perfect for art items that have a looped hanger. This set even includes the fairy lights to create a proper art gallery look!
Modern Kids Art Display with Metal Clips – Kids can mix and match several featured art pieces at a time on this sophisticated custom display. Choose from a large variety of wood stains or distressed colors.
French Memo Boards
Umbra Tucker Metal Memo Board – This is a modern way to display kid's artwork without damage to the piece. Bungee cords inside of metal dowels allow children to tuck their artwork underneath without papers falling off.
Linen Fabric French Memo Board – Slide smaller pieces of paper under the diagonal ribbons for an easy way to show art.
Artistic Clipboard Displays
Hanging Clipboard Set – Create a gorgeous and trendy art wall in a common space with these vintage-inspired hanging clipboards. The twine hanger makes them easy to loop on a nail or hook.
Personalized Kids Clipboard – Rest these colorful clipboards on a picture ledge for an interchangeable art display. There are tons of color options and various text choices. Even without artwork, they're a cute addition to any room.
Clipboard Stand – Showcase an "art piece of the week" on this elegant standing clipboard. Choose from a variety of sizes and clip finishes for an ideal custom piece to coordinate with your home décor.
More Creative Ways to Display Kids Art Work
Magnetic Frame Hanger – Artwork is sandwiched between wooden slats then hung from a nail or hook. Quick and easy to switch out art as you desire with varying sizes for different pieces.
Aluminum Picture Rail – Simple enough for a toddler to use, this quick grip rail requires no pins or clips. Slide the paper into the rail to attach and art is ready to display until you remove it.
Picture Ledge – These colorful wooden picture ledges are best for firm pieces, like acrylic painted boards. Combine these shelves in various sizes and colors for a gorgeous way to display kid's art.
How Do I Get Rid of my Kid's Artwork?
The big question: How can you recycle kids artwork out of the house without drama? When I've tossed my child's art into the recycling can and she sees it, I'll admit there have been tears!
How can you discard children's art without making them upset? These are a few ideas:
Collect art in a single place after it's been displayed. Ask your child to save their favorite one of the group and the rest goes into the recycling bin.
Send artwork to an appreciative audience. Grandparents, other family members and neighbors may enjoy receiving art pieces in the mail from your child.
Try one of the following ways of scanning art into giftable pieces, explained in the next section. Kids may be more willing to let go of the original if there's a permanent keepsake of their favorite artworks on record.
Ways to Display Kids Artwork with Functionable Pieces
Take kids art to the next level by using it in functional ways around the house. Whether it's inside of a shadowbox, recreated into a new craft or bound into a book, your child's art will live on. Each of these pieces are highly giftable!
Photo Book – A classic way to show your child's favorite art pieces along with photos of them at the age in which they created it. Make multiples to send to grandparents or other family members!

Shadowbox – Enclose heirloom pieces into a shadowbox along with other treasured mementos for a cherished gift.
Placemat Art Collage – My family still has the placemats I ordered from Shutterfly 10 years ago. Simply scan art and insert into the simple collage on the website. This is a way to display artwork at the kitchen table on functional placemats that kids will love!
Want to make your own placemats? Laminate flat drawings yourself. A laminating machine is actually quite reasonably priced and can create fun ways to use artwork in a practical way.
Puzzle of Your Own Design – Scan in an image of your child's favorite art and turn it a puzzle of their own.
Embroidered Ornaments Inspired by Kid's Artwork from Swoodson Says – Turn a craft into another craft with these unique ornaments that are perfect for gifting.
Short-Term Storage Solutions for Artwork
In the interim between the above ways to display kids artwork and making a permanent home are these short term storage ideas. Place art in these temporary storage spots before recycling out of the house or placing them into long-term storage.
My Art Place Portfolio – This classic oversized portfolio contains art papers until you're ready for more permanent storage. Holds papers up to 12″ x 18″ in size with accordion dividers and a carrying handle.
Paper Storage Box – If you find yourself frequently pulling out favorite art pieces to view again and again, a paper storage box with a magnetic closure is ideal. The pretty designs and neutral colors coordinate with home decor, making these a sweet addition to the main living space.
Plastic Portfolio with Zipper Closure – This large bag can hold pieces up to 19 x 25 inches in size with convenient carrying straps. Able to fold down the bag into a small size for storage when not in use.
Paperboard Suitcase Storage – For cute temporary storage of art including 3-D pieces like clay pottery or macaroni necklaces that don't lay flat. This trio of bright suitcases is adorable for display in a kid's room. There are several other designs to match various children's bedroom decorations.
Safe Storage of Special Art Pieces
What to do with pieces of art that you want to preserve and save? Some day you'll want to show your adult child these precious mementos! Preserving the pieces in their original condition is key. When storing paper art work there are several considerations:
Over time, some paper may dry and crumble. Keep artwork away from the sunlight and store in a cool, dry location off the ground.
Artwork should be completely dry before going into storage.
Use acid-free paper or tissue to lay in-between art pieces.
Store papers in a tightly closed box for permanent storage to eliminate bugs, pest or mold from damaging artwork.
Artwork Organizer Case – The snap tight latched case can hold bulkier 3-dimensional pieces in addition to flat pieces of paper.
Binder with Plastic Sleeves – For traditionally sized 8 x 11″ paper, try this 24-pocket binder. The portfolio style binder will allow shelf storage within acid-free archival quality plastic sleeves.