Celebrate soup season with a warm bowl for a hearty lunch or dinner. Fill a large soup pot with one of these best vegan and vegetarian meatless soup recipes, guaranteed to satisfy!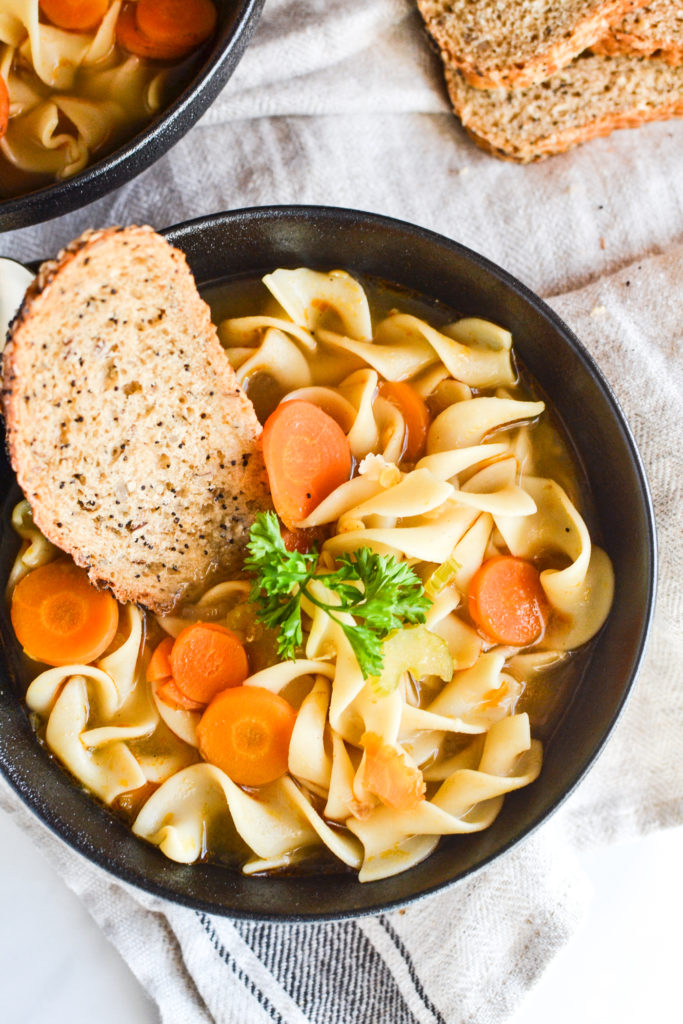 Mom Rewritten uses affiliate links which means I may earn a small commission if you purchase through the links in these posts. As an Amazon Associate I earn from qualifying purchases. For more information, see the Privacy Policy and Disclosures tab.
Meatless Soup Recipes
A nourishing soup is one of the best ways to feed a family. These meatless soup recipes are not only healthy and satisfying, they're also hearty and substantial.
Some of the recipes call for shelf stable pantry ingredients, including canned beans, frozen vegetables, and dried herbs. Other recipes call for fresh veggies, noodles, or toppings.
Follow the recipe descriptions for instructions. Make these soups work for your family with a few ingredient swaps. If a recipe calls for chicken broth, use vegetable broth instead. Switch around ingredients to make these dishes fit a gluten-free, dairy-free, vegan, or vegetarian diet.
Many of these meatless soup recipes are freezable. Batch prepare these meals in advance, then freeze to have throughout the winter months.
This round-up recipe article comes to you with links to my fellow food bloggers. These are tested meatless soup recipes they've served their own families. All links and images are used with permission.
Hearty Soups with Pasta
Vegan Noodle Soup with Tofu by Plant Based and Broke – Aromatic vegetables and firm tofu offer up a hearty, protein-packed meatless soup recipe.
Easy Healthy Minestrone Soup from Food Meanderings – Simple to make in a short time, using canned vegetables and macaroni noodles. This recipe can also be made in a slow cooker.
Gluten Free Vegan Lemon Orzo Soup Recipe from The Helpful GF – This wholesome soup includes chickpeas for protein. Enjoy gluten-free orzo in a tart lemon juice broth.
Udon Noodle Soup from This Healthy Table – You're just a few ingredients away from this simple vegetarian soup. This recipe is packed with noodles, mushrooms, and bok choy.
Vegan Meatless Soup Recipes
Vegan Quinoa Soup by Stress Less Be Healthy – Satisfying pasta and quinoa soup in broth that's filling and fibrous.
Easy Homemade Vegetable Soup by Joy Food Sunshine – Prepare this cold-weather staple that can be customized to your specific family's taste preference.
Roasted Vegetable Soup from The Organic Kitchen – Combination of vegetables are oven roasted, then blended into broth.
Lemony Chickpea Rice Soup at Debra Klein – One-pot dish with rich plant based protein. Everyone will love this dish with basmati rice, chickpeas, and a lemony broth.
Vegetable Borscht at Plant Based Folk – Bright colored beetroot combine with fresh vegetables and chickpeas in this colorful bowl of soup.
Roasted Red Pepper Soup from End of the Fork – Smooth and creamy soup with potatoes, roasted red peppers, and a breadcrumb garnish.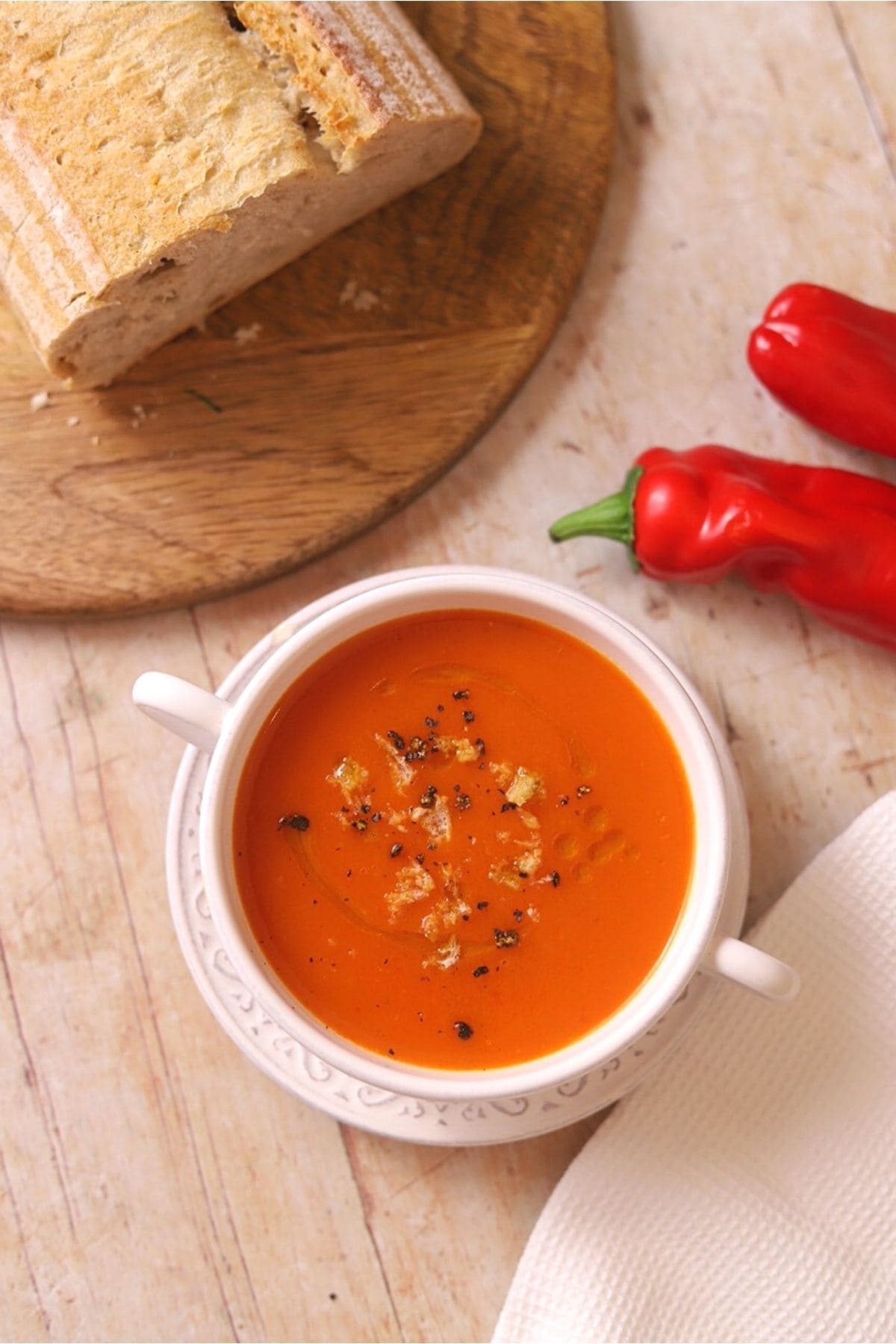 Potato Soup Recipes
Roasted Garlic and Rosemary Potato Soup is one of our family favorite cold weather recipes. A creamy combination of gold potatoes and fresh herbs, these delicious soup leftovers will be coveted!
Creamy Vegan Potato Soup by Daily Dish – Dairy-free and plant based, but with all the creaminess of a comforting soup.
Potato Leek Cauliflower Soup from The Rustic Foodie – Vegan, dairy free soup is thick enough for dipping crusty bread. The recipe includes a recipe for toasted crostini.
German Potato Soup from Two Kids and a Coupon – This healthy vegetable soup recipe is appropriate for making in the pressure cooker, so it's easy to put together for a fast meal.
Vegetarian Tomato Soups
Roasted Cherry Tomato Soup by Fearless Eating – Make good use of the late summer cherry tomatoes growing in the garden with this simply nourishing soup.
Creamy Tomato Soup from Daily Dish – This gluten free and dairy free soup is made easy with canned tomatoes and creamy with coconut milk.
Tomato and Fennel Soup at Little Sugar Snaps – Made with both fresh tomatoes and sundried tomatoes, this healthy vegetarian soup hits all the notes. Instructions included on how to prepare the fennel for use in this recipe.
Roasted Tomato Soup by Whole New Mom – Raw cashews and cayenne pepper are surprise ingredients in this dairy free and vegan soup recipe that offers a bit of flavor kick.
Sopa De Fideo Recipe from The Belly Rules the Mind – This classic Mexican noodle soup is a tomato base broth with vermicelli noodles. Kids love this one (see the section about additional kid-friendly soup recipes).
Meatless Bean Soups
Congressional Bean Soup at The Carrot Underground – This vegan creamy white bean soup is an amazing soup on a cold day. Image shown earlier in this article.
Black Bean Soup by New South Charm – Lime and cilantro brighten up canned black beans in this Mexican inspired soup that goes together quickly.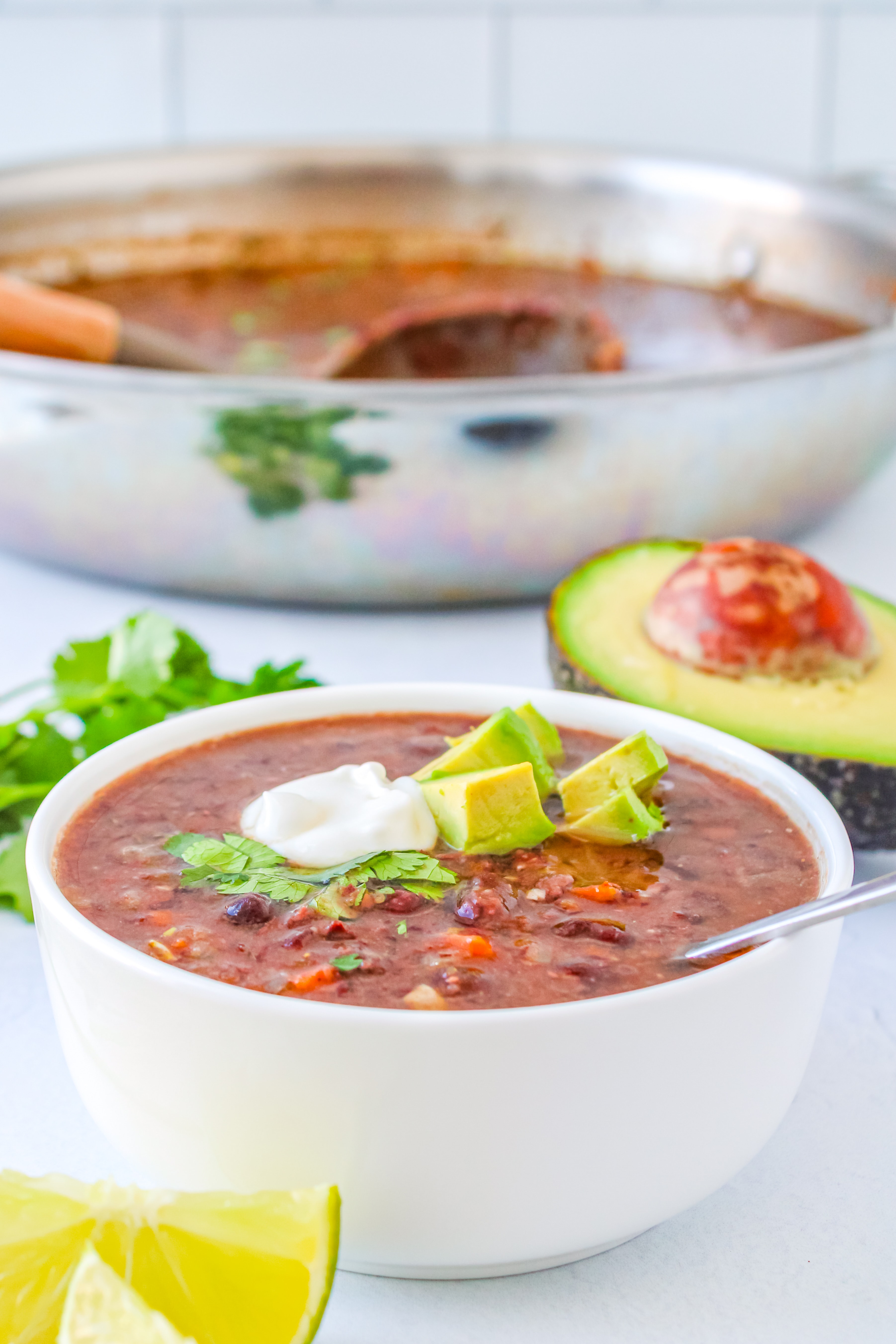 Our family Bean Chili Recipe is a cold weather go-to when we need a fast meal. It can go together in less than 30 minutes and is filling and delicious, with options for tasty toppings.
Sweet Potato Black Bean Soup from The Food Blog – In about a half hour, you'll be serving up this delicious vegetarian soup with chunks of sweet potatoes, beans, and basic veggies.
15 Bean Soup by Little Sunny Kitchen – This inexpensive recipe uses dried beans and seasonings in a simple homemade soup.
Vegetarian Tortilla Soup by The Dizzy Cook – Made mostly with pantry staples, this broth-based soup has beans, corn, and fresh vegetables. Top your bowl with tortilla chips, yum!
Creamy Vegetable Soups
These luscious vegetarian soup recipes use heavy cream, half and half, and milk. Because of the dairy, these aren't vegan recipes. The next section includes creamy soup recipes that don't include milk.
Cauliflower Soup with Roasted Garlic from Platter Talk – Fresh garlic, Parmesan cheese and half and half blended with cauliflower.
Squash Soup with Cranberry Relish by A Farmgirl's Dabbles – This showstopping soup is a beauty, with roasted squash and a cranberry relish topper.
Cream of Onion Soup from Little Sunny Kitchen – Ditch the canned soup! Use this cream of onion soup to make favorite recipes instead.
Shrimp and Corn Bisque by Aubrey's Kitchen – This hearty soup with cream, shrimp, and corn is a great recipe to serve for a dinner party. Best part, it can be made in less than 30 minutes.
Creamy Asparagus Soup by Ramshackle Pantry – This soup combines heavy cream with asparagus stalks for a good soup that pleases all.
Creamy Vegetable Soup from The Toasty Kitchen – Make this easy vegetable soup recipe with frozen vegetables for a low-prep meal that's appealing for the whole family.
Blended Soups Without Cream
Achieve a creamy vegan soup without dairy. These vegan soup recipes serve up simple ingredients with coconut milk and potatoes.
Pumpkin Curry Soup at The Oregon Dietician – Canned pumpkin, vegetable broth, and coconut milk are blended into a creamy and hearty vegan soup.
Roasted Cherry Tomato Soup by Health My Lifestyle – The smooth texture of this tangy cherry tomato soup is created with coconut milk and sweet potatoes.
Healthy Potato Leek Soup with Orzo on My Sequined Life – Make this creamy soup in a single pot with yellow potatoes, leeks, and orzo pasta.
Mulligatawny Soup by Easy Indian Cookbook – This South Indian Instant Pot-friendly soup includes a rich blend of seasonings and a dash of coconut milk.
Broth-Based Meatless Soups
One-Pot Vegetable Noodle Soup at Red Cottage Chronicles – Nobody will miss the chicken in this simple recipe with lots of noodles. Image shown earlier in this article.
Mediterranean Lentil Soup from This Healthy Table – This veggie soup is packed with fiber and protein from lentils, fresh spinach, and broth.
Celery and Leek Soup by Through the Fibro Fog – A creamy healthy soup that's satisfying while staying on a vegan diet.
Italian Chickpea Vegetable Soup at Flavorful Eats – This chickpea soup is a made in a single pot with fresh and canned vegetables and Italian seasoning in a tomato paste based broth.
Curried Cauliflower Potato Soup by The Rustic Foodie – Scratch made soup in only a half hour, chunky vegetables blend in a vegetable stock with Indian seasonings.
Kid-Friendly Meatless Soup Recipes
A large pot of soup is one of the best meals you can make for a child. These Kid's Comfort Food Recipes are generally easy to prepare and hearty for lunch or dinner. But the best part? Children will actually eat these favorite soup recipes!
15-Minute Vegan Chicken Noodle Soup at Wow It's Veggie – Simple ingredients and lots of noodles make this fast recipe great for family weekday meals.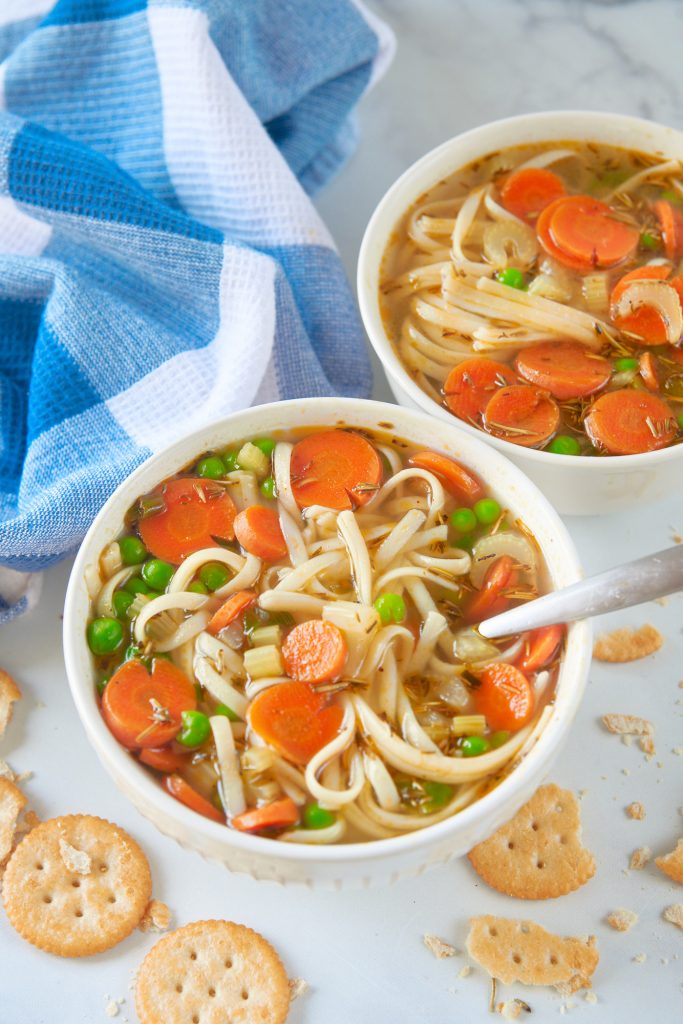 Easy Vegan Corn Chowder at Wow It's Veggie – This thick and hearty soup is made extra creamy with non-dairy milk and blended potatoes.
Homemade Tomato Soup recipe by Joy Food Sunshine – Thick roasted tomatoes and fresh basil soup is delicious when paired with a grilled cheese sandwich. This is a complete meal that kids will love.
Broccoli Cheddar Soup at Gypsy Plate – You'll have the kids at cheesy and creamy with this yummy broccoli soup recipe.
Vegetarian Gnocchi Soup by Through the Fibro Fob – The fresh greens, sweet potato, and broccoli are a backdrop to the creamy base and gnocchi.
Savory Mushroom Soups
Wild Mushroom Soup from What a Girl Eats – Use a combination of mushrooms in this rich gluten free soup.
Healthy Mushroom Soup at Aubrey's Kitchen – Thickened with sour cream, this nourishing soup is filled with mushrooms and garlic.
Mushroom Soup recipe by Whole New Mom – This flavorful broth is studded with rich mushrooms and dried herbs.
Potsticker Soup by Soup Addict – This delicious vegetarian soup recipe soup is stuffed with potstickers. The soup is balanced out with shiitake mushrooms, bok choy, and leeks in a meatless broth.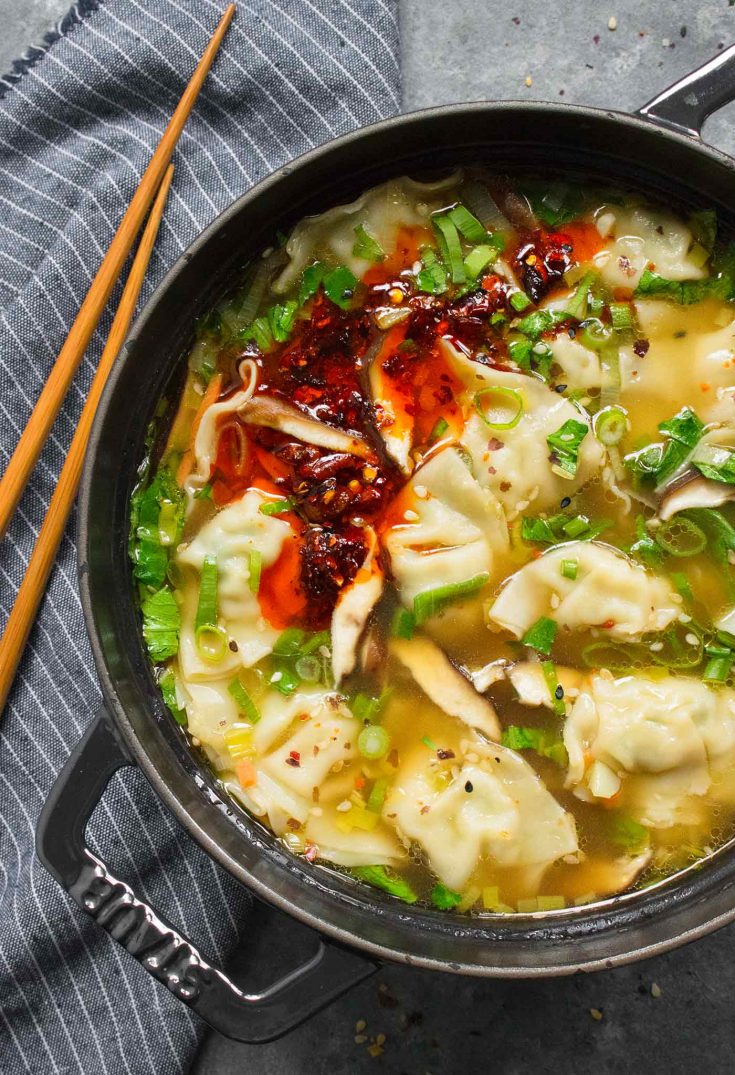 Vegetarian Carrot Soups
Vegan Carrot Ginger Soup by The Healthy Epicurean – This recipe includes top fall flavors including apples and maple syrup. A zip of ginger and balsamic vinegar added in makes for a sweet and savory blend.
Carrot and Red Lentil Soup from Little Sugar Snaps – The lentils cook down into a smooth texture in this recipe. This dish can be prepared in a slow cooker. Puree this creamy soup to your personal preference.
Ginger Carrot Lentil Soup by The Food Blog– Warm spices like cumin and ginger combine with carrots and lentils. The result is a rich bowl of soup that's ideal for cooler temperatures.
Sweet Potato and Carrot Soup by A Blossoming Life – Velvety smooth carrot and sweet potato soup. This recipe is easy enough to prepare for a weeknight meal.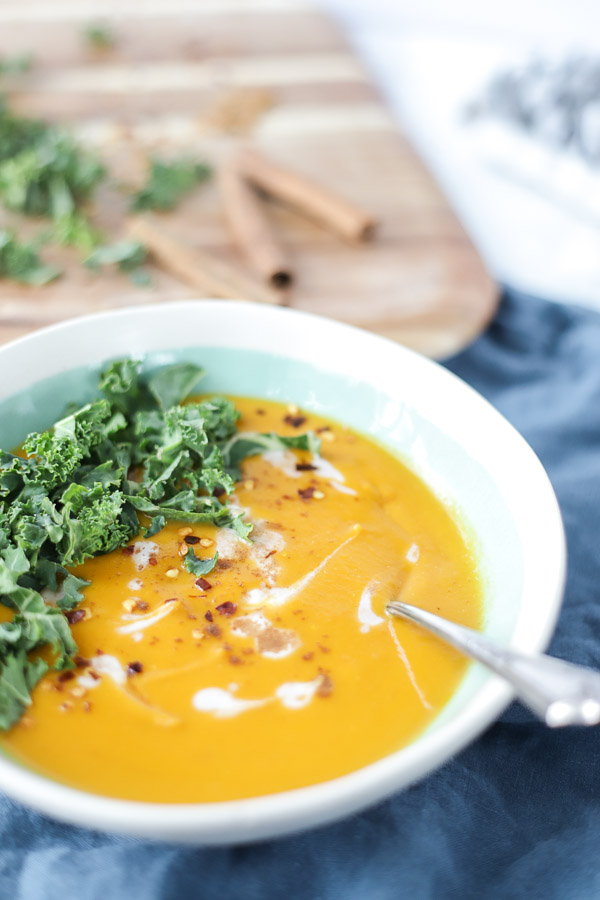 Meatless International Soup Recipes
Croatian Creamy Roux Soup (Ajnpren Supa) from All That's Jas – Rustic ingredients, including olive oil and broth. The ingredients, including caraway seeds and paprika, go together nicely in a stomach soothing roux.
Greek White Bean Soup (Fasolada) by Recipes From Europe – White beans, vegetables, and tomato paste make up this traditional soup. Don't forget the Greek toppings, including olives and feta cheese!
Tom Yum Soup by The Carrot Underground – Hot and spicy vegan Thai soup is filled with fresh vegetables. Add in tofu, lemongrass, spicy chiles, and fresh lime for a bright flavor.
Lebanese Lentil Soup (Shorbet Adas) at Plant Based Folk – Orange lentils, rice, vegetables and spices combined. This recipe results in a thick and tasty vegan soup.
Tuscan White Bean Soup (Ribollita) by Gypsy Plate – White beans with fall and winter vegetables are a delight. This chunky stew that can be made in the slow cooker. Finish off by topping with slices of bread.
Best Broccoli Soups
Easy Broccoli Cheddar Soup by Simply Stacie – This comforting classic has small pieces of vegetables in a creamy sharp cheddar base, making this soup appealing for kids.
Broccoli Cheddar Soup with Potato from Belle of the Kitchen – Ideal for cheese lovers! Make this one in the Instant Pot or Slow Cooker.
Broccoli Cheddar Zucchini Soup by Zucchini Zone – A blend of zucchini and broccoli, this smooth, green vegetable filled bowl of soup is ready in just under 30 minutes.
Hash Brown Potato Broccoli Soup at The Toasty Kitchen – Use frozen hash browns to make this tasty recipe easy to prepare. It's a winner, even on busy weeknights.
Lentil Soup Recipes
Easy Mexican Lentil Soup Recipe from Cook Eat Live Love – An earthy and savory meatless soup recipe. This Mexican lentil soup is a wholesome one-pot meal.
Turkish Red Lentil Soup from End of the Fork – A satisfying easy-to-make dish, with the spicy kick of peppers.
Vegetable Stew Recipe by Belle of the Kitchen – All the satisfaction of a comforting stew. This meatless soup recipe is packed with chunky vegetables in a thick broth.
Spicy Lentil Soup Recipe at A Farmgirl's Dabbles – This Egyptian inspired recipe is filling and flavorful with basic spices and bread for dipping.
Mediterranean Lentil Soup from Marcellina in Cucina – The combination of good nutrition and amazing flavor in a pleasing bowl of soup with vegetables, lentils, and pasta.
Chilled Soup Recipes
Cucumber Gazpacho from Fearless Eating – This chunky cucumber tomato gazpacho is a great way to use the bounty of summer's harvest.
Cold Zucchini Soup from The Dizzy Cook – Creamy zucchini soup has delicious flavor with fresh herbs, served chilled as an appetizer or palate refresher.
Meatless Soup Recipes with Limited Ingredients
3 Ingredient Butternut Squash Soup from A Blossoming Life – Use either fresh or frozen butternut squash to create this easy and comforting dish.
Kabocha Coconut Soup at Sift and Simmer – Similar to a butternut squash but sweeter, the kabocha squash combines with coconut milk for a velvety texture.
Italian Egg Drop Soup (Stracciatella) at The Organic Kitchen – You're just three ingredients and a few minutes away from an uncomplicated meal.
5 Ingredient Vegan Clam Chowder by Wow It's Veggie – A blend of non-dairy milk with mushrooms and potatoes. This creamy soup's flavor is provided by sushi nori (seaweed).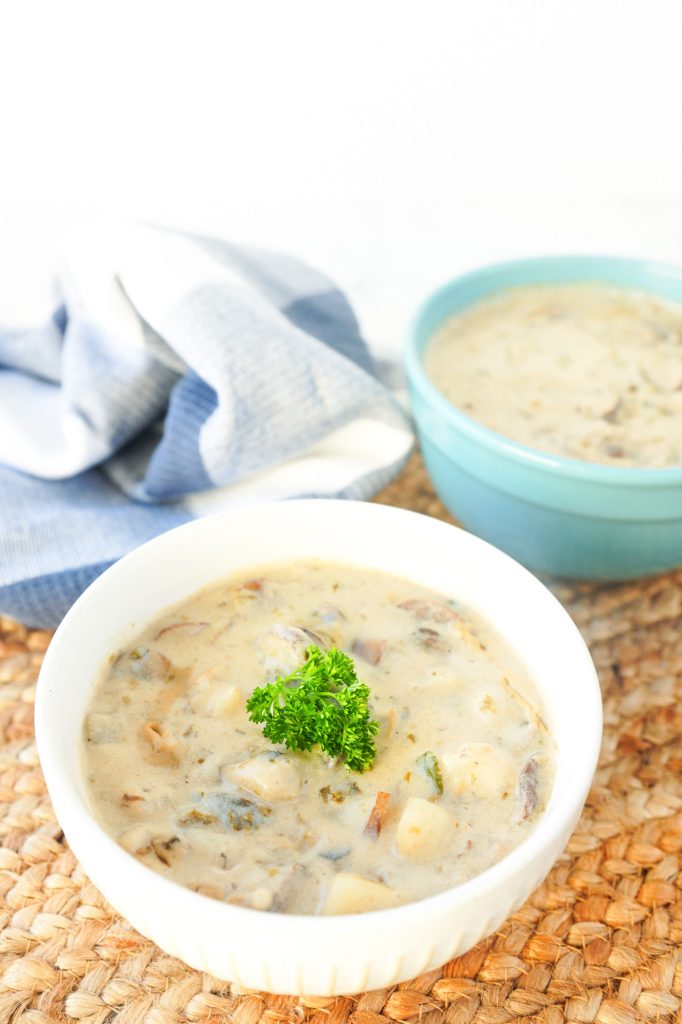 Tomato Tortellini Soup at Mommy Evolution – This simple four ingredient soup is easy to prepare for a weekday meal.
Oven Roasted Cauliflower Soup by All That's Jas – Only 5 ingredients for this homey scratch-made soup. This recipe is made more flavorful with fresh herbs.
Meatless Soup Recipes with Sweet Potato
Jalapeño Sweet Potato Soup from Mommy Evolution – A delicious and hearty soup to warm you up inside. This recipe combines the subtle sweetness of sweet potatoes with the spicy kick of jalapeno peppers.
Pumpkin and Sweet Potato Soup from Aussie Home Cook – Hearty pumpkin and sweet potato soup that's ideal for fall. A thick bowl that is comforting and packed with flavor.
Maple Sweet Potato Soup at The Health Epicurean – Easy pureed maple sweet potato soup is made with simple ingredients. Each bowl is filled with flavor from coconut milk, apple, pure maple syrup and balsamic vinegar.
Creamy Sweet Potato Soup by Little Sunny Kitchen – Enhanced with the warm flavors of ginger and garlic. This sweet potato soup is flavorful and amazing. Add some optional heat from cayenne pepper.
Slow Cooker Meatless Soup Recipes
Healthy Crock Pot Vegetable Soup at Suburban Simplicity – Tender vegetables including green beans, potatoes, tomatoes, and corn. Simmer all day in the slow cooker for a hands-off meal.
Cauliflower Cheese Soup from The Magical Slow Cooker – Enjoy this low carb vegetable in a smooth and creamy cheese soup.
Vegan Yellow Split Pea Soup by Debra Klein – This vegan split pea soup comes together easily with no advance soaking. This recipe is both slow cooker and Instant Pot friendly.
Slow Cooker Black Bean Soup by Flavorful Eats – This simple recipe is all about the toppings! Make this in the Crock Pot as an easy weeknight dinner.
Butternut Squash Soup at The Forked Spoon – All the best flavors of autumn, including butternut squash, apples, and ginger in a creamy texture.
Meatless Soup Recipes for the Instant Pot
Curried Split Pea Soup by Delightful Adventures – Yellow split peas cook down into a creamy broth in this simple Instant Pot recipe.
Instant Pot Minestrone Soup at The Belly Rules the Mind – This Instant Pot recipe is full of protein-packed beans and loaded with veggies.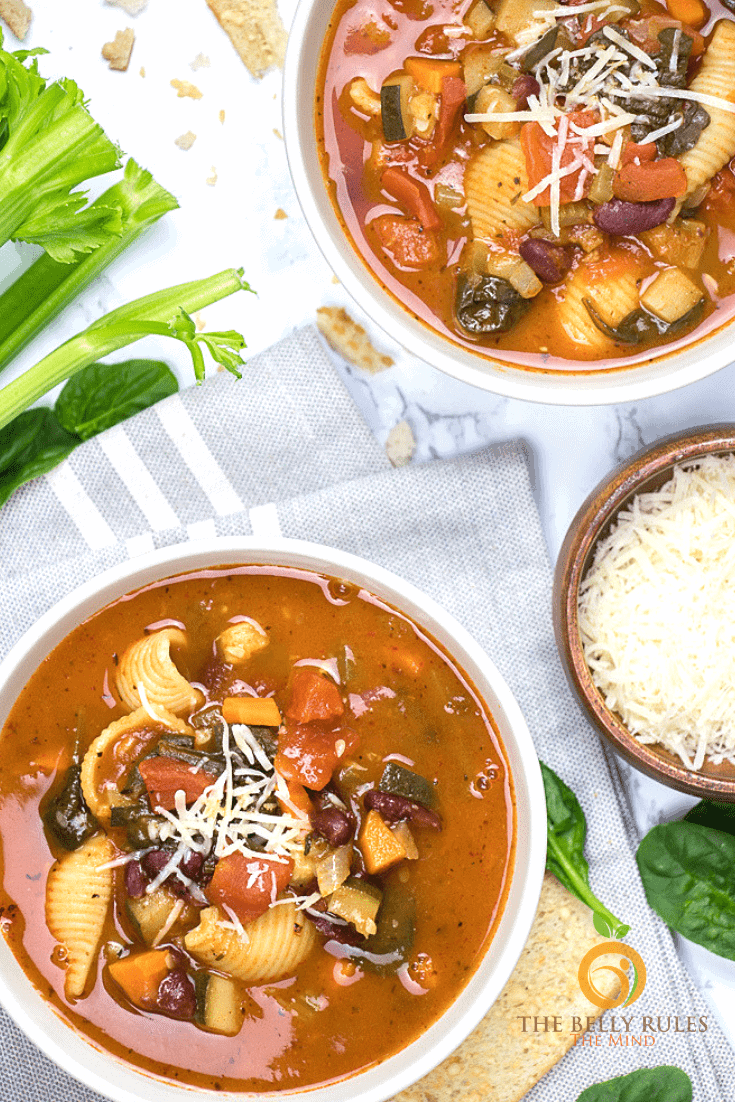 Vegetable Barley Soup at Easy Indian Cookbook – This Indian-style vegetable pearl barley soup is healthy, nourishing, and flavorful.
Autumn Butternut Squash Soup from The Dizzy Cook – A flavorful, curry butternut squash soup that's perfect for cool weather.
Instant Pot Vegetable Soup by Maple and Mango – Comforting, healthy and loaded with veggies in a delicate, flavorful broth. This recipe is made quickly in the pressure cooker.
Best Side Dishes to Serve with Soup
Crackers are the classic soup side dish. Try different versions from saltines, Ritz, Wheat Thins, or whole grain versions.
Buttered bread or toast
Grilled cheese
Biscuits or rolls
Salad
Tuna Melt
Tortilla chips
Essentials for Soup Preparation
These meatless soup recipes are simple to prepare, often using minimal kitchen prep outside of chopping, roasting, and pureeing vegetables. To properly make soup, there are just a few ideal kitchen essentials required.
Pot – A heavy bottomed Dutch Oven on the stovetop works well for heating ingredients. Some recipes can also be made in an Instant Pot pressure cooker or Crock Pot slow cooker.
Blender – A hearty vegan soup doesn't require cream in order to achieve a creamy texture! To create these meatless soup recipes, an Immersion Blender is invaluable. No need to transfer hot liquids into the blender when using an immersion blender. Simply blend soups smooth in the same pot.
---