Please note that I use affiliate links in this post. Clicking through and purchasing via the links helps me in a small financial way, thank you! This post has been updated for 2019, originally published Feb 1st, 2017.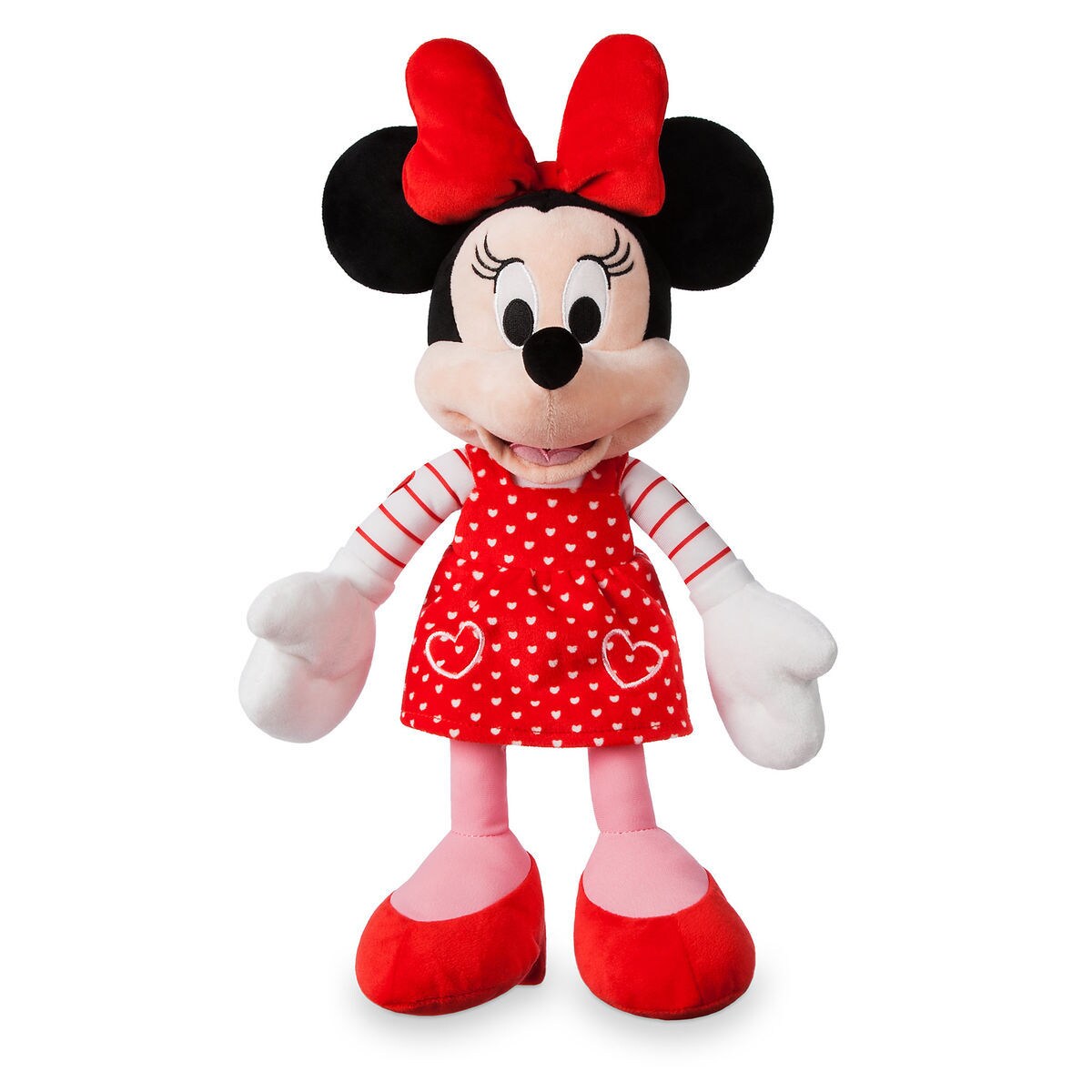 Ways to Celebrate Valentine's Day at Disneyland
If your Disneyland vacation falls during Valentine's Day, you might wonder how the holiday is celebrated in the Parks. Does Disneyland decorate for Valentine's Day? Are there romantic spots at Disneyland? Keep reading for sweet tips for couples at Disneyland. There are opportunities for romance at Disneyland sprinkled in like pixie dust throughout the Parks! And if you have the kids with you, there are still some very sweet ways to celebrate!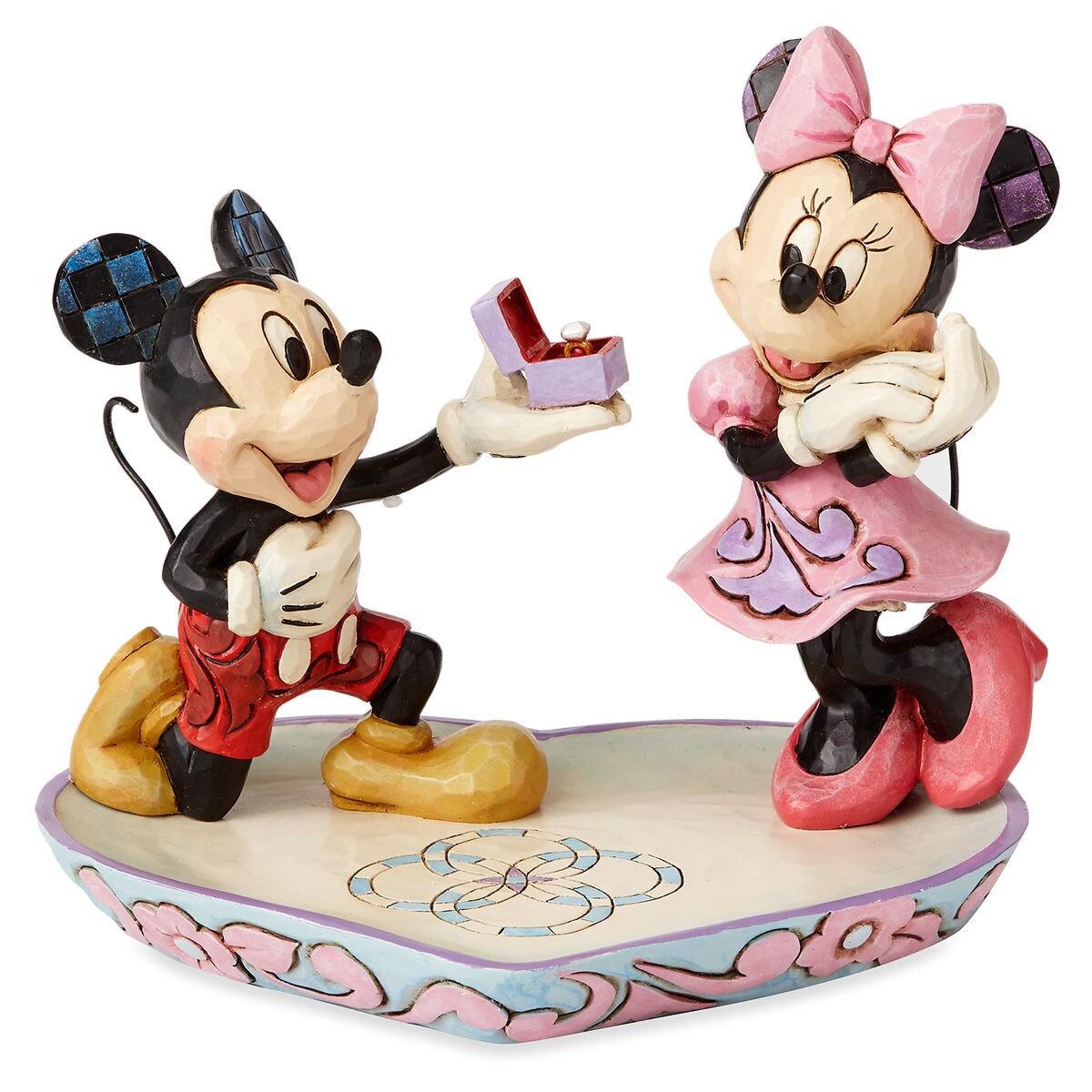 Celebrating Valentine's Day at Disneyland 2019
From January 22th, 2019 to February 18th, 2019, the Disneyland Resort will celebrate Minnie and Mickey's love during a Valentine's Day celebration. Entering the Disneyland Park, you'll see a new floral portrait of Mickey Mouse made of flowers. There will be festive Valentine's Day decorations along Main Street U.S.A and in the Small World Mall.
Minnie's Valentine's Day Surprise also takes place during this time. This is special treasure hunting experience at Disneyland Park. Guests can purchase a commemorative map and stickers at selected locations (cost is $6.99 plus tax). Then search for the hidden valentines around the park that Minnie has left for Mickey. Once completed, deliver the map to a designated location to exchange it for a very special Valentine's Day surprise!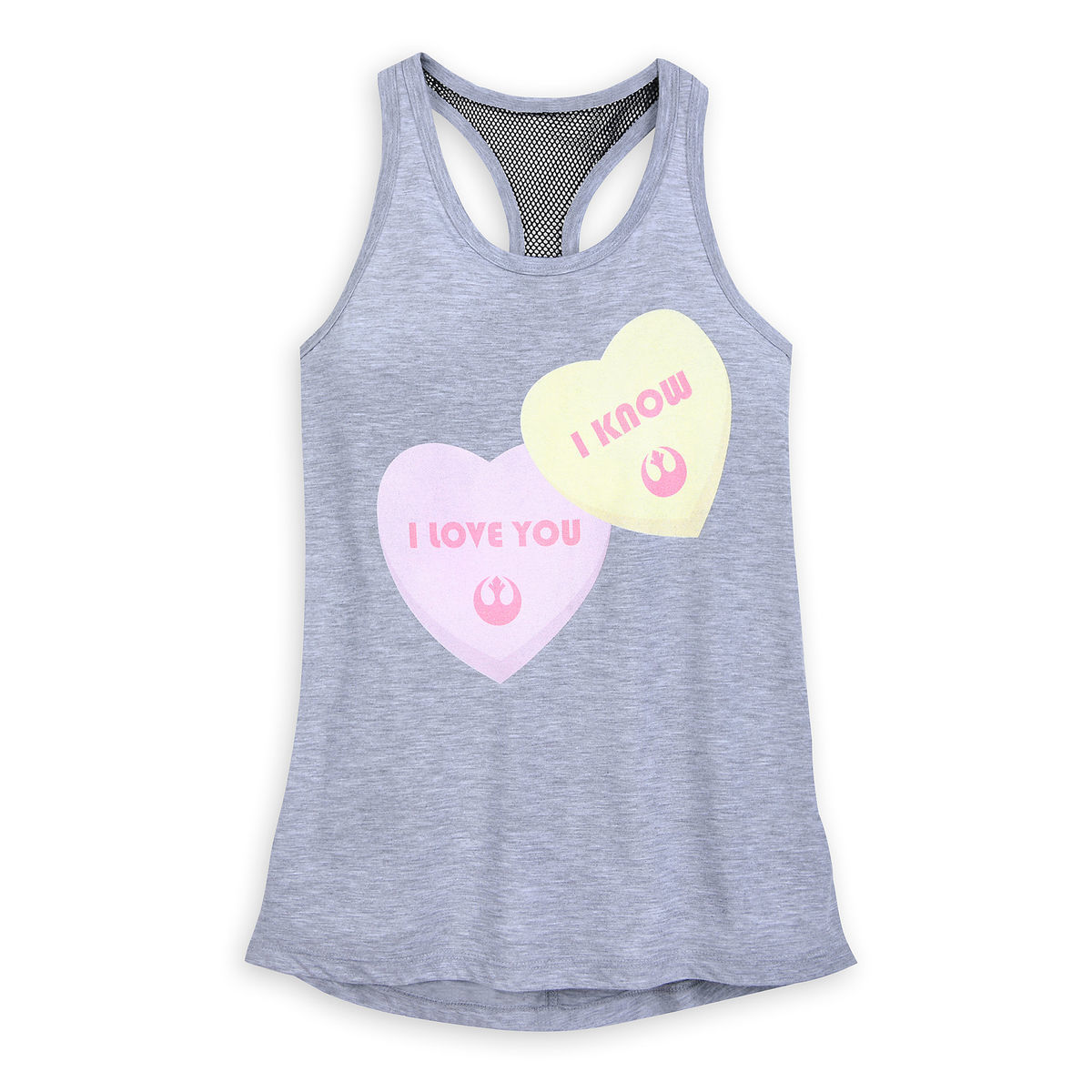 1. A Valentine's Day Breakfast at Disneyland
Start off the day on either a sweet or a savory note. Since you may WILL indulge in some sweet treats through the day, might be best to have some protein in your tummy first! We like to grab breakfast inside Downtown Disney District and eat while we wait for rope drop. There are hearty (and low-priced) breakfast sandwiches at either Earl of Sandwich or La Brea Bakery. Or sip and go with a fruit smoothie from Jamba Juice.
Inside the parks if you're prefer a leisurely breakfast with your sweetie-pie, you can dine on Mickey waffles, eggs, bacon and fruit at Carnation Cafe and watch the crowds rushing by. Or if you do want to start the day with something sweet, swing into Jolly Holly Bakery and Cafe for a cinnamon roll or muffin.
2. A Fresh Bouquet from Disney Floral & Gifts
If you're staying at a Disneyland Resort Hotel, consider a call to Disney Floral & Gifts for the delivery of a magical floral arrangement. They can also go all out with romantic in-room decor like rose petals on the bed, spa robes and chocolate covered strawberries!
If you're celebrating the love with the whole family, they even have collections that include something for everyone, like red roses for Mom and sweet treats for the kids.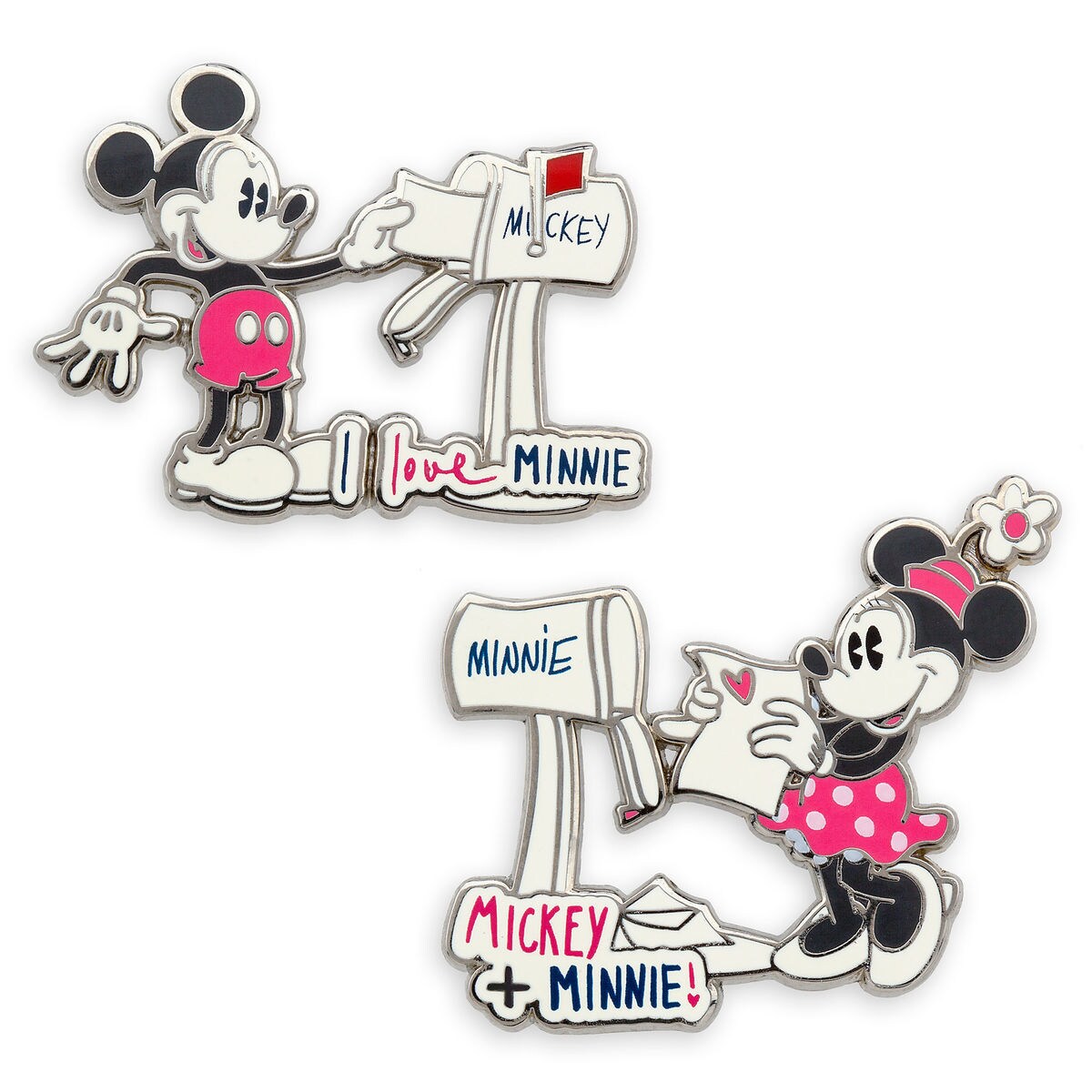 3. Lovable Disney Souvenirs
Keep your eyes open for adorable love-inspired souvenirs in the Disneyland shops. If you like to purchase your souvenirs online and have them arrive to you at home, visit ShopDisney online. They have dozens of precious Valentine's Day themed items that will delight everyone.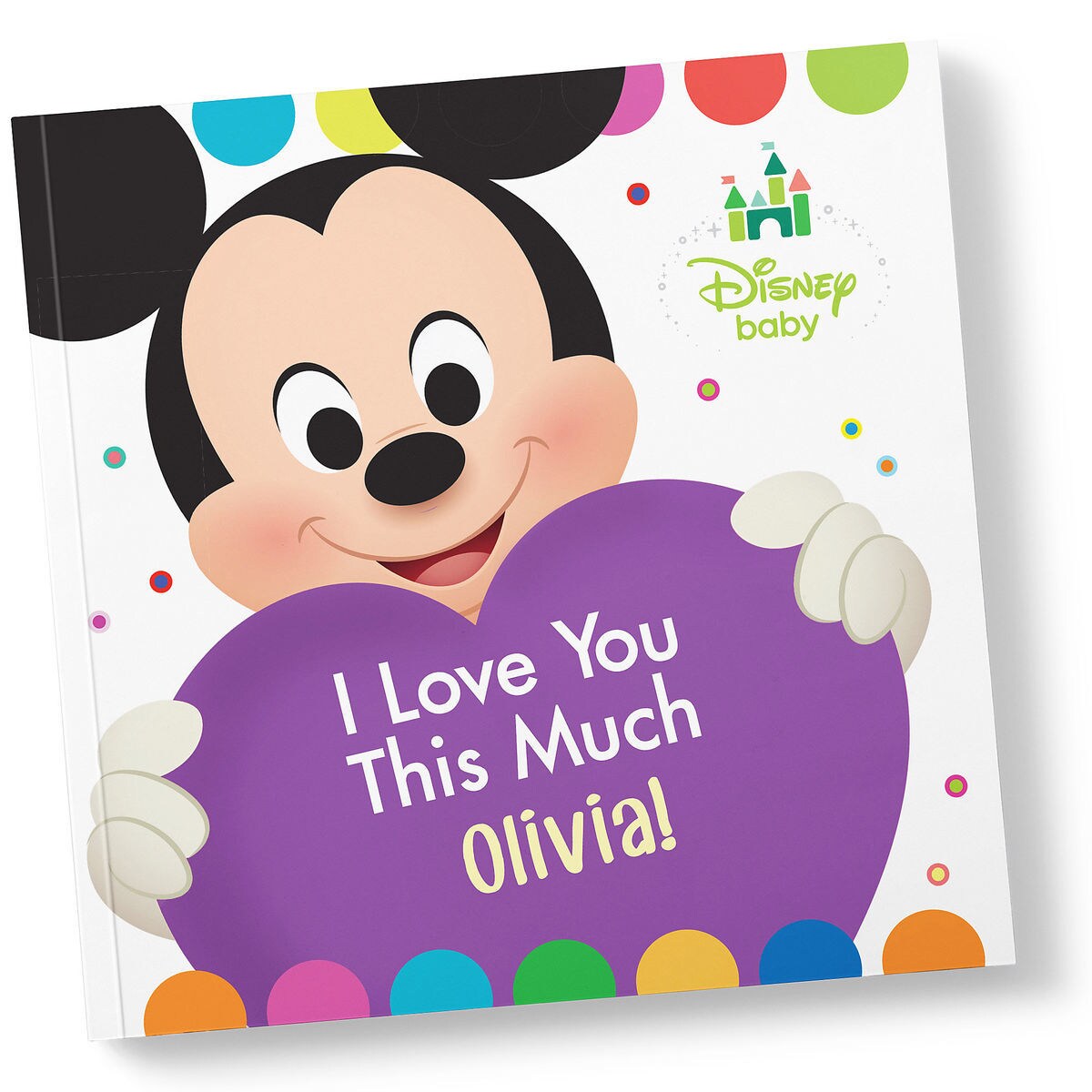 4. Very Sweet Valentine's Treats
Running concurrently to the Valentine's month of love, is the Get Your Ears on promotion. There are going to be a bunch of Mickey and Minnie themed foods and snacks made especially during this time, including this specialty funnel cake with a whipped cream Minnie on top!
In addition there are some extra special treats available, just for the Valentine's season. Many of them are themed to the "Land" they are being served in (like a honey and cream funnel cake in Bear Country and beignets and fritters in New Orleans Square).
Valentine's Day cherry-flavored cotton candy is for sale at street vendor carts.
At the Main Street Gourmet Coffee Cart, you'll find a Minnie Donut topped with pink icing, strawberry, and an adorable (and delicious!) chocolate bow.
Mint Julep Bar has Chocolate-covered Strawberry Beignets. Also in New Orleans Square at the Royal Street Veranda, guests will find Double Chocolate Chunk Fritters tossed in powdered sugar…wow!
Get sticky with a Honey-to-Love Funnel Cake at Hungry Bear Restaurant.
A Heart-shaped Mousse Dessert with a raspberry mousse and vanilla bean crème brûlée center can be purchased at the Jolly Holiday Bakery Cafe.
Inside Market House you'll find a Heart-shaped Linzer Cookie.
5. A Churro For Every Mood!
The Burning Love Valentine's Churro is a sweet and spicy red sugar churro with "double-the-love" cream cheese frosting. Found at the carts near Haunted Mansion and near Splash Mountain.
Find the Chocolate-Cinnamon Sugar-dusted Churro with spicy cocoa dipping sauce at the Churros near Big Thunder Mountain Railroad.
A Strawberry Churro with chocolate dipping sauce are found at two locations inside Disneyland (Churros near Sleeping Beauty Castle and Churros near Town Square).
Don't miss the Popping Sugar Churro, sold near Buzz Lightyear Astro Blasters.
6. Savory Bites for a Valentine's Mood
It's not all about the sweet tooth! Disneyland has some special savory offerings just through the Valentine's season.
At Rancho del Zocalo Restaurante guests can try the Molcajete Platter which includes chorizo sausage, carne asada, shrimp, cebollitas, serrano, nopales, and Oaxaca cheese with salsa roja and warm tortillas.
Bengal Barbecue features two treats: The Piranha Lemonade Slushy is mango and pineapple lemonade with lychee and pomegranate popping pearls. Then delight in the Roasted Vegetable Spring Roll with roasted portobello mushrooms and red peppers, pickled cucumbers, baba ghanoush spread, zucchini noodles, fresh mint, fresh basil, and toasted sesame seeds served with harissa sauce.
7. Mickey & Minnie Valentine's Day Afternoon Tea
Enjoy a classic afternoon tea at Steakhouse 55 inside the Disneyland Hotel. As a special treat for Valentine's (available February 8th to 17th, 2019), the Classic Afternoon Tea celebrates the love between Mickey and Minnie Mouse. From Noon to 3 pm, guests at the Valentine's tea have their choice of a Classic or Premium Celebration. Be sure to book an Advance Dining Reservation!
Classic Celebration
Chicken Salad Tea Sandwich
Roasted Watermelon and Pimento Goat Cheese on Pumpernickel
Blueberry, Ricotta, Prosciutto, and Shredded Coconut Sandwich
Apple and Edamame Sandwich
Duo Chocolate Strawberries
Variety of Mickey and Minnie-Themed Desserts
Teas and Herbal Infusions
Premium Celebration
Salad with Tomato, Melon and Burrata with Balsamic Reduction
Chicken Salad Tea Sandwich
Roasted Watermelon and Pimento Goat Cheese on Pumpernickel
Blueberry, Ricotta, Prosciutto, and Shredded Coconut Sandwich
Apple and Edamame Sandwich
Duo Chocolate Strawberries
Variety of Mickey and Minnie-Themed Desserts
Teas and Herbal Infusions
8. A Valentine's Day Gift
Pop into the Pandora shop in New Orleans Square for a Valentine's Day gift she'll never forget (or buy it early online via Disney Store and have it ready for gifting at the parks!)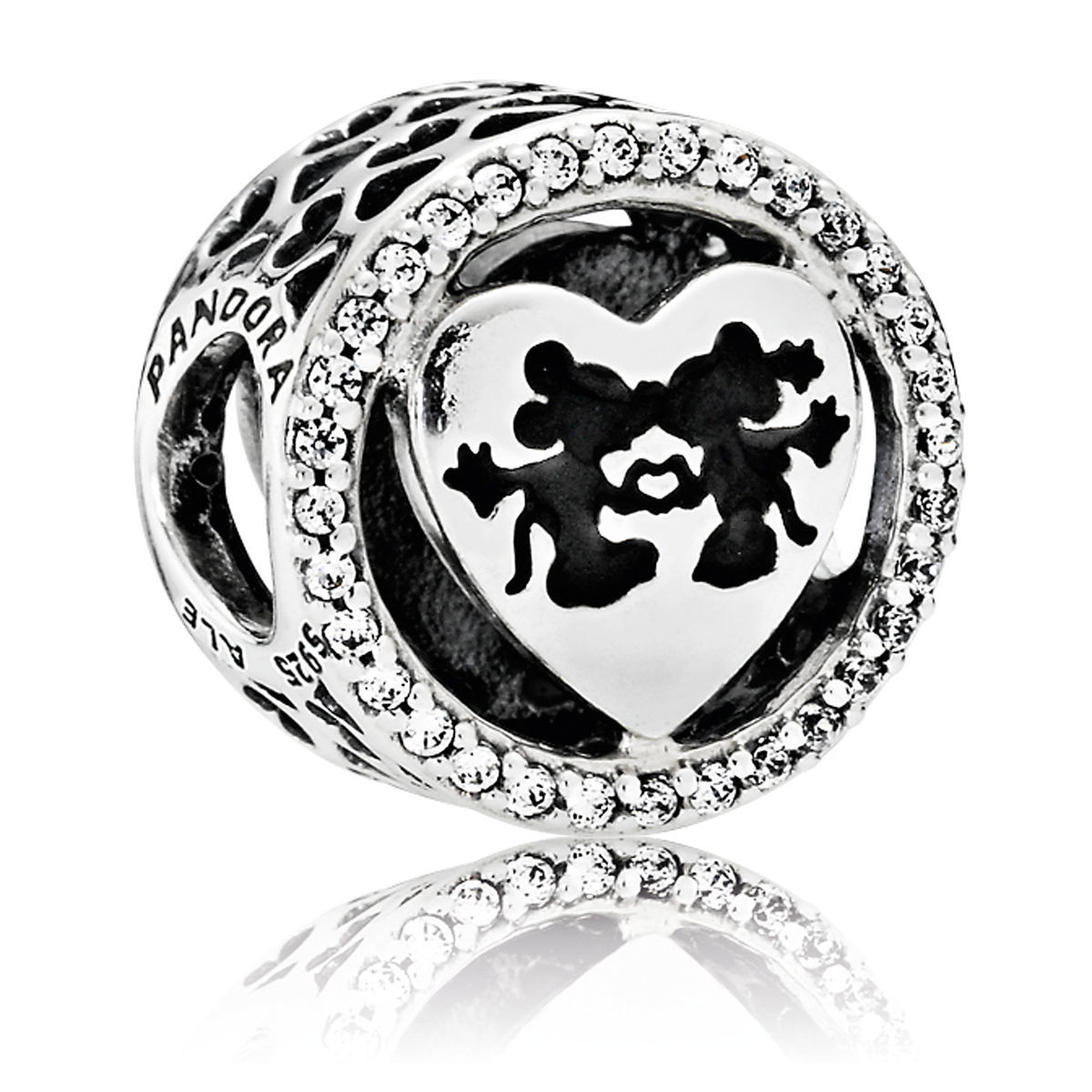 9. Disney Dinner for Two
Perhaps your Valentine's Day at Disney will be spent with just the two of you? A romantic dinner is in order then and Disneyland has a special meal planned.
If you're looking for an amazing splurge the ultra upscale Napa Rose inside Disney's Grand Californian has a 4-course Wine Country feast inspired by California. Be sure to book your Advance Dining Reservations early for this meal – It's only being offered on February 14th!
10. After Dark
Finding a lovely spot to watch the setting sun at the Disney resort is a perfect way to close out the day. The sun will set behind the Pixar Pal-Around so catch a ride on this Ferris wheel for a panoramic view. Or grab a drink at Wine Country Trattoria and take a seat on the steps in Paradise Park (located in front of the Little Mermaid ride). One of these nights, I'd love to dine on the patio at Carthay Circle for an unforgettable view over the crowds.
Celebrate Disneyland After Dark: Sweethearts' Nite, a separately ticketed evening event on February 7th, 2019. Guests will have special after-hours Disneyland Park access to rare character greetings and photo ops, live entertainment, themed dining selections, fireworks, and more.
9. Dinner for the Family
Several other Disney restaurant locations will be offering Valentine's meals that are inclusive of the entire family. These full-service dining locations will have special meals in honor of Valentine's month.
Blue Bayou Restaurant will have Strawberry Beet Salad on the menu. For dessert, indulge in the Pillow Cake Dessert, a Pabana mousse with salted caramel pot de crème center.
At River Belle Terrace, dine on Southern Pork Belly Sliders, sticky sweet and fiery-glazed pork belly sliders on toasted brioche buns with fresh sliced jalapeños and served with house-made pickle chips.
10. Special Disneyland Desserts
End the evening on a sweet note with more amazing Valentine's delights!
At the Gibson Girl Ice Cream Parlor indulge in a Sweetheart Donut Sundae. A warm glazed donut is topped with a scoop of vanilla ice cream, chocolate sauce, whipped cream, sprinkles, and a cherry for good measure!
The Golden Horseshoe has a Minnie-inspired Sundae with Espresso chip gelato, cherry compote, cream-filled cookies, and chocolate-dusted artisan churro topped with whipped cream and a chocolate bow.
Stop at the Plaza Inn for Strawberry Bundt Cake.
Craving chocolate? The Cherry Mousse Dessert features dark chocolate ganache and chocolate crunch with red velvet spray, gold dust, and mini heart sprinkles, found at Red Rose Taverne.
More chocolate? Try the Chocolate Tamale with espresso whipped cream and cherry compote at Rancho del Zocalo.
How about more chocolate?! River Belle Terrace has a Chocolate Lava Cake with passion fruit sorbet and passion fruit sauce.
---
Save Money at DISNEYLAND!
Purchase discount Disneyland tickets and vacation packages from my affiliate Get Away Today.
Use the Promo Code REWRITTEN and receive an extra $10 off any 2-night or longer Southern California package. (Hotel and 2 ticket minimum purchase to qualify for the discount).
---



If you LOVE Disney what better place to spend Valentine's Day than at the Happiest Place on Earth! What can you do to celebrate Valentine's Day at Disneyland? Whether it's just the two sweethearts or you've got the whole family with you, there are some very lovable ways to celebrate Valentine's Day at Disneyland. Keep reading for sweet ways to celebrate Valentine's Day at Disneyland from morning to night!