When I applied to the Disney Parks Moms Panel way back in early September of 2017, I told two people. When I made it through into Round 2, I cautiously told a few more. After a video submission and more essay questions, I was notified I'd made it to Round 3. In my phone interview with Gary Buchanan (Social Media Managing Editor at the time), I was informed that I was a finalist in the last round. At that point, I think I might have told everyone I knew…I was a FINALIST for the Disney Parks Moms Panel!
Mom Rewritten uses affiliate links which means I may earn a small commission if you purchase through the links in these posts. As an Amazon Associate I earn from qualifying purchases. For more information, see the Privacy Policy and Disclosures tab.
There were so few of us left in the running for the Disneyland specialty that nerves were definitely running high. It was requested that we make arrangements and set aside time for the training trip that takes place in early December. I had to tell my boss that I might have to leave for a few days. The possibility of making the Panel was very real for so many us, myself included.
Lucky enough to have made it to Round 3, some of us huddled together in Facebook groups, sharing our personal experiences through the process and cheering each other on. This was my first time submitting an application for the Panel and I didn't know what to expect but my hopes were high….heck, I'd made it to the final round on my first try!

It's a "Not This Year"…Never a No
Notification day was crushing, for me and for so many that weren't chosen for the Panel. I felt very confident all-around in the application process. Perhaps if I'd had a stumble somewhere along the way (a noticeable error in my essay, a misspelling, etc), I would have had a glimmer of rejection ahead of time. I was staying upbeat and confident about the end result (me being chosen for the Panel), of which at that point I had no control over. To receive the "not this year" was nothing less than a shock.
I definitely have faith in the process and trust that the review committee chose whom they felt is the best fit for the current position. I can be completely honest and say that it was a challenging weekend, coming to grips of the loss of this dream and vision I'd built up in my head.
Am I down for the count? Not a chance. As a consolation those of us that receive a "not this year" have a FastPass+ straight to Round 2 in the application process for 2015. I will continue "Saving Up for Disney" to make another trip to my Happiest Place (this allows me to qualify as an applicant). It's not a dream lost. Hopefully it's just a dream delayed.
---
So what have I learned on this path towards Panelist?
YOU HAVE YOUR WORK CUT OUT FOR YOU
Obviously being highly-knowledgeable about your chosen specialty is a must. It also means having a quick recall during live interviews and turnaround on essays. When I was asked what my favorite Land was, I had an answer. When I was asked how Disney excelled in handling special needs in the Parks, I had an answer. If you know your stuff the answers should come to you second nature. That is, if nerves don't take over!
THE REVIEW COMMITTEE HAS THEIR WORK CUT OUT FOR THEM
They are faced with thousands of applications from Disney-lovers around the globe. They cull each application and have the unfortunate job at the end to tell some people that their Panel dream has ended for the year. It's done with love but the bottom line still stings. I certainly don't envy them that position. Even when you want to Tweet, "Why not me?!" know that for each one of you there are another 10,000+ Guests that are asking themselves the same question.
LITTLE MISTAKES ADD UP
In a class of high-caliber writers, even a minor misspelling could be enough to knock you out of contention. Write, read, re-read and possibly have someone else proof your essays and application before hitting submit. Looking back I wished that I'd had more help with my video submission and polished it up a bit more. Next year!
PATIENCE & PERSISTENCE
Perhaps you don't make the Panel this year. Or the next. This was my first attempt but for some that made the Panel this year, it had been their eighth attempt. But without persistence and tossing their Mouse Ears into the ring each year, they might have never had a chance at all.
DON'T TAKE IT PERSONALLY
One of the things we discussed as a group was how the Panel is like a big Disney puzzle. There are the existing Panelists and the newly chosen are like the missing puzzle pieces that have to fit the entire picture. If you didn't fit this time and received a "not this year", that doesn't mean that you might not "fit in" another year. It doesn't mean you did anything wrong. It doesn't mean they don't like you. It just means you weren't the right fit…this time.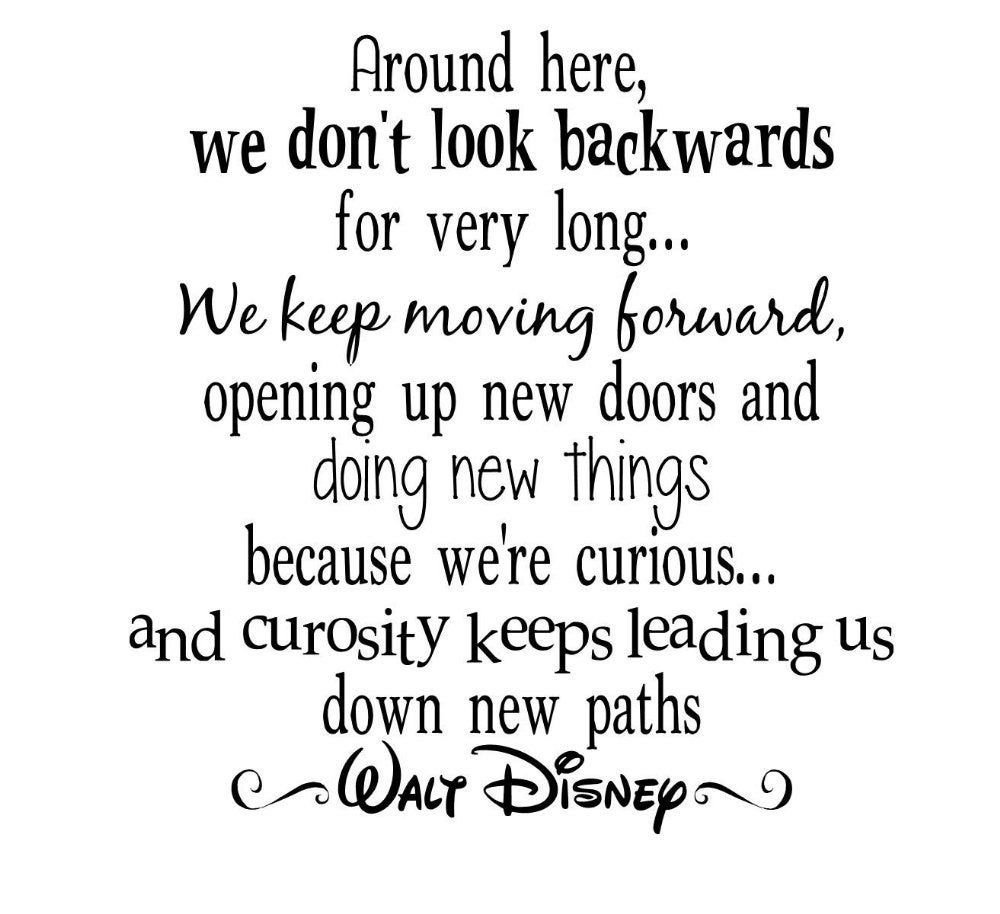 And as Walt Disney says, we have to keep moving forward. There is no point in dwelling on what "could have been" at this point. I'll keep my head in the clouds and my feet on the ground…carving out new paths that will hopefully lead me to my goals. I know that representing on the Disney Parks Moms Panel is a job I was made for and I'll be tossing my Mouse Ears back in the ring come next year, you can count on that!